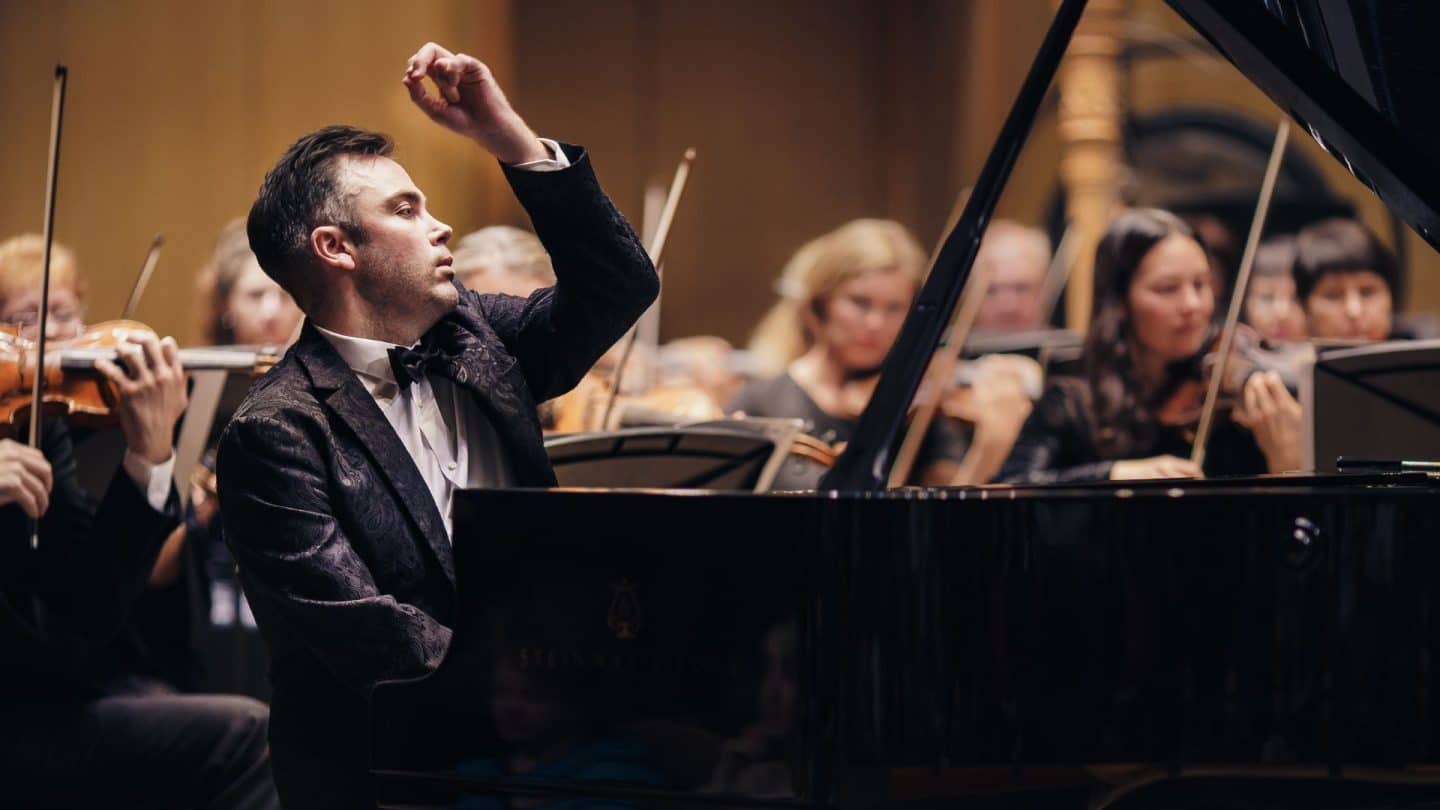 In this our 61st edition, we are building upon our Featured Artist initiative where we look at the practice of an artist or ensemble in greater depth. This year we're delighted to have one of the UK's most inspiring pianists, Nicholas McCarthy.
Nicholas will be part of three events during his stay at the Festival, firstly with a keynote talk on Cultural Leadership in Ulster University on Thursday 19 October, followed by a live performance the Ulster Orchestra the next night on Friday 20 October for Glitter of Waves before collaborating with the Orchestra again alongside Acoustronic on Friday 27 October for an evening celebrating inclusivity in classical music.
About
Nicholas McCarthy was born in 1989 without his right hand and through sheer talent and determination rose above the many obstacles and active discouragement in order to pursue his love of the piano. Going on to study at the prestigious Royal College of Music in London.
His graduation in July 2012 drew press headlines around the world, being the only one-handed pianist to graduate from the RCM in its 130-year history. In March 2018 he was awarded honorary membership by its President, HRH King Charles.
As one of just a few soloists with a disability, Nicholas is a champion of the dynamic and brave world of left-hand alone repertoire, a repertoire that first came into being in the early 19th Century and developed rapidly following the First World War because of the many injuries suffered on the Battlefield.
A career highlight was performing with the British Paraorchestra at the Closing Ceremony of the 2012 Paralympic games where he played alongside Coldplay and gave a rendition of the Paralympic anthem in front of an audience of 86,000 people and half a billion worldwide viewers.
Since then, Nicholas has performed extensively around the world in both recital tours and with major orchestras in some of the most prestigious concert halls across the globe
His concert performances, recordings and media features have gained critical acclaim and his ongoing commitment to encouraging new audiences to classical music, along with his work with young people through music education is ever present in his schedule.
Outside of his concert career, Nicholas is one of Europe's most in demand corporate speakers and regularly delivers keynote talks to the world's leading businesses and institutions and to date has given three TEDx talks.
Nicholas recently devised and presented a music programme called 'Wittgenstein, Zichy & Me' broadcast on BBC Radio 3. He has previously guest presented for the BBC Proms and Leeds International Piano Competition on BBC 4.
Recent concert highlights include the Hong Kong Arts Festival where he performed both the Ravel Piano Concerto for Left Hand and Benjamin Britten's 'Diversions' for Left Hand and Orchestra in the same concert, the first time this had been done in over 80 years. Upcoming highlights include his concerto debut with the Royal Philharmonic Orchestra and the Ulster Orchestra.