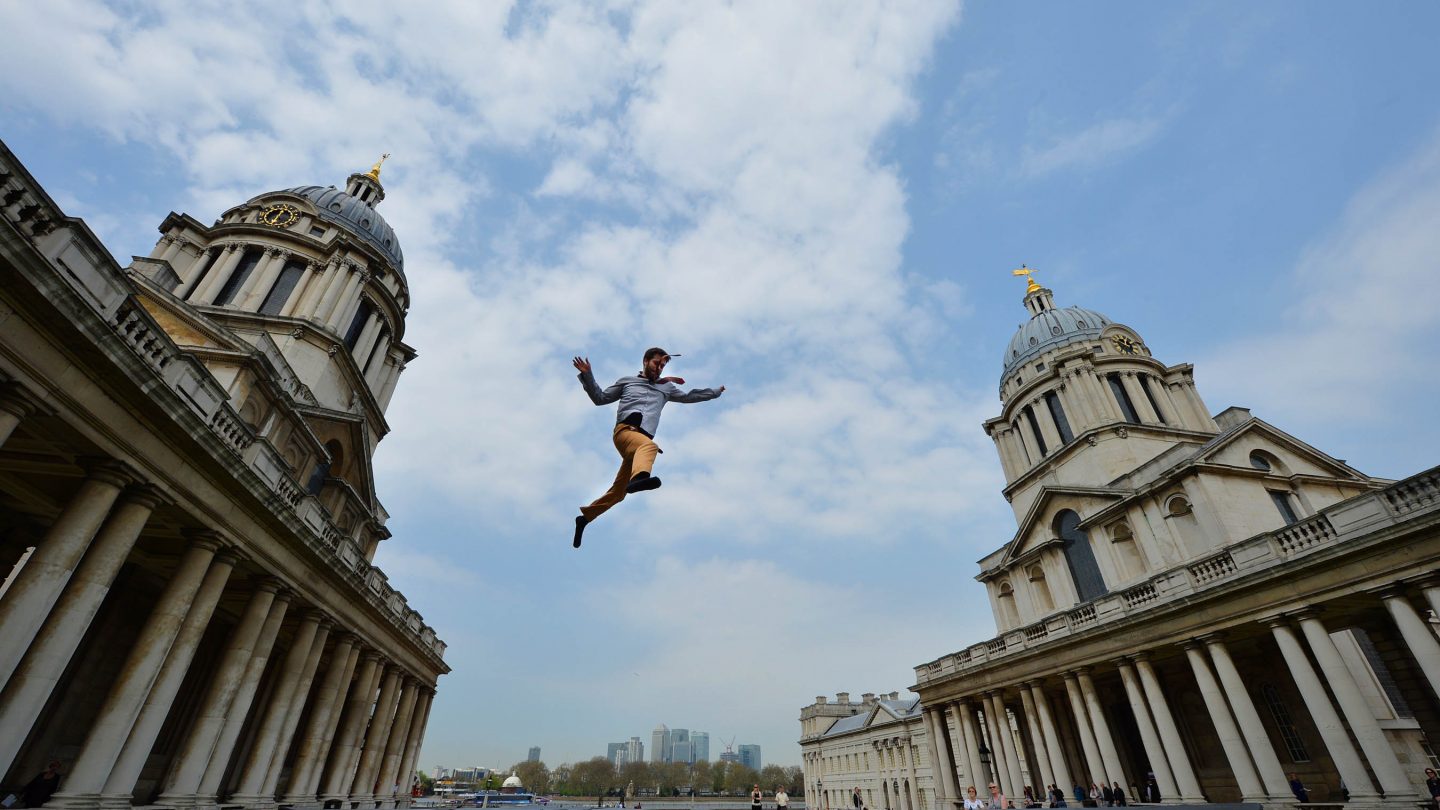 Max Calaf / Jashgawronsky Brothers
Anyday / Trash!
---
A double bill of bizarre international family fun
Waste collection is a dirty job, but the Jashgawronsky Brothers have turned it into a fantastic adventure in their new show Trash, never before seen in the UK or Ireland. The three Armenian brothers perform an actual concert with their weird instruments: the funnel trumpet, the wet violin, the double broom, the pump aerophone, the buckelele and many others.
These characters seem to have stepped out of a Marx brothers' movie and entered in the world of Kaurismaki's, passing through Fellini's circo.
See Mozart and Rossini played with some empty plastic bottles! Listen to the most famous movie soundtracks performed with a set of oinking little piggies!
Anyday is a contemporary circus trampoline show that uses elements of clowning, physical theatre and object manipulation. The show places the character and his home firmly within the audience, and uses the audience as his extended environment, including improvised audience interaction. Anyday ingeniously uses trampoline, juggling, fantastical props and character to transcend expectations of what a 40 minute circus show can be.
Anyday takes its name from the daily life of a lonely, isolated character, who with his trampoline travels from town to town in a nomadic bubble. Max's home is his trampoline and as he welcomes you into his, chaotic world, he 'conjures' a companion; a 'bird' upon which he pins all his hopes.  A series of absurd, comic and surreal events occur which literally catapult Max and his 'bird' into the stratosphere and to the edge of the abyss. Bouncing somewhere between life and death and everywhere else in between they venture out into the world. Anyday is a tumultuous odyssey that transcends the clangs and boings of unbearable hope, lifts our spirits and ultimately fills our hearts with joy. Join them on their poetic journey.
Saturday 10th October – Belfast City Hall
Sunday 11th October – Orangefield Park (access via Houston Park)
Anyday 1pm & 3pm / Trash! 2pm & 4pm
Join our artists for a workshop in the Great Hall inside Belfast's City Hall on Saturday at 10am.