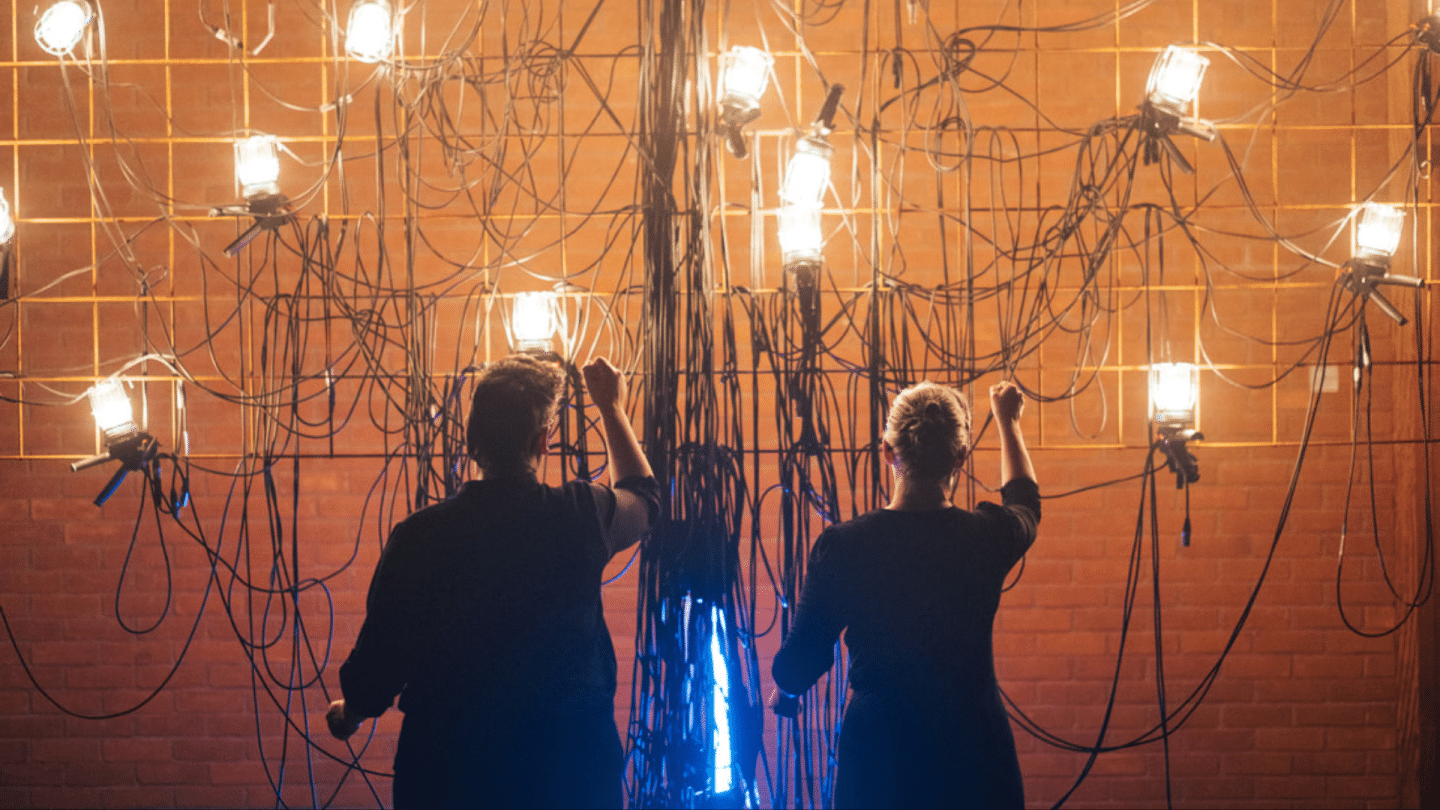 #BIAF23 Online
---
A free digital programme of theatre, dance & literature @ Brick Moon
For many people, watching digital performances live streamed to our screens in the comfort of our homes became the norm during lockdown. Digital events provided audiences with a cultural connection during an extraordinary time and today, such events continue to allow our audiences to enjoy top quality cultural experiences from the comfort of their own homes.
This year, we have decided to revisit some wonderful digital and online events that you may have missed over the last couple of years. 
The Naked Hands 
Written by Jane O'Brien and Paula Clarke, directed by Amanda Coogan with music by Hannah Peel and commissioned by the Lyric Theatre. A celebration of British and Irish Sign Language (BSL & ISL). This beautiful, visual theatre piece, takes viewers on a journey through time and space by 'time travellers' Paula, originally from Co Armagh, and her Wicklow-born partner, Jane, both of whom have been involved in deaf theatre for many years. In their time-travelling adventure, Paula and Jane explore notable figures from Ireland's deaf history, in particular Francis Maginn, a teacher, Church of Ireland missionary and founder of the Belfast Ulster Institute for the Deaf.
BIND
A sumptuous poetry and dance film set in the exquisite Robinson Library in Armagh. An innovative cross art-form collaboration, directed by leading choreographer Eileen McClory, with original text by poet and producer Maria McManus.
Acts of Commission
Two recent poems specially commissioned by Quotidian – Word on the Street. What Pa Saw at the Benders by Sinéad Morrissey and The Vocation by Nick Laird. In digital video podcasts Poetry Ireland editor Nessa O'Mahoney talks with Sinéad Morrissey and Nick Laird. Tune in to hear them read and discuss their poems and creative processes. Supported by Poetry Ireland. 
A Conversation with GauZ & David Foenkinos
Two of France's most original and acclaimed novelists join us in this special digital event from 2022 and as part of our longstanding partnership with the Institut Français. Chaired by Mathias Rambaud, Institut Français.
Shumona Sinha and Maylis de Kerangal in conversation with Lauren Elkin and Russell Williams
A four-voice conversation from 2022 about two translated short novels by Shumona Sinha (Down with the Poor! ) and Maylis de Kerangal (Eastbound ). Presented in association with Institut Francais.
All these events will be available free of charge on Big Telly's online event platform, Brick Moon from 1pm on Saturday 4th and Sunday 5th November. 
With special thanks to Big Telly Theatre.