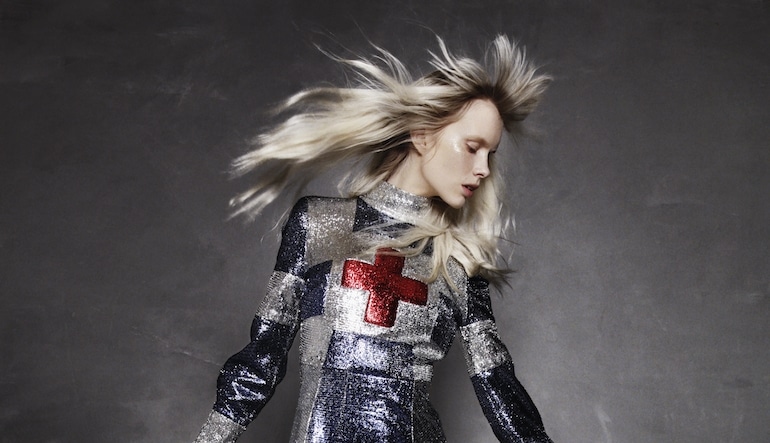 Fashion and Film Inspired by Women during the First World War
Fashion & Freedom
---
One of the most radical changes at home during the war was the huge change in women's lives and work. With the men away fighting, more than one million women went to work for the first time during the war years – in munitions factories and on the buses, driving ambulances and even 'manning' the London Underground. These new responsibilities gave women new freedoms – and they also led to a new look, as tight corsets and heavy skirts were replaced by more natural and fluid silhouettes. A century later, this era has inspired Fashion & Freedom, an ambitious, multi-faceted exhibition that examines the fashion legacy of the First World War for the 21st century.
From the doyenne of British fashion, Vivienne Westwood, to Belgrade-born, London-based designer Roksanda Ilincic and rising star J.JS Lee, leading female designers created contemporary pieces inspired by the profound changes in women's dress that occurred during the First World War. Exquisite craftsmanship courtesy of fashion stalwarts Emilia Wickstead, Holly Fulton and Sadie Williams are also on display. These exclusive designs are presented in an exhibition alongside new designs from students at the Belfast School of Art at Ulster University that reflect our own local cultural, political and historical contexts.
A series of specially commissioned original short films complement the garments on display, including films by directors from Nick Knight's award-winning SHOWstudio, who pioneered fashion film online. Luke Snellin wrote and directed first, which reimagined a young woman's first day at work as a bus conductor, with uniforms designed by Manchester fashion label Private White V.C.
Co-commissioned by 14-18 NOW and Manchester Art Gallery, supported by the British Fashion Council and Ulster University.