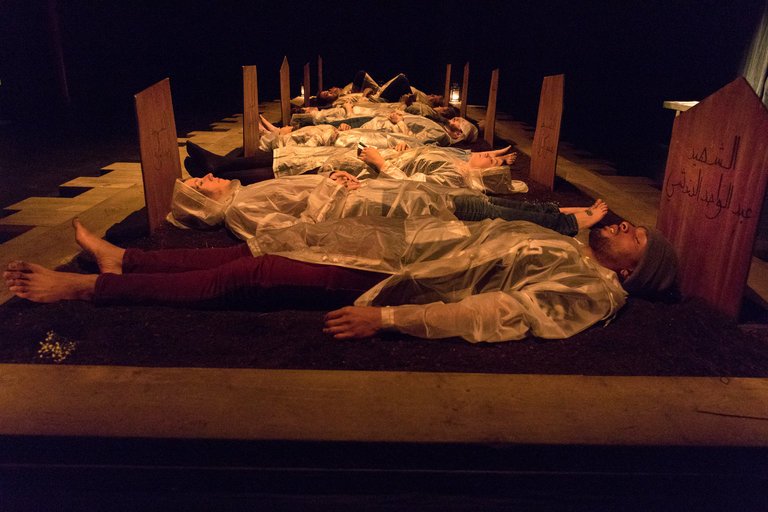 Interactive Sound Installation
Gardens Speak
---
Tania El Khoury
 "Even the dead will not be safe from the enemy if he wins." –   Walter Benjamin
Gardens Speak is an interactive sound installation containing the oral histories of ten ordinary people who were buried in Syrian gardens. Each narrative has been carefully constructed with the friends and family members of the deceased to retell their stories as they themselves may have recounted it. They are compiled with found audio that evidences their final moments.
Across Syria, many gardens conceal the dead bodies of activists and protesters who adorned the streets during the early periods of the uprising. These domestic burials play out a continuing collaboration between the living and the dead. The dead protect the living by not exposing them to further danger at the hands of the regime. The living protect the dead by conserving their identities, telling their stories, and not allowing their deaths to become instruments to the regime.
About the Artist
Tania El Khoury is a live artist working in London and Beirut. She creates interactive installations and performances in which the audience is an active collaborator. Tania's work has been shown in five continents in spaces ranging from museums to cable cars. She has been nominated to a number of awards and is the recipient of the Total Theatre Innovation Award and the Arches Brick Award.
All performances must be booked online. Latecomers may be refused entry.
The venues toilet facilities are on the first floor, with no accessible toilets for wheelchair users.
The installation will require wheelchair users to leave their chairs to lay on the ground.
Age Guidance: 14+
Meet the Artist: Tania El Khoury Wed 11 Oct 6pm
This piece will change the way you think
A stark, moving theatre piece by Tania El Khoury, brings us into painful intimacy with the human cost of the war
The New York Times