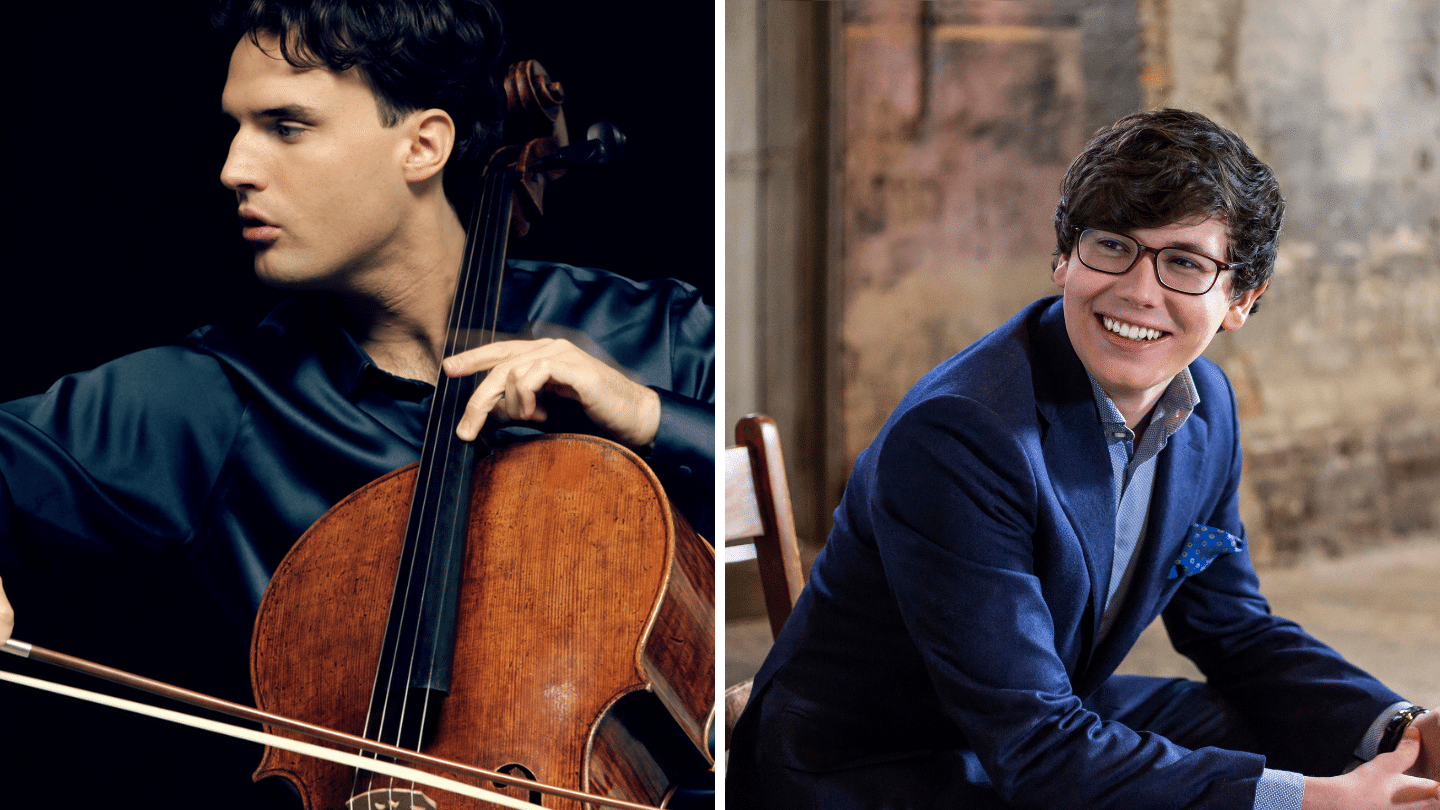 Leonard Elschenbroich (cello) / Martin James Bartlett (piano)
---
BBC Radio 3
The BBC Radio 3 concerts will be broadcast as part of a 4 episode series from Tuesday 5 to Friday 8 January 2021 at 1pm each day on BBC Radio 3's Lunchtime Concert programme and will feature music from all 3 concerts.
A committed chamber musician, cellist Leonard Elschenbroich has performed as a soloist with the world's leading orchestras.
An enthusiastic advocate of contemporary music, he gave the world premiere in 2018 of Mark Simpson's Cello Concerto written specially for him on a commission from the BBC, and he has championed cello concertos by Gilbert Amy, Mark-Anthony Turnage, Peteris Vasks, Magnus Lindberg and Brian Elias. He has commissioned several new works from composers including Turnage, Luca Lombardi, Arlene Sierra and Suzanne Farrin.
A string of superlatives has greeted the release of Elschenbroich's latest release on Onyx – a cycle of Beethoven Cello Sonatas with Alexei Grynyuk – chosen as Editor's Choice in Gramophone and Chamber Choice in BBC Music Magazine (5 stars). Earlier releases include Kabalevsky's Cello Concerto No 2 with the Netherlands Philharmonic Orchestra/Litton, a Hommage to Schnittke, French concertos by Dutilleux and Saint-Saëns, and a sonata disc with works by Rachmaninov and Shostakovich (Editor's Choice, Gramophone).
Martin James Bartlett, at 23 years an exclusive recording artist with Warner Classics, possesses a fearless technique and plays with a maturity and elegance far beyond his years. His first disc for Warner was released in May 2019 and explores the theme of love and death in works by Bach, Liszt, Schumann, Granados, Wagner and Prokofiev.
Martin James Bartlett's early public success was as the winner of the BBC Young Musician of the Year in 2014. This led to engagements with the BBC Symphony Orchestra, BBC Scottish Symphony Orchestra, Bournemouth Symphony Orchestra, Royal Philharmonic Orchestra, as well as recitals across the country.
---
Programme
J.S. Bach: Cello Suite No.3 in C major, BWV 1009
Debussy: Sonata for Cello and Piano
Dvorák: Silent Woods, Op.68 No5
Shostakovich: Sonata for Cello and Piano in D minor, Op. 40
Leonard Elschenbroich photo – Copyright © Felix Broede
A musician of great technical prowess, intellectual curiosity and expressive depth.
New York Times on Leonard Elschenbroich
Bartlett's ability to think long-term, rather than give in to immediate excitement, is probably his most impressive trait. No.2 on his score card may be his unaffected delicacy of touch, colour and tone, brilliantly shown in the three Petrarch sonnet settings from Liszt's Années de pèlerinage... Everything works to illuminate the music.
The Times on Martin James Bartlett
*****