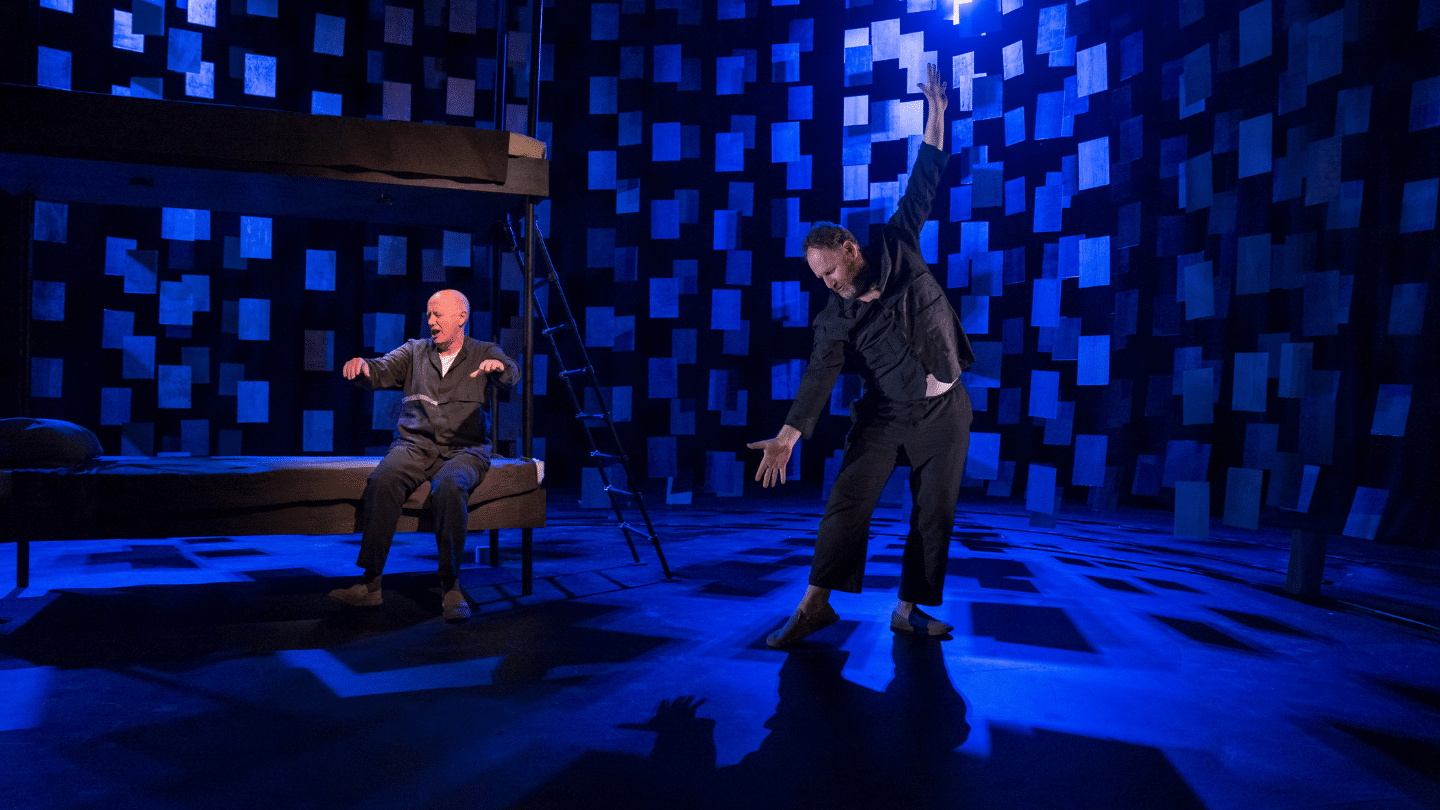 On Blueberry Hill
---
Written by Sebastian Barry | Presented by Fishamble
A very special online screening of Sebastian Barry's latest play, On Blueberry Hill which was critically acclaimed during its London West End and New York seasons.
Featuring Niall Buggy and David Ganly in a terrific production which critics called 'superb' (Irish Times), 'phenomenal' (Sunday Independent), and 'Beautiful. Mesmerizing. Mysterious.' (The New Yorker), following a run in London's West End in early 2020, cut short by the pandemic.
Directed by Fishamble's Jim Culleton, On Blueberry Hill is bursting with humanity, as it explores forgiveness, survival and, ultimately, love. In Sebastian Barry's beautiful style, On Blueberry Hill features best of friends and worst of enemies Christy (Niall Buggy) and PJ (David Ganly), who are destined to share their lives for twenty years. As the two men reflect on the hope and torment of life outside – they slowly uncover the events that have led them to their world with explosive, bittersweet consequences.
Both Fishamble and Sebastian Barry are festival favourites and we're delighted to be able to share a cross-border screening with Draíocht.
Special bonus content: a pre-recorded post-show discussion (30 mins) with Sebastian Barry, Jim Culleton and Richard Wakely will play after the film credits (at approx 1 hour 44 mins).
On Blueberry Hill was developed and produced in 2017 and 2019 with the support of Arts Council Ireland, and has toured internationally to the Centre Culturel Irlandais in Paris and 59E59 Theaters as part of 1st Irish in New York, with the support of Culture Ireland.
Fishamble is an Olivier Award-winning internationally acclaimed Irish theatre company, dedicated to the discovery, development and production of new work.
Part of IN-visible ID-entities 3, an on-going BIAF initiative encouraging cultural collaboration across the island and supported by the Government of Ireland's Department of Foreign Affairs.
---
Age guidance: 14+
Contains descriptions of violence to others, suicide, strong language, and homophobia.
Captions available
---
This event can be bundled with our Digital Pass
Following on from our online Festival in 2020, BIAF is offering audiences worldwide the chance to experience a selection of events from this year's edition from the comfort of their own home with a special discounted Digital Pass on a selection of events.
For £20 we're offering access to On Blueberry Hill and the following events from our Talks & Ideas section (all priced at £5 individually):
Acts of Commission – Old Rope, Old Lough, Old Love
Laura Jean McKay & Meg Mason
Colm Tóibín & Damon Galgut
Dominique Barbéris & Gaëlle Josse
Séamas O'Reilly & Lucy Mangan
Acts of Commission – The Spirit, The Psyche, The Body
To purchase your Digital Pass just add the events individually to your cart when booking and the discount is applied! Simple!
ravishing… confirms the writer's gift for finding the holiness in the everyday… the past they summon... almost blinds in its radiance before being swallowed by night… ravishing...consummate Irish actors... steeped in a luminous wonder… directed with a slow caressing hand
Ben Brantley, New York Times
Jim Culleton's rapt production for Fishamble wonderfully captures the idea of bullseye moments, of episodes of an electric awareness – the cell "vibrates" with the energy of the two men – but also a stately mythology, the bringing of shades to life.