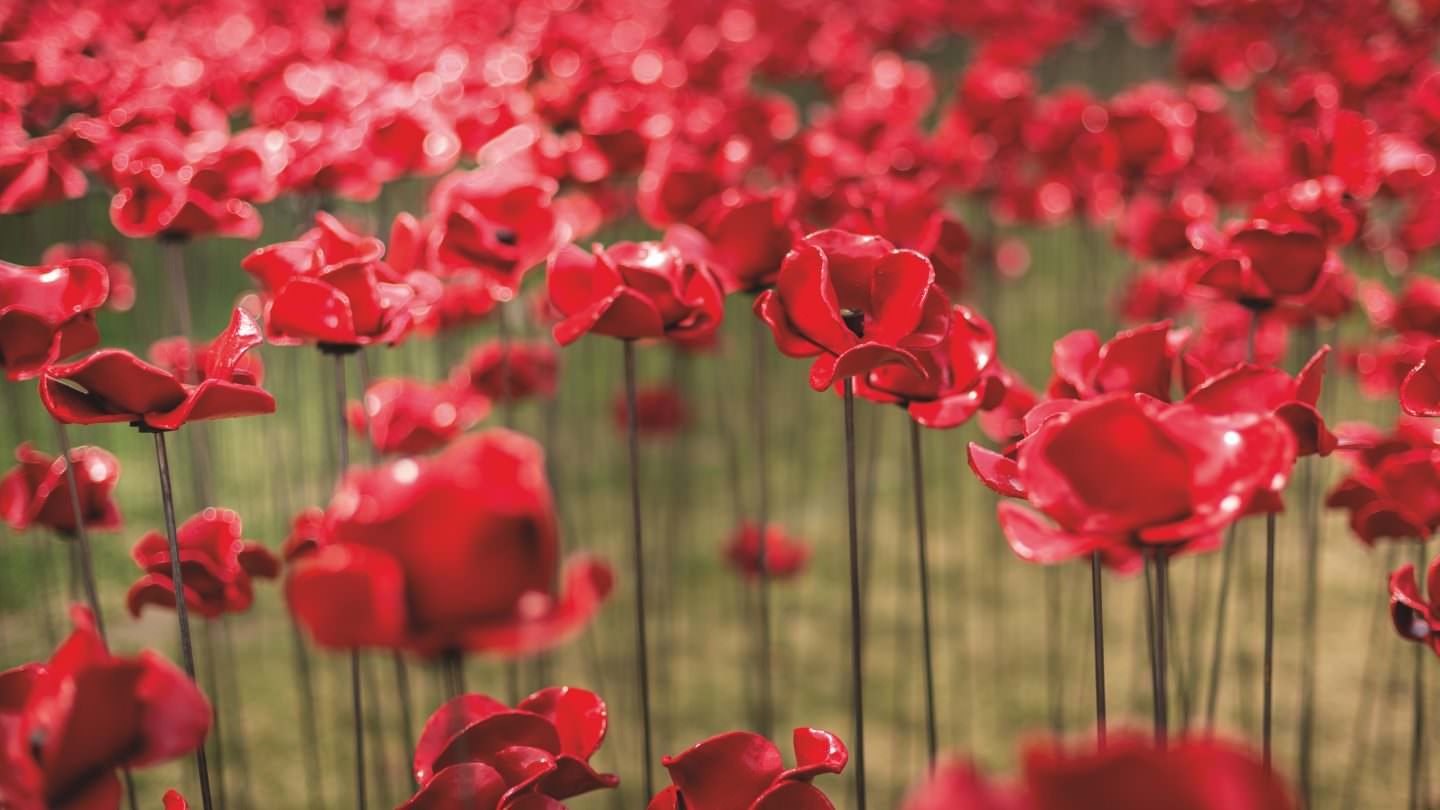 #PoppiesTour
Poppies: Weeping Window
---
Presented by 14-18 NOW, Belfast International Arts Festival and National Museums Northern Ireland
National Museums Northern Ireland and the Belfast International Arts Festival have partnered to bring Poppies: Weeping Window to Belfast for the people of Northern Ireland to experience this unique, powerful and deeply moving sculpture.
Weeping Window is one of two sculptures, by artist Paul Cummins and designer Tom Piper, marking the centenary of the outbreak of war. As with all 14-18 NOW projects, the presentation of these sculptures to new audiences across the UK aims to prompt a new, nationwide dialogue around the legacy of the First World War.
Weeping Window is a cascade comprising several thousand handmade ceramic poppies seen pouring from a high window to the ground below; Wave is a sweeping arch of bright red poppy heads suspended on towering stalks.
The breath-taking sculptures were initially conceived as the key dramatic sculptural elements in the installation Blood Swept Lands and Seas of Red at the Tower of London in the autumn of 2014. Over the course of their time at the Tower, the two sculptures were gradually surrounded by a vast field of ceramic poppies.  In their original setting they captured the public imagination and were visited by over five million people.
The Ulster Museum is one of the most iconic buildings in Belfast, housing Northern Ireland's national collections of art, history and natural science.  The Ulster Museum's unique architecture marries the traditional with the modern and not only attracts people from across the world, but also sparks debate with the Northern Irish public. The extraordinary building façade will provide a stunning backdrop for the Poppies: Weeping Window sculpture.
The Museum's location within the city's Botanic Gardens will permit the public to not only view Weeping Window at a close, intimate range, but also to appreciate the power and spectacle of the sculpture from a distance.
Wave and Weeping Window are from the installation 'Blood Swept Lands and Seas of Red' – poppies and original concept by artist Paul Cummins and installation designed by Tom Piper – by Paul Cummins Ceramics Limited in conjunction with Historic Royal Palaces, originally at HM Tower of London 2014.