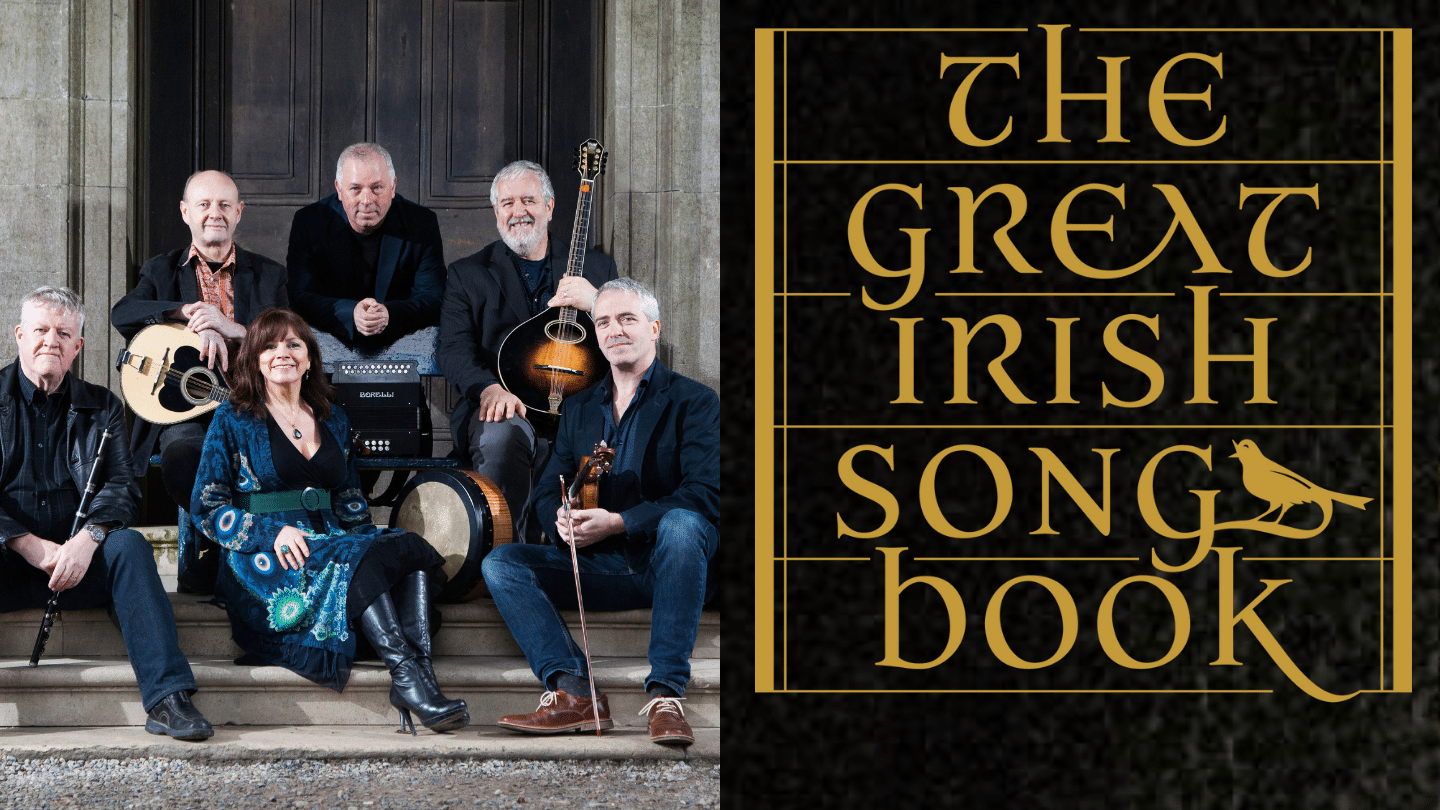 The Great Irish Songbook
---
Featuring Dervish. With special guests Glen Hansard, Eddi Reader, Cara Dillon, Brian Kennedy, Karen Matheson and The Open Arts Community Choir
Live broadcast on BBC Radio Ulster and BBC Sounds
The Great Irish Songbook Live is on BBC Radio Ulster and BBC Sounds, on Thursday 21 October at 7.30pm. Tune in to BBC Radio Ulster live or check out the programme page on BBC (updated after the live broadcast) here.
Legendary Irish folk music band Dervish celebrate some of Ireland's most iconic folk songs with a stunning line-up of much celebrated performers as part of Belfast International Arts Festival.
Dervish, legendary traditional music act from Sligo, take to the newly restored Belfast's Grand Opera House for a very special gala show taken from their acclaimed 2019 album The Great Irish Songbook (on the US Label Rounder Records) – the 14th in their storied history.
Joining an eight piece Dervish on stage, in a spirit of camaraderie, collaboration and inclusivity, is a star studded lineup of guests featuring some of Ireland's and Scotland's most inspired and revered ambassadors of music including folk hero Glen Hansard, Belfast's own Brian Kennedy, the multi-award winning Cara Dillon, Gaelic folk singer Karen Matheson, the revered Eddi Reader and our city's own Open Arts Community Choir for what's sure to be an unforgettable night of music in one of Belfast's most hallowed venues.
With a career spanning over 30 years, Dervish have been described by BBC Radio 2 as "an icon of Irish music" when announcing their Lifetime Achievement Award in 2019.
The Great Irish Songbook both preserves the spirit of each song on the album and brings a new vitality to iconic traditional songs. This celebratory two hour show features some of the most respected performers in folk and contemporary music singing some of their favourite Irish songs. It is sure to be an evening that will be remembered for a very long time!
Supported by the Arts Council of Northern Ireland's Development Fund.
Part of IN-visible ID-entities 3, an on-going BIAF initiative encouraging cultural collaboration across the island and supported by the Government of Ireland's Department of Foreign Affairs.
What to expect on arrival:
All ticketholders aged 18 and over, will need to provide one of the following:
Proof of full vaccination, with the second dose having been given at least 14 days earlier. Acceptable forms of proof include Covid immunisation record cards, COVIDCert NI certificates, and any official documentation from outside Northern Ireland such as the EU Digital Covid Certificate or the NHS Covid Pass.
Proof of a negative Lateral Flow Test taken no more than 24 hours in advance. This will be in the form of an official SMS message which you will receive after completing and registering your Lateral Flow Test result at https://www.gov.uk/report-covid19-result
Proof of natural immunity shown by a positive PCR test result for Covid issued between 30 and 180 days earlier. Any self-isolation period must have elapsed before coming to the Theatre.
To find out more about the Grand Opera House's Covid Protocols and Requirements click here.
---
Dervish
Cathy Jordan Vocals, Bodhran, Ukulele
Liam Kelly Flute, whistles
Tom Morrow Fiddle
Shane Mitchell Accordion
Michael Holmes Bouzouki
Brian McDonagh Mandola, Mandolin
Seamie O'Dowd Guitar
Graham Henderson Keyboards and piano
Guests Artists
Glen Hansard Vocals
Eddi Reader Vocals and guitar

Karen Matheson Vocals
Cara Dillon Vocals, Fiddle and Whistle
Brian Kennedy Vocals
The Open Arts Community Choir Vocals
---
Festival Box Office
You can book tickets anytime online or you can phone Box Office at Visit Belfast Welcome Centre on 028 9024 6609 to book tickets, Monday – Saturday 9:00am – 5:30pm & Sunday 11:00am – 4.00pm.
Our box office is powered by Visit Belfast you can also call in to Visit Belfast in person to book your tickets.
Grand Opera House Box Office Information:
For phone and counter sales, the Grand Opera House Box Office opens 10am- 5pm Monday -Saturday.
Telephone 02890241919.
The Grand Opera House applies a per ticket booking fee of £1.75 to phone bookings, online booking fees will be charged at £1.25 per ticket. There is no booking fee charge for in-person payments made at the Box Office counter in the Theatre foyer.
---
Live broadcast on BBC Radio Ulster and BBC Sounds
The Great Irish Songbook Live is on BBC Radio Ulster and BBC Sounds, on Thursday 21 October at 7.30pm. Tune in to BBC Radio Ulster live or check out the programme page on BBC (updated after the live broadcast) here.
---
Lifetime Achievement Award Winners
BBC Radio 2 Folk Awards 2019