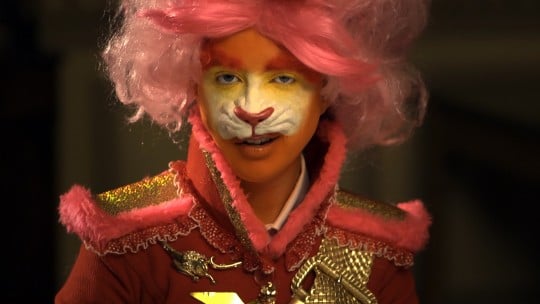 Contemporary Short Films
Video Encounters
---
Rachel Maclean – Bedwyr Williams
This small group exhibition brings together The Lion and The Unicorn by Rachel Maclean and The Starry Messenger by Bedwyr Williams
Williams' fast-paced, visually relentless, narrative films, are based on social observation and re-imagination as well as his own positioning within both worlds. In The Starry Messenger, made for his solo presentation representing Wales at the 2013 Venice Biennale, Williams ponders the connection between the microcosmos in a terrazzo floor and the infinite space around us. The viewer is asked to imagine themselves as a small, trapped piece of stone within a complex system.
Using digital technology, Maclean constructs fantasy narratives set in computer-generated landscapes that play on thorny issues of identity, society and politics. The Lion and The Unicorn is a short film inspired by the heraldic symbols found on the Royal Coat of Arms of The United Kingdom, the lion (representing England) and the unicorn (representing Scotland). The piece uses representations of both alliance and opposition to explore national identity within the context of the 2014 referendum on Scottish independence.
Both works on loan from the British Council Collection.