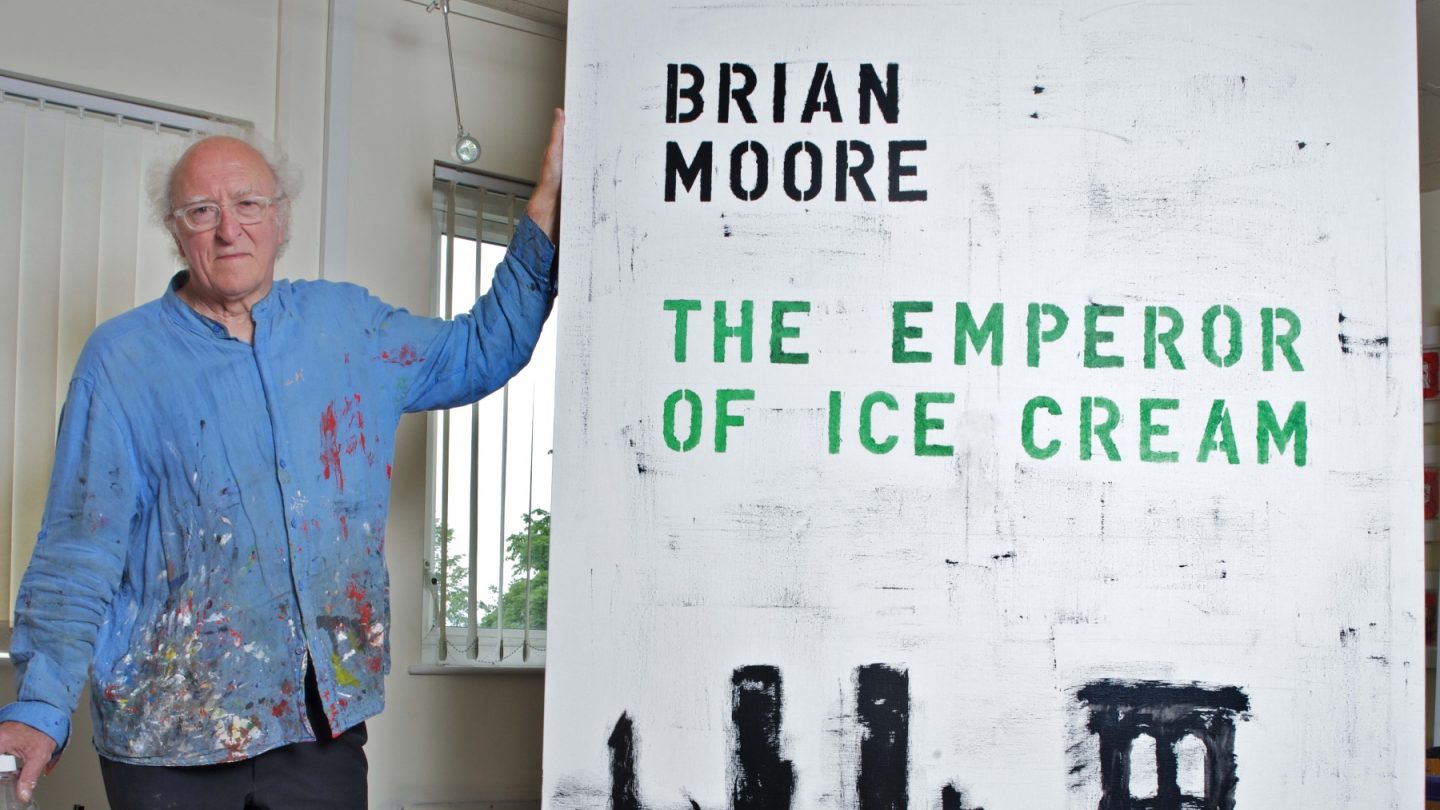 Writers of Belfast
---
An exhibition by Neil Shawcross
*Additional Free Events Below*
Neil Shawcross is one of Ireland's leading artists. In Writers of Belfast, he delivers a powerful and emotional tribute to the city which has nurtured him for over 55 years through his personal response to the many authors, poets, playwrights and musicians the city has produced.
The creative impact and range of the show is evident in the scale of the paintings. Shawcross's 7 foot high canvases pay homage to an eclectic group of remarkable writers from Belfast, from C.S Lewis, John Hewitt, Van Morrison and Marie Jones to the lesser-known Thomas Carnduff, Forrest Reid, Padraic Fiacc & Déirdre Ní Grianna.
Almost three years in the making, working from research garnered from hundreds of book covers, programmes and albums, Shawcross selected a singular image for each writer. The result is more than just a collection of striking and distinctive paintings. This exhibition reflects much of the city's outstanding cultural history, from "Linenopolis" to the shipyards, the Blitz to the Troubles, and De Lorean to religious fundamentalism.
---
Special Events: 
Neil Shawcross in conversation with Prof. Liam Kelly | Thurs 25 Oct | Titanic Belfast | 1pm | Free | Book here
Join artist Neil Shawcross, to explore how this epic installation was made, and his personal reflections on this joyful celebration of the city's writers, books, literature & drama. Neil will be in conversation with leading art critic, Prof Liam Kelly, and the event also includes a Q&A with the audience.​
Writing the City: Writing Workshops | Sat 27 Oct | The Andrews Gallery, Titanic Belfast | 11am & 2pm | Free – Booking essential
Two of the city's contemporary writers, Nathaniel Joseph McAuley (11am) and Erin Halliday (2pm) will each give a writing workshop that takes inspiration from the rich literary heritage of Belfast, so dramatically illustrated through the Writers of Belfast exhibition. Offering expert insight, advice and tips, these free workshops will take place in the midst of the exhibition space and offer a chance for budding writers to respond to the artwork as well as the authors, poets, playwrights and composers of Belfast.
To book for Nathaniel's workshop click here
To book for Erin's workshop – SOLD OUT
Gallery Tour with Dr Denise Ferran  | Wed 24 Oct | 1pm | Meet at the foyer outside The Andrews Gallery, Titanic Belfast | Free | Book now 
Dr Denise Ferran, leading local artist and distinguished Past President of the Royal Ulster Academy, will give a 45-minute tour of the Writers of Belfast exhibition. Given her specialist, education-related and art-centred CV, Dr Ferran is very knowledgeable of both Neil Shawcross and his art practice, as well as the literature and Belfast writers represented. Denise's tour of this remarkable exhibition will offer informed and entertaining insights into the artist, his rationale for the project, and the subjects which he addresses.
Gallery Tour in Irish with Dan Dowling RUA  | Sat 27 Oct | 4pm | Meet at the foyer outside The Andrews Gallery, Titanic Belfast | Free | Book now
Dan Dowling is a member of the Royal Ulster Academy of Arts and is one of Belfast's most talented and respected artists.  Appropriately for this "Writers of Belfast " show, he has always drawn inspiration from his native city.
Vibrant colour, form and texture are fundamental ways in which he expresses himself. He has crafted his own unique style, inspired by Kandinsky and a love of all things Spanish and a lifelong interest in the Irish language and culture.
He regularly gives exhibition tours in Irish for the Royal Ulster Academy and the Ulster Museum.  He has been a friend of the academy and Shawcross for many years and will bring his own lively and insightful spin to this tour.
Writing Ourselves: Women Writers of Belfast | Tues 30 Oct | 6pm | The Andrews Gallery | Free | Book now
"There has not been an antagonism to female work, but a profound deafness," said Anne Enright in 2016.
Writers and artists continue in an ongoing fight to assert the work by women, and recent years has seen an explosion of creativity by women in the north. This event explores the history of women's writing in the city, and why writing by women has not received the same canonical treatment as that of their male contemporaries. Dr. Lucy Collins will open with a short address looking at the historical and social contexts around the opportunities for women, followed by participants in the panel discussion with poets Ruth Carr and Maria McManus, Dr. Sheila McWade of Queen's University and Dr. Dawn Miranda Sherratt-Bado. The evening will also feature  music from Belfast singer-songwriter LARKS.