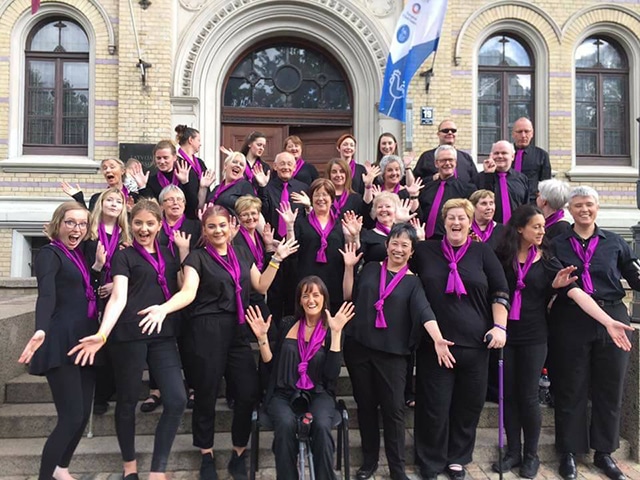 Open Arts Community Choir celebrate 'Art Forever-For Everyone'
Aretha Franklin, Nina Simone, Tina Turner and The Jackson 5 are just some of the artists whose music will be celebrated at Something Inside So Strong, the 18th anniversary concert of the Open Arts Community Choir which will take place at the Great Hall at Stormont on Friday 2 November as part of the Belfast International Arts Festival.
Formed in 2000, the choir features 35 members from all over Northern Ireland who have a range of disabilities: physical disabilities, visual impairment and mental health issues.  The choir is part of Open Arts, an arts and disability organisation which is based at the Crescent Arts Centre in Belfast and whose vision is a society which actively values and promotes the creativity and artistic contribution of disabled people.
Over the past 18 years, the Open Arts Community Choir's achievements have included performing on prime time TV and competing at the highest levels in the most prestigious of venues all over the UK, Ireland and the USA, winning hearts and competitions wherever they go.  In 2017 the choir represented Northern Ireland in the European Choir Games and won an impressive two gold medals, a gold diploma and a silver diploma.
Reflecting on the choir's work to date, Musical Director, Beverley McGeown says:
"Eighteen years ago when this group of singers first came together, they could not have dreamed of the things that were to come.  Open Arts Community Choir holds at its heart the belief that adversity is to be overcome and that with imagination and hard work, nothing is impossible.
"When you see us perform you may not be aware of the musical and practical challenges we've had to overcome to get us to the point of being on stage, but by being extraordinary through the standard of our performances, we demand to be treated equally and by doing so, challenge negative perceptions around the abilities of disabled people."
The concert will be hosted by award-winning BBC NI broadcaster John Toal, who will interview choir members about their personal and musical experiences and memories in between performances.
The theme of the Belfast International Arts Festival this year – 'Art Forever – For Everyone' – chimes beautifully with the ethos of Open Arts, as the festival's Artistic Director Richard Wakely notes:
"All of us at the Belfast International Arts Festival congratulate the Open Arts Community Choir on their 18th anniversary. We are delighted and honoured to be able to join with them in marking this achievement by hosting this special concert at Stormont. As a contemporary arts event with a strong civic sensibility, we believe it is important to celebrate the cultural diversity of Belfast and in particular to highlight the work of those artists who self-identify as disabled."
Tickets for Something Inside So Strong featuring the Open Arts Community Choir at the Great Hall, Stormont, on Friday 2 November at 7.30pm are £14/£12 and are available now.
Open Arts is principally funded by the Arts Council of Northern Ireland and receives core multi-annual funding from Belfast City Council.