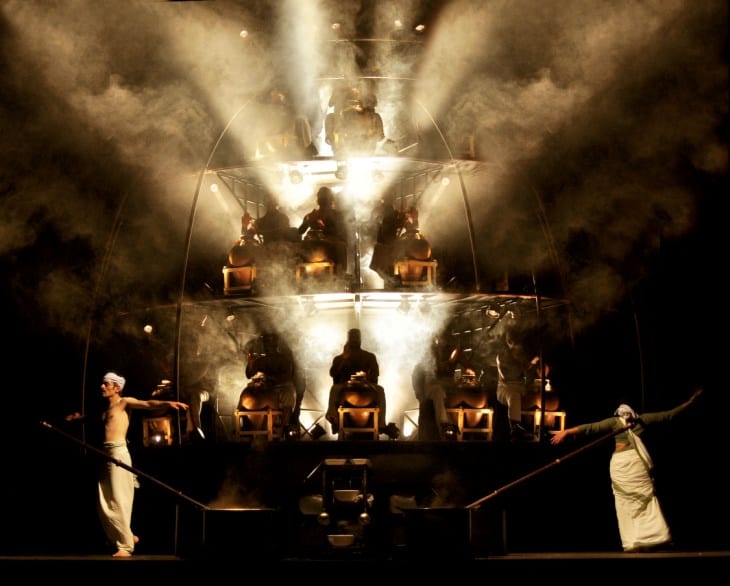 Ulster Bank Arts Ambassador Review: The Kitchen
Approaching the doors of the Grand Opera House Foyer, I could hear the resonating sounds of drums beating in the street outside increasing my curiosity or perhaps anticipation for what was later to follow.
The Kitchen is a play without words, metaphorically demonstrating the ups and downs of a marital relationship in trouble. It is set in an Indian kitchen with the 'couple' sitting at the forefront of the stage behind two large cooking pots making payasam- a traditional rice desert made from sweet milk, nuts and raisins. In the background, 12 Mizhavu drummers sit in darkness in a three tiered stage set of a large Mizhavu drum. Each tier and drummer is unveiled as the play progresses.
With a mixed fusion of sound and performance every human emotion was perfectly conveyed to the audience with the actors using both facial and body language as they prepared their dish. The drummer's skilled hands delivered an array of beats underlining each emotion the actors portrayed whilst the wafts of culinary smells from the cooking pots transcended you to India.
The play finishes with the couple finding happiness to a crescendo of heart pounding drum beats and with clever lighting, the impact on stage was quite spectacular as the
drummer's hands appeared flame like. The night completed with the writer Roysten Abel appearing on stage to rapturous applause inviting everyone to the foyer to sample the payasam that had been made.
Well done to the writer and performers for successfully delivering the message 'Life is a melting pot of emotions'
Ulster Bank Arts Ambassador Denise Shannon