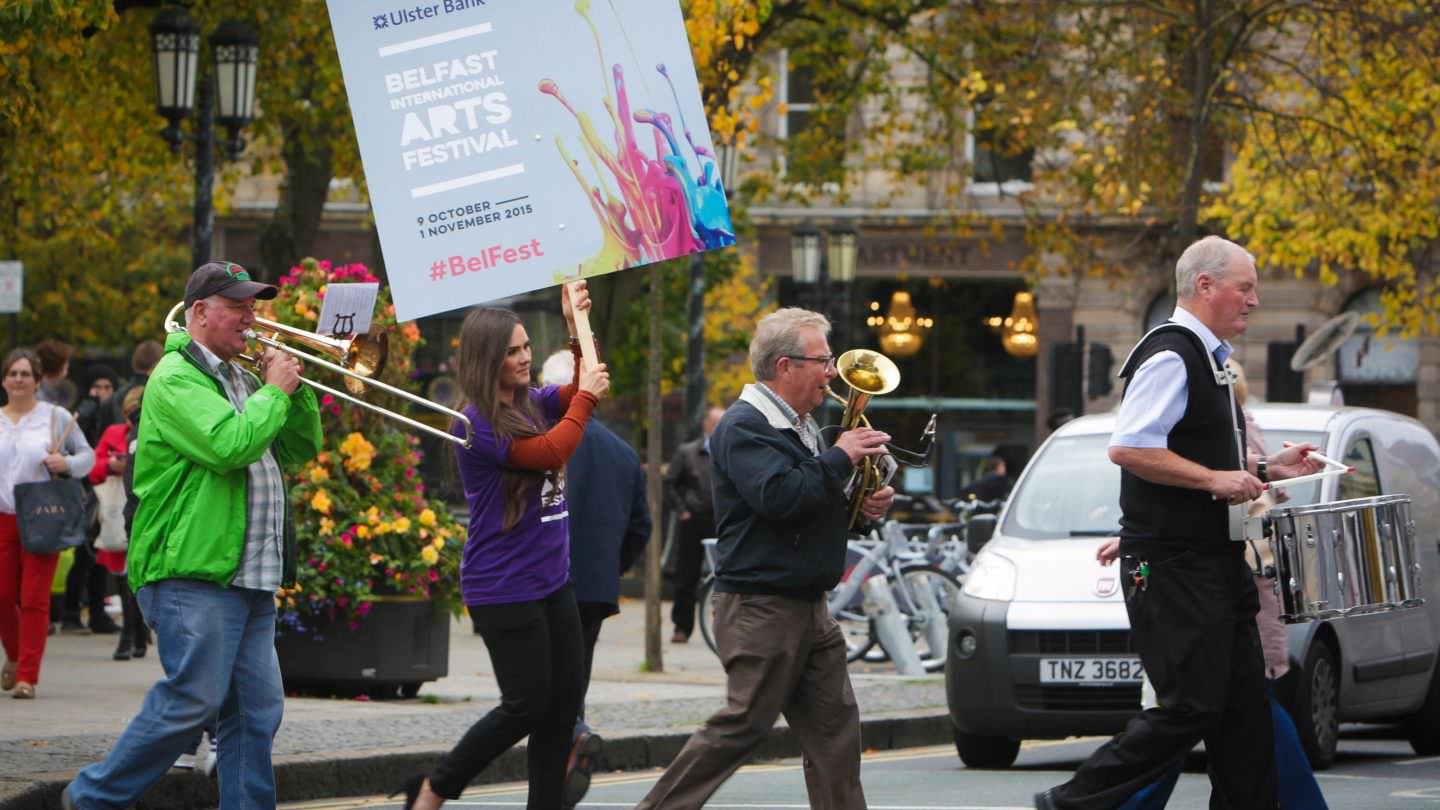 We've Got That Friday Feeling!
The new look Ulster Bank Belfast International Arts Festival celebrated its opening today, when a Big Band flashmob popped up in spots across the city, bringing the Friday Feeling to shoppers and city workers.
With 134 events from 23 countries including 18 UK & Ireland premieres, the Festival programme is packed with top international entertainment.   From free circus to spectacular opera, west end theatre to contemporary dance, classic folk to classical piano, there's something for everyone throughout October.
The Festival opens tonight (Friday) with The Night Alive at the Lyric Theatre, written by Conor McPherson and starring Adrian Dunbar; it will run throughout the Festival until October 31st.
This weekend's first Festival highlights include free shows at Belfast City Hall from one of Europe's top circus acrobats and entertainers, Max Calaf, with a spectacular trampoline show; and the madcap Armenian Jashgawronsky Brothers, whose highly entertaining musical act involves favourite movie soundtracks played on a range of waste materials including the funnel trumpet, the double broom and even a set of squeaky pigs!  Shows are hourly from 1pm to 4pm Saturday at Belfast City Hall and at the same times at Orangefield Park, Castlereagh on Sunday.  Admission is free.
One of the world's finest poets, James Fenton, will be in conversation with Marie Louise Muir on Saturdayevening at the Lyric, fresh from receiving the prestigious PEN Pinter prize in London.
The incredible one-armed concert pianist Nicholas McCarthy will appear at the First Presbyterian Church in Rosemary Street Belfast on Saturday evening, featuring music from his album, which is currently in the Classical Top Ten and Classic FM's Pick of the Week.  Playing favourites including Gershwin and Chopin, as well as music written for Left Hand Alone, his talent is outstanding.
With a fresh focus on outreach for the arts, several of this weekend's performers are also running workshop events for children and families – check the Festival programme for details of circus and piano events.
Looking ahead to next week, theatre-goers can look forward to a new play, The Suitcase, written by local playwright Jane Coyle and performed at the Belfast Synagogue; and the Northern Ireland premiere of west end hit, The Curious Incident of the Dog in the Night Time at the Grand Opera House.
Contemporary dance takes to the stage at the MAC next week with two outstanding European dancers who will be clad head to toe in metal armour, clashing and crashing in their piece, Chivalry is Dead.  In the adopted home of Game of Thrones, Festival organisers have claimed this is the show everyone will be talking about next week.
Of course there's music to look ahead to next week too, from Andy Irvine and Sharon Shannon to the Ulster Orchestra.
Festival Director Richard Wakely said, "We are thrilled to see the new look Ulster Bank Belfast International Arts Festival getting off to a flying starting tonight.  We have worked really hard to bring together a programme of outstanding arts and entertainment from all around the world.   There is something for everyone, including some major free events and shows in locations and venues throughout the city. 
"We have secured several big names but we're even more excited about the new, up-and-coming artists we have coming to Belfast.  I would encourage people to look at the Festival programme, pick something they're familiar with (for example the BBC Big Band) and then pick something a bit different.   Trust us when we say that some of the Next Big Things are going to be here in Belfast over the next three weeks and we're giving audiences here a chance to get in on the act! We can't wait for Northern Ireland audiences to experience as much of this as possible, right here on our own doorsteps."
Richard Donnan, Head of NI at Ulster Bank said:
The arts and creative industries are intrinsically linked to the social and economic wellbeing of our society. It's clear to me that the calibre, class and quantity of performances are going to create a really exciting and inclusive Festival with something for all tastes and budgets. We are proud to support the Festival team in delivering a truly international and world-class arts Festival.
Brona Whittaker, Arts Manager, Arts & Business NI said:
The Ulster Bank Belfast International Arts Festival is a fantastic opportunity at a local level for everyone to get involved in arts and culture. The festival programme has something for everyone bringing artistic excellence from all around the world. Book your tickets now and enjoy an amazing array of artistic activity running right through our city from today until the end of October, an experience not to be missed.
Festival Big Band Flashmob in partnership with Ulster Bank and supported by Arts and Business NI.