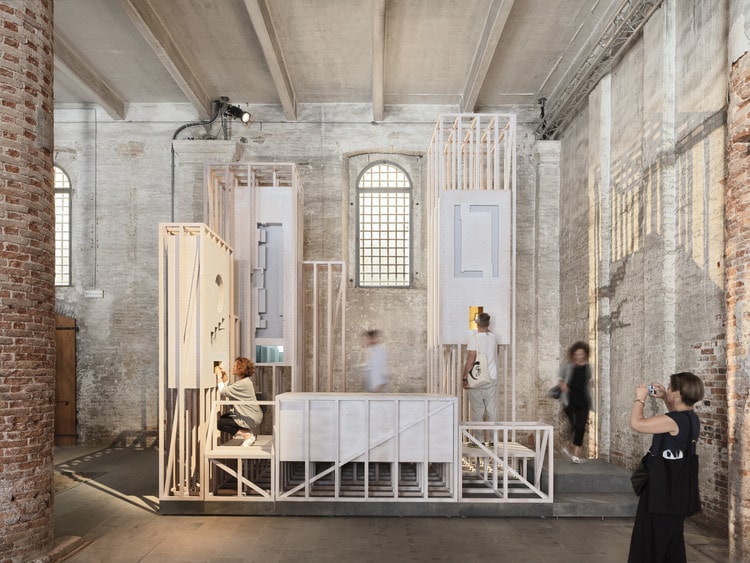 Belfast Architects bring Venice Exhibit to Belfast International Arts Festival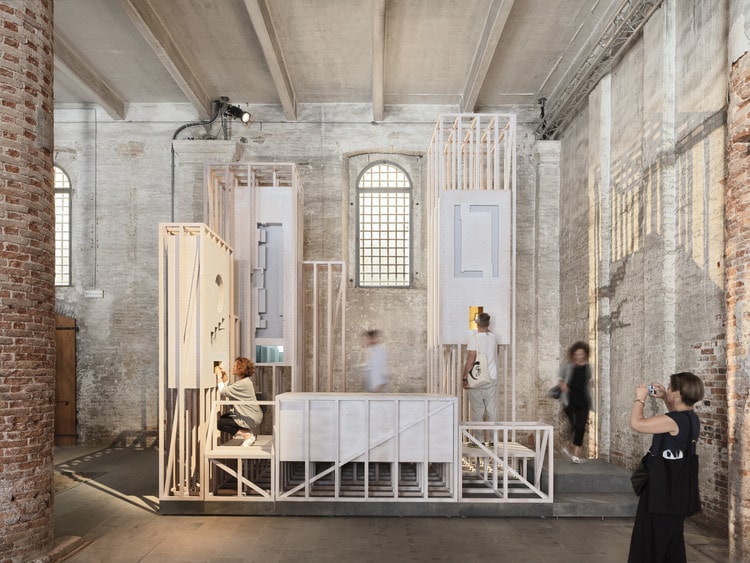 Belfast International Arts Festival is bringing home a critically acclaimed design installation by a Belfast-based architectural practice, following its display at the world-famous Biennale de Venezia (Venice) in 2018.
In association with Ulster University and the British Council Northern Ireland, Unique Instruments, Expectant Spaces has been designed and created by architects, Hall McKnight.  It will be on display, free of charge, at Ulster University, York Street, Belfast from Friday 18 October – 8 November, as part of Belfast International Arts Festival's Embrace programme of free public and community engagement activities throughout the city.
The International Architecture Exhibition at Biennale di Venezia is a prestigious event, with participation by invitation only and is seen as the pinnacle of global built design.
Hall McKnight have been behind some of Belfast's newest architecture, including the MAC Belfast, and Colin Connect, along with major international projects in cities including Copenhagen, Washington DC and London.  They are the first Northern Ireland architects to have been invited to the Biennale.
Unique Instruments, Expectant Spaces will be an interactive exhibit focused on proposals for four new public spaces.  The installation is a large-scale wooden structure featuring spatial models, cleverly placed within mirrored boxes, which allow the visitor to view the models from a variety of perspectives.
Ian McKnight, Partner, Hall McKnight told of their surprise involvement in the Biennale.  He said, "It was slightly surreal; we got an email one day, confidentially asking us to put forward a proposal.  There is no other architecture exhibition like the Venice Biennale anywhere else in the world; it is unrivalled in that respect and it was a real honour to have the opportunity to take part."
Hall McKnight commissioned Carryduff-based Big Picture Joinery to assist with building the structure, which is around 5m tall in parts and constructed out of wood, steel and mirrors.
The installation, which is kindly supported by the British Council Northern Ireland, is based on the theme of Freespace.  Ian McKnight explained, "When you look into the mirror of the model, it appears to occupy space which is beyond the limits of the construction.  To truly understand it, you have to visit and experience it.  We really want people to enjoy the structure; it's very interactive, you walk over it and through it in order to see the mirrored views, so kids love it too.
"As part of our outreach with this project at Belfast International Arts Festival, we are also working together with both the Belfast School of Art and the Belfast School of Architecture and the Built Environment and with schools, to engage with students and practitioners of the future."
The 57th Belfast International Arts Festival, which runs from 15 October to 3 November, takes place in various venues across the city and features over 200 events from the world of music, dance, film, visual arts, literature and theatre.
Ian McKnight continued, "To be involved in Belfast International Arts Festival shows the Festival's understanding of the importance of architecture in shaping our city and culture.  Architecture is art, but it is art which gets used in a way that no other art does and it's physically present in the public eye, hopefully for centuries.
"Belfast is a great place to live and work and it just keeps getting better – but is Belfast improving to be the best that it can be?  Personally, I think Belfast could be even better, and I think that the design of public places has a strong role in that.  We would like to be a part of a Belfast that builds upon its heritage, to add more world class architecture and design."
Richard Wakely, Artistic Director and Chief Executive, Belfast International Arts Festival said, "There is a growing public appreciation of architecture as an artform in addition to the practical role it plays in all our lives. Festival is delighted to be working alongside Ulster University and the British Council Northern Ireland to further that public interest by bringing home Hall McKnight's installation following its presentation at the Venice Architectural Biennale".
Professor Raffaele Folli, Provost, Ulster University Belfast commented, "Ulster University's Birley Building, the Belfast campus home of our Schools of Art and Architecture, is the perfect place to welcome back this internationally-recognised work by Hall McKnight.  Our foyer will become a space transformed by its presence and a sight to behold as we welcome public visitors to see the work and responses by University students to it."
Jonathan Stewart, Director, British Council Northern Ireland said, "Celebrating the international acclaim of Hall McKnight's work at home and bringing its inspiration to students and festival audiences at the Belfast Schools of Art and Architecture is one of the Festival highlights for us.  The programme of free public talks at the University will explore Unique Instruments, Expectant Spaces as well as the major challenges faced by architects in contemporary society."
For more information visit: https://belfastinternationalartsfestival.com/event/unique-instruments-expectant-spaces/