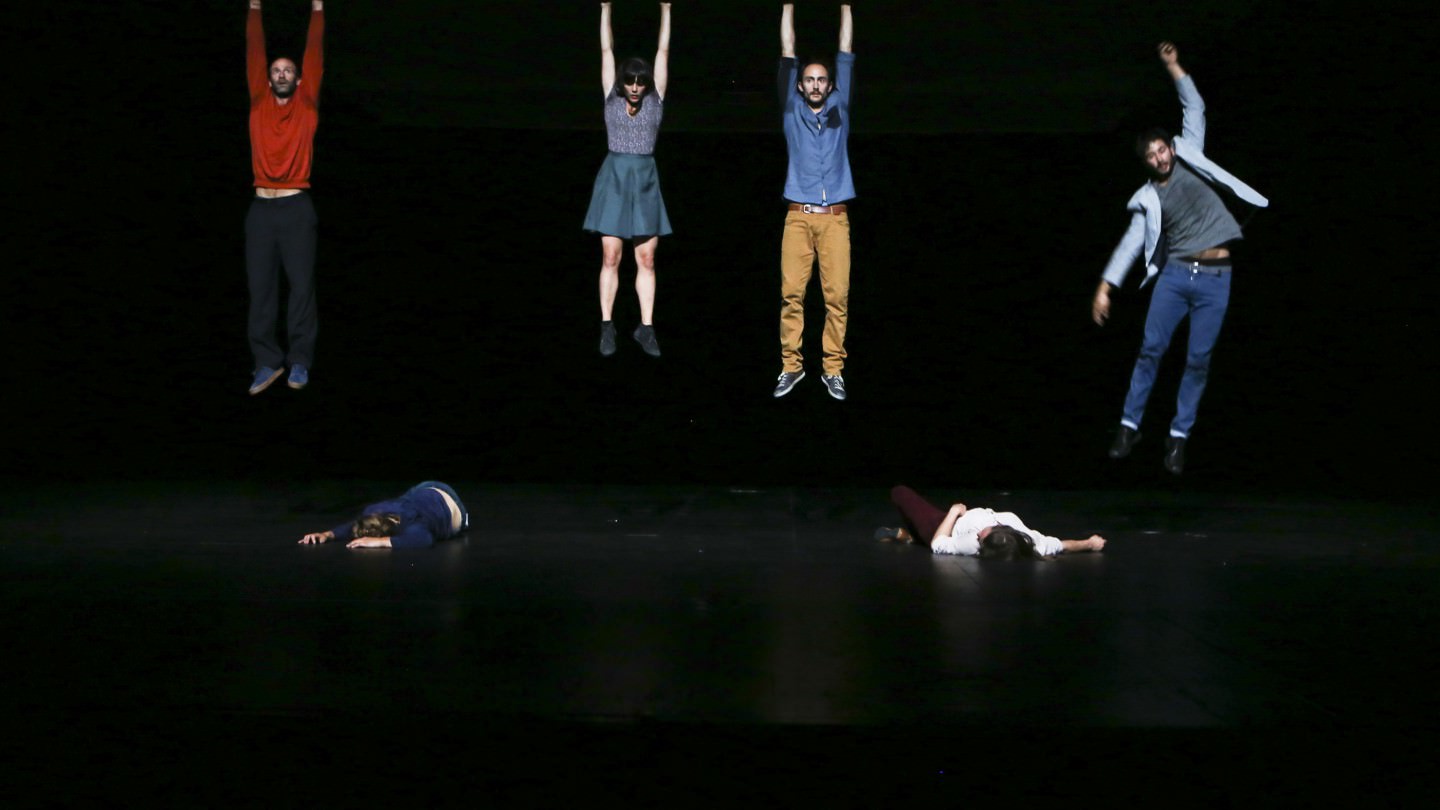 Perilous gravity defying spectacle
Celui Qui Tombe (He Who Falls)
---
Yoann Bourgeois
This thrilling circus-influenced physical theatre piece features six performers on a dramatic tilting stage, appearing to defy the laws of gravity.
When the imposing, suspended podium begins to spin, pivot, swing and elevate, the only way to withstand its forces is through agile movement. Faced by such instability, bodies lean, climb, hang and fall in this perilous dance of survival.
A French artist equally dedicated to the circus arts and contemporary dance, Yoann Bourgeois has long been fascinated by ideas of weightlessness and the physics of suspension. For this ingenious show, he challenges performers from both disciplines to meet the physical demands of his intriguing staging, each scenario choreographed to rousing tracks from Beethoven and Frank Sinatra.
Presented by CCN2-Centre chorégraphique national de Grenoble and supported by Institut Français du Royaume Uni as part of its En Scène! Programme.
Post Interval Panel Discussions
Thursday, 19 October: Brexit Stage Right…
Maud Rattaggi, Executive Producer, Centre Choréographique National de Grenoble, John Kampfner Chief Executive of the Creative Industries Federation and Noel Kelly Director, Visual Arts Ireland will discuss the impact of Brexit on cultural organisations.
Chaired by Dr Tori Durrer, Lecturer in Arts Management and Cultural Policy, Queen's University Belfast
Friday, 20 October: Life and Art: A Question of Balance?
Join Festival in a post interval discussion about Celui Qui Tombe and its focus on weightlessness and the physics of suspension.
Photo Credit: Geraldine Aresteanu
Conceived, directed and staged by Yoann Bourgeois
Assisted by Marie Fonte
Performed by  Julien Cramillet, Dimitri Jourde or Jean-Baptiste André, Elise Legros, Jean-Yves Phuong, Vania Vaneau or Francesca Ziviani, Marie Vaudin
Lighting by Adèle Grépinet
Sound by Antoine garry
Costumes by Ginette
Technical Manager David Hanse
Head of Lighting Julien Louisgrand / Magali Larché
Head of Sound Benoit Marchand
Head of Stage Alexis Rostain
Yoann Bourgeois creates performances that are exquisite, with an intense poetry, and impossible to forget
Le Figaro