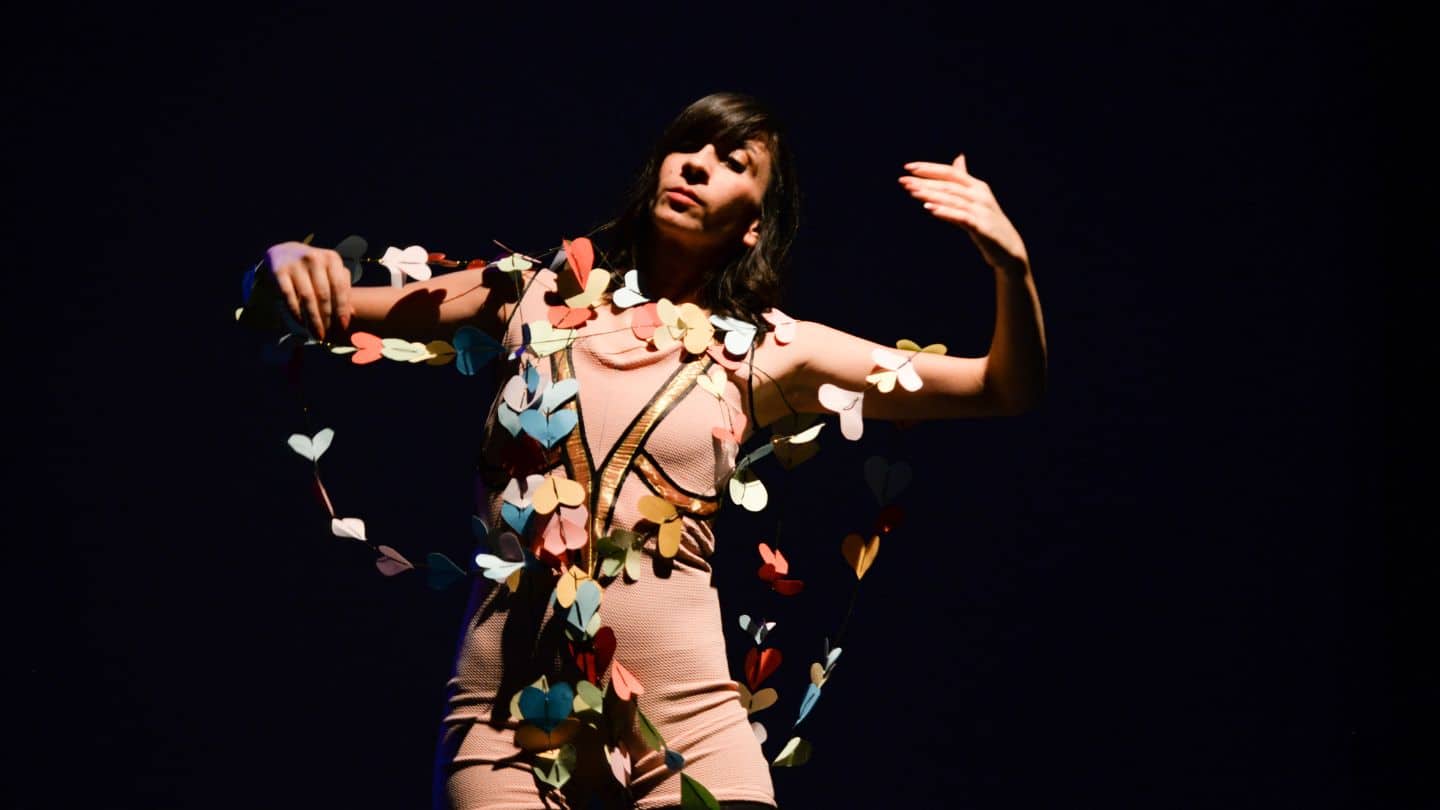 Workshop with Riham Isaac: Performance and Multidisciplinary Approaches
---
Join performance artist and theatre maker Riham Issac for an exciting afternoon of 'Performance and Multidisciplinary Approaches'
Riham Isaac is a performance artist and theatre maker who brings together a range of practices — acting, singing, dancing, video and explores new mediums of live performance and multidisciplinary arts.  Riham's practice reflects on what it means to be producing innovative artistic work in Palestine at this time. Her work is playful and a profound commentary on a wide range of pressing issues related to gender, politics, and arts.
Riham has extensive experience leading and creating artistic projects. In 2017 she co-directed The Alternativity with Oscar-winning Director Danny Boyle & Banksy which was featured as a programme on BBC2. In 2016 she directed & produced I Am You, a multidisciplinary performance that toured Palestine, Sweden & Denmark. In 2014 she performed 'Stone on Road' during Qalandia International Biennale. A MA Graduate from Goldsmiths in Performance and lectures at Birzeit University and Bard College. She is also the Founder of 'Art Salon' which is an independent art space in the old city of Beit-Sahour.
Riham has been commissioned by Belfast International Arts Festival and will be premiering Another Lover's Discourse ليه خلّتني أحبك" at The MAC on Saturday 22 and Sunday 23 October.
On Tuesday 18th October, Theatre and Dance NI in partnership with Belfast International Arts Festival will be hosting a workshop with Riham entitled, Performance and Multidisciplinary Approaches at The Crescent Arts Centre from 3:30pm – 5:30pm.
This workshop will be an informal meeting/workshop where participants will get to meet performance artist Riham Isaac and engage in a few inspiring techniques or inspirations that she uses while creating her own work. Riham will delve into her practice in performance using multidisciplinary approaches and show examples of when she used different approaches, creation techniques, site specific work, multidisciplinary work. Riham will also share in critical conversations with participants about performance practices.
Part of Riham's practice as a performance artist is engaging in multi-disciplinary forms in creating new work; working with material, installation, sounds, videos, scripts and situations. And how these forms can complement the creative process. The workshop will include some practical exercises around that area and opening a discussion with the participants towards the end of the workshop
This 2-hour workshop is for a maximum of 20 participants and is aimed at those who are 18+ and are early/mid-career performance artists interested in performance and multidisciplinary approaches.
This workshop has been supported by Arts Council of Northern Ireland and Crescent Arts Centre.