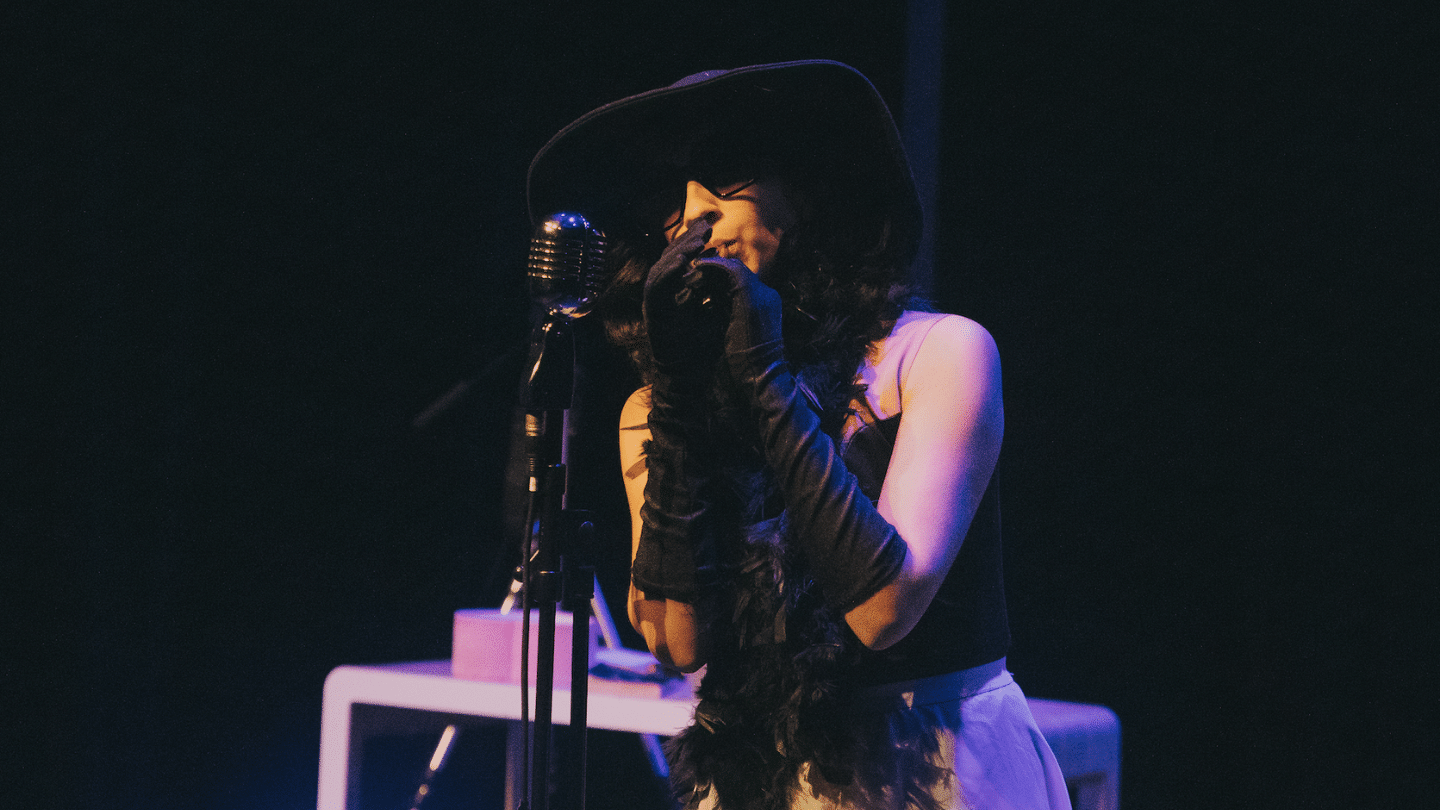 Riham Isaac
Another Lover's Discourse
---
 ليه خلتني احبك
Commissioned exclusively for Belfast International Arts Festival, Another Lover's Discourse ليه خلتني احبك is a solo theatre show created and performed by Riham Isaac that encourages a more open conversation about how we understand romantic relationships. 
It feels like we are waiting for something. Is it the myth of love? Or something to delight our minds?
What do we want? Will we ever truly know how to love?
We rarely openly discuss romantic desires, love, partnership and marriage in our communities; across cultures, countries and generations. Riham decides otherwise, revealing those hidden conversations.
In this inventive new multimedia performance, from one of Palestine's most exciting contemporary artists, you are invited to think differently about love; to shake off stereotypes, free yourself from old traditions and think about what you actually want. Combining video, music and performance, Riham mashes up interviews with friends, family and strangers, with songs and clips from the Arabic golden age of cinema, improvised performance and original film to explore the complexity of love and relationships.
This irreverent look at romance will resonate with anyone who has ever wondered: is this really all there is?
Age guidance: 14 Yrs + (contains adult themes)
Supported by the British Council
---
Riham Isaac: Project leader, maker and performer
Simon Clode: Video Artist
Faris Ishaq: Composer and musician
Bashar Hassuneh: Set Designer
Firas Abu Sabbah: Light Designer, technical support and Stage Manager
Courtenay Johnson: Creative Producer
Costume Designer: Hind Hilal & Rawan Bazbazat
---
Box Office Information:
In line with current restrictions, the MAC's seating plan accommodates 1m social distancing. It is a dynamic system that auto locks seats between bookings as they happen.
You can follow the Book Now link to book direct on the MAC's website. You can also leave a voicemail on the MAC's Box Office line 028 9023 5053. If you wish to email a ticketing enquiry, contact tickets@themaclive.com. Phone and email enquiries are monitored Monday to Friday. The MAC building will reopen on Wednesday 8 September.
Your Visit – What to expect:
On arrival, please enter via the door at Exchange Street West. The door at Saint Anne's Square will be exit only. Customers should show their e-ticket on arrival.
Customers are required to wear a facemask when moving around the building, but this can be removed when seated in the theatre.
There will be hand sanitising stations and a one-way system through the building and theatre space.
MAC Cafe Bar will be open for pre-theatre drinks and snacks, however will not be open post performance. Audiences should leave the MAC promptly following the performance through the door at Saint Anne's Square.
A wonderful work. Funny and touching and with some real surprises - not least the singing! Riham Isaac explores the expectations of marriage and romance and the dreams that hover beyond them.
Danny Boyle