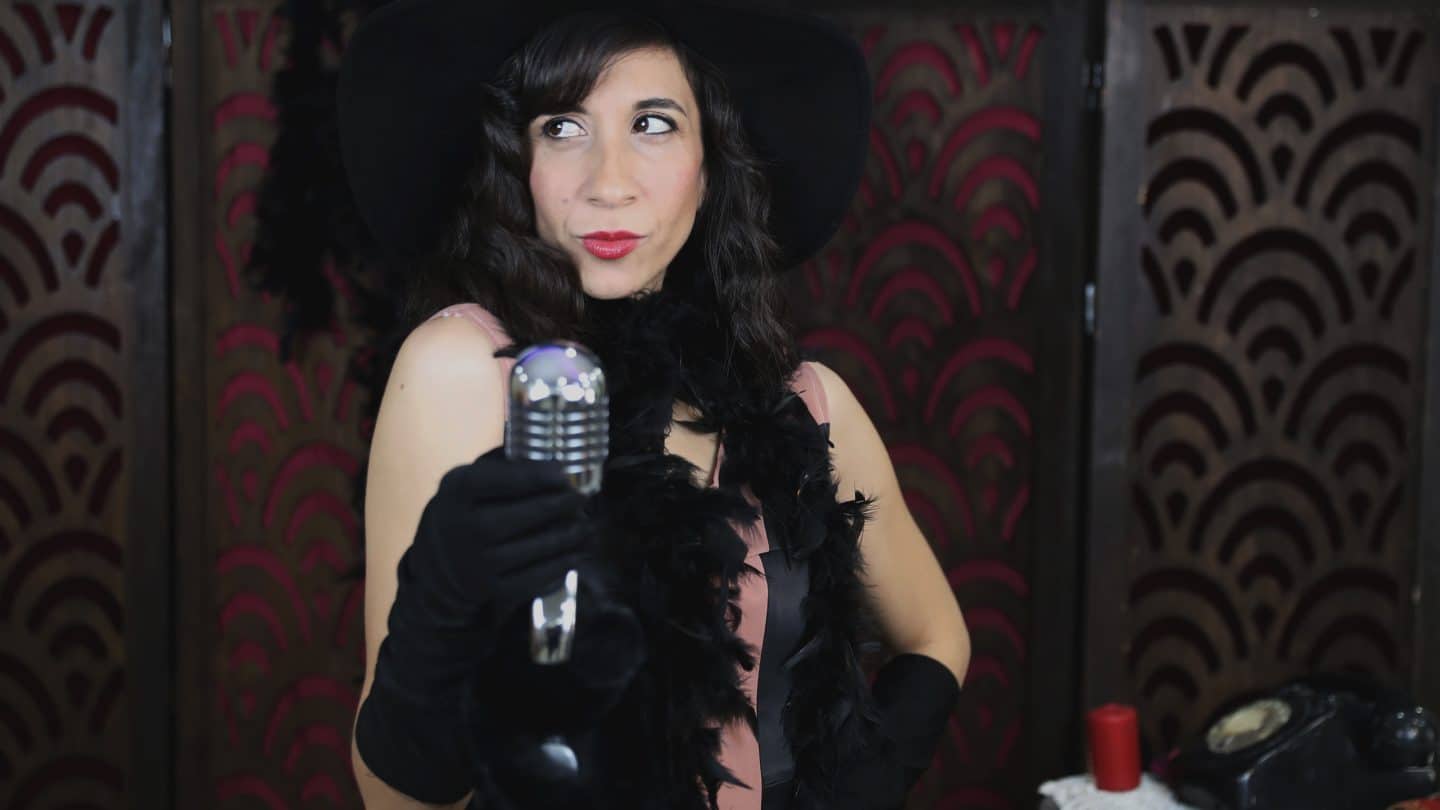 Middle East & North Africa Focus
Another Lover's Discourse
---
Riham Isaac | ليه خلتني احبك
Note: Sales will close on our Box Office at 4pm for Saturday evening's performance. Limited tickets available at The MAC.
Commissioned by Belfast International Arts Festival, Another Lover's Discourse ليه خلتني احبك is a solo theatre show created and performed by Riham Isaac that encourages a more open conversation about how we understand romantic relationships. 
3 years ago, Riham embarked on a journey to explore what it means to love; what ideas do we have about it and what is holding her back from it?
Another Lover's Discourse ليه خلّتني أحبك is Riham's first solo performance created and performed by her. She mashes up interviews with friends, family and strangers, combining video, music, performance, and original film to explore the complexity of love and relationships.
This inventive new multimedia performance, from one of Palestine's most exciting contemporary artists, invites you to think differently about love; to shake off stereotypes, free yourself from old traditions and think about what you actually want.
This irreverent look at romance will resonate with anyone who has ever wondered: is this really all there is?
Part of BIAF's 2022 focus on artists from the Middle East and North Africa. Supported by the British Council.
View accompanying programme.
Age guidance: 14 Yrs + (contains adult themes and strong language)
Post Show Discussion on Saturday 22 October after 7pm show
---
Acknowledgements
Commissioned by Belfast International Arts Festival, supported by British Council.
With funding from the Palestinian Cultural Ministry and public funding through the National Lottery by Wales Arts International and Arts Council England.
Supported by Alkasaba Theatre and Cinématique and Palestinian National Theatre.
Special thanks to AWAN, Cultures of Resistance, Popular Art Centre & Amber Massie-Blomfield.
---
Creative Team
Riham Isaac: Writer, Director and Performer
Simon Clode: Video Artist
Faris Ishaq: Composer and Musician
Bashar Hassuneh: Set Designer
Hind Hilal & Aya Altaweel: Costume Designer
Firas Abu Sabbah: Lighting Designer and Technical Stage Manager
Courtenay Johnson: Creative Producer (in collaboration with Riham Isaac)
---
PREMIERE PICK N MIX TICKET DEAL!
OFFER 1: Multi-buy discount
– Choose 2 selected events: save £8 Full/ £7 Conc*
– Choose 3 selected events: save £12 Full/ £10.50 Conc*
Bookings must be made in one transaction to qualify for the discount. Available throughout the festival.
*Discount on advertised Full and Concession rate tickets.
OFFER 2: Earlybird discount
Take advantage of 20% discount on selected events when you book between Tues 9 Aug – Sun 11 Sep.
Only one offer can be applied at checkout.
A wonderful work. Funny and touching and with some real surprises - not least the singing! Riham Isaac explores the expectations of marriage and romance and the dreams that hover beyond them.
Danny Boyle
Isaac's theatrical work is entertaining, humorous and takes audiences on a journey. Her work raises awareness, encourages debate, and tackles issues of social injustice.
Aser Elsaqqa, Artistic Director AWAN Festival
It was a journey into myself, remembering the many attempts to fit in and find romantic, idealised love. Thank you for taking us to that place! I loved the mixed media you used, especially the conversation with your mother!
Audience feedback at Work in Progress sharing