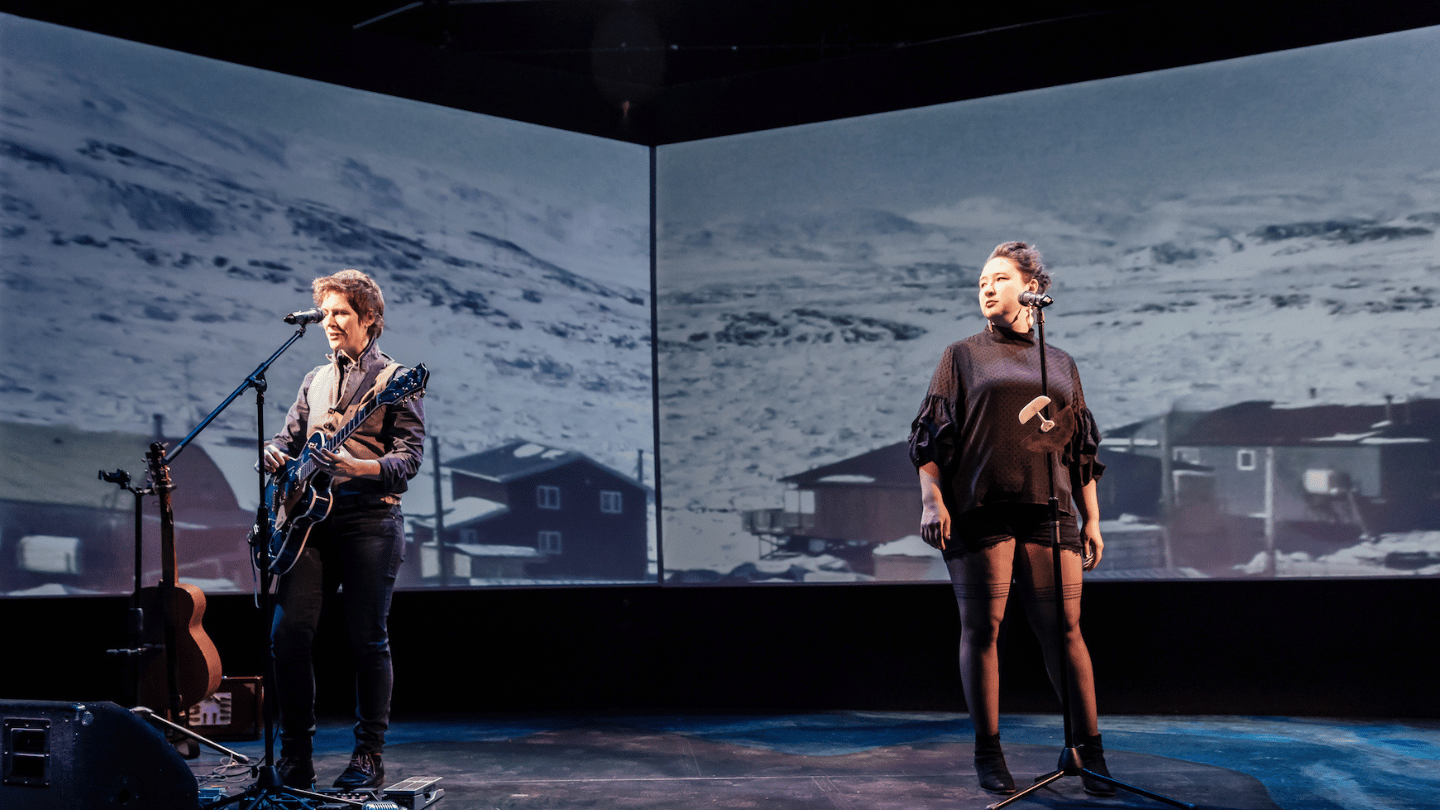 Kiinalik: These Sharp Tools
---
Buddies in Bad Times Theatre
A dramatic meeting between two extraordinary artists, examining their intertwined histories, colonial legacies and the changing climate we all face.
In the Inuktitut language, 'kiinalik' translates to mean the knife is sharp, or, 'it has a face'.
A concert and a conversation, Kiinalik: These Sharp Tools is the meeting place of two people, and between the northern and southern extremes of Canada. Inuk artist Laakkuluk Williamson Bathory and queer theatre-maker Evalyn Parry met on an Arctic expedition from Iqaluit to Greenland. Now sharing a stage, these two powerful storytellers map new territory together in a work that gives voice and body to the histories, culture, and climate we've inherited and asks how we reckon with these sharp tools.
Post show discussion: Friday 4 November
Part of BIAF's 2022 focus on artists from Canada.
---
Credits
Written + Performed by Evalyn Parry & Laakkuluk Williamson Bathory
Created by Evalyn Parry, Laakkuluk Williamson Bathory, Erin Brubacher & Elysha Poirier with Cris Derksen
Directed by Erin Brubacher
Live Video by Elysha Poirier
Original Composition + Live Music by Cris Derksen & Evalyn Parry
Uaajeerneq and Throat Singing by Laakkuluk Williamson Bathory
Set Design by Kaitlin Hickey
Lighting Design by Rebecca Picherack
Sound Engineer Aleda Deroche
Stage Manager Georgia Priestley-Brown
Production Assistant Rico Manitok
Production Manager Charissa Wilcox
Technical Director Adrien Whan
Manager of Touring Chris Reynolds
Seal Skin Shoes by Nicole Camphaug, Enb Artisan, Nunavut
Jewelry by Matthew Nuqingaq
Ulu by Mosesie Lewis
Originally developed and co-produced by Buddies in Bad Times Theatre & Theatre Passe Muraille
PREMIERE PICK N MIX TICKET DEAL!
OFFER 1: Multi-buy discount
– Choose 2 selected events: save £8 Full/ £7 Conc*
– Choose 3 selected events: save £12 Full/ £10.50 Conc*
Bookings must be made in one transaction to qualify for the discount. Available throughout the festival.
*Discount on advertised Full and Concession rate tickets.
OFFER 2: Earlybird discount
Take advantage of 20% discount on selected events when you book between Tues 9 Aug – Sun 11 Sep.
Only one offer can be applied at checkout.
A performance somewhere between cabaret, ceilidh, gig and theatrical poem... ★★★★
- The Guardian