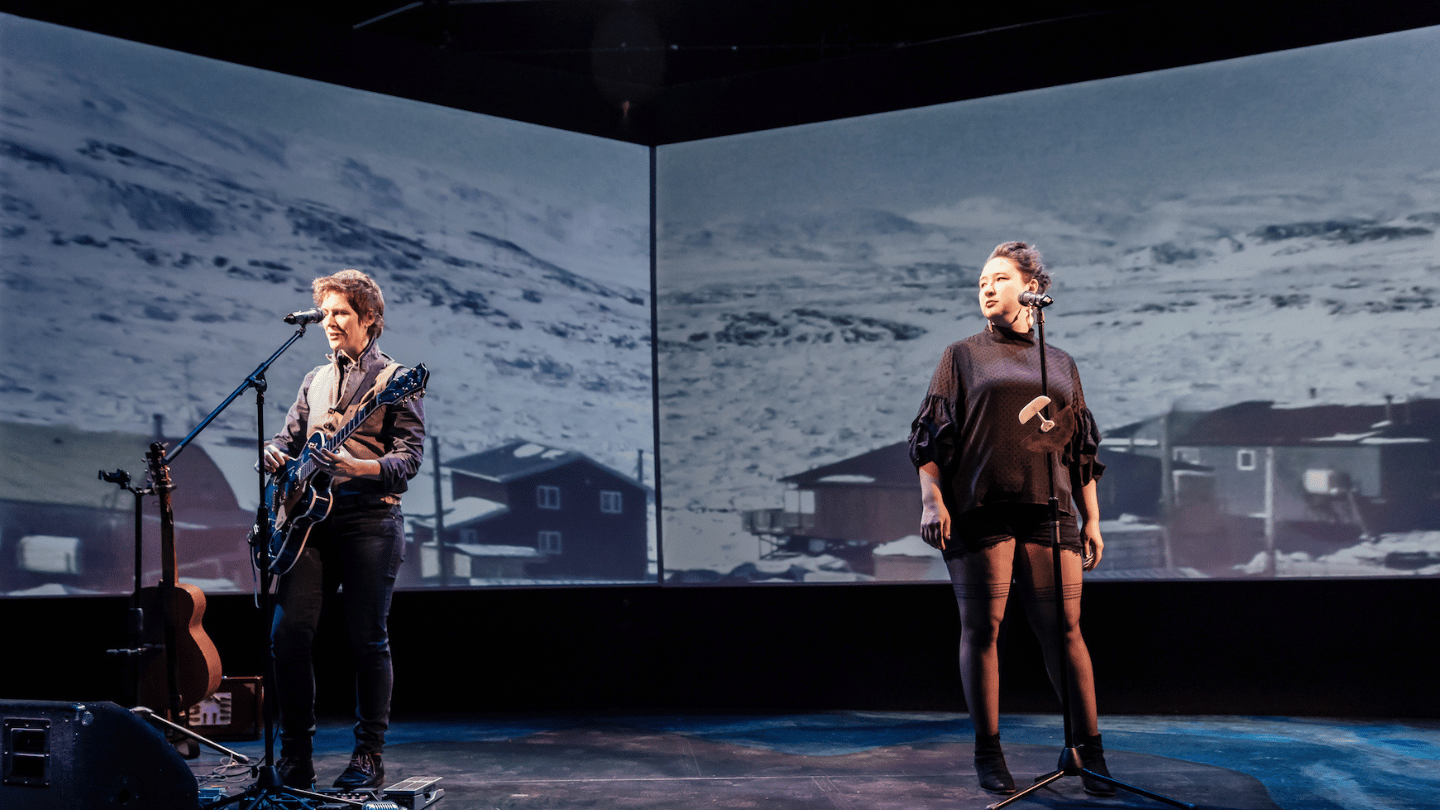 Kiinalik: These Sharp Tools
---
Buddies in Bad Times Theatre
Note: Sales will close on our Box Office at 4pm daily for that day's performance. Limited tickets available at The MAC.
A concert and a conversation. A dramatic meeting between two extraordinary artists, examining their intertwined histories, colonial legacies and the changing climate we all face.
In the Inuktitut language, 'kiinalik' translates to mean the knife is sharp, or, 'it has a face'.
Kiinalik: These Sharp Tools is the meeting place of two people, and between the northern and southern extremes of Canada.
Creator/performer and songwriter Evalyn Parry combines social activism with powerful theatre, and supported the creation of countless new works during her tenure as artistic director of Toronto queer theatre company Buddies in Bad Times from 2015 to 2020. Poet, performer, and curator Laakkuluk Williamson Bathory is a Sobey Art award-winning artist based in Iqaluit, Nunavut, and a fierce advocate for Inuit artists.
The two women met on board a ship, part of an Arctic expedition from northern Canada to Greenland, and vowed to bring their contrasting storytelling traditions together in a single work. Sharing a stage, Parry's heartfelt personal anthems combine with Williamson Bathory's gripping uajeerneq – a Greenlandic mask dance – to give voice to their intertwined histories, colonial legacies and the changing climate we all face.
Using folksong and throat singing, lively audience engagement and an extraordinary ice-walled set, Kiinalik: These Sharp Tools is a provocative, poignant drama of understanding and reconciliation, unforgettable in its transgressive power.
Post show discussion: Friday 4 November
Please note that latecomers cannot be admitted into this performance.
Part of BIAF's 2022 focus on artists from Canada.
---
Credits
Written + Performed by Evalyn Parry & Laakkuluk Williamson Bathory
Created by Evalyn Parry, Laakkuluk Williamson Bathory, Erin Brubacher & Elysha Poirier with Cris Derksen
Directed by Erin Brubacher
Live Video by Elysha Poirier
Original Composition + Live Music by Cris Derksen & Evalyn Parry
Uaajeerneq and Throat Singing by Laakkuluk Williamson Bathory
Set Design by Kaitlin Hickey
Lighting Design by Rebecca Picherack
Sound consultant Matthew Pencer
Stage Manager Kaitlin Hickey
Technical Director Adrien Whan
Manager of Touring Chris Reynolds
Seal Skin costume elements by Nicole Camphaug, Enb Artisan, Nunavut
Ulu by Mosesie Lewis
Originally developed and co-produced by Buddies in Bad Times Theatre & Theatre Passe Muraille
PREMIERE PICK N MIX TICKET DEAL!
OFFER 1: Multi-buy discount
– Choose 2 selected events: save £8 Full/ £7 Conc*
– Choose 3 selected events: save £12 Full/ £10.50 Conc*
Bookings must be made in one transaction to qualify for the discount. Available throughout the festival.
*Discount on advertised Full and Concession rate tickets.
OFFER 2: Earlybird discount
Take advantage of 20% discount on selected events when you book between Tues 9 Aug – Sun 11 Sep.
Only one offer can be applied at checkout.
A performance somewhere between cabaret, ceilidh, gig and theatrical poem... ★★★★
- The Guardian