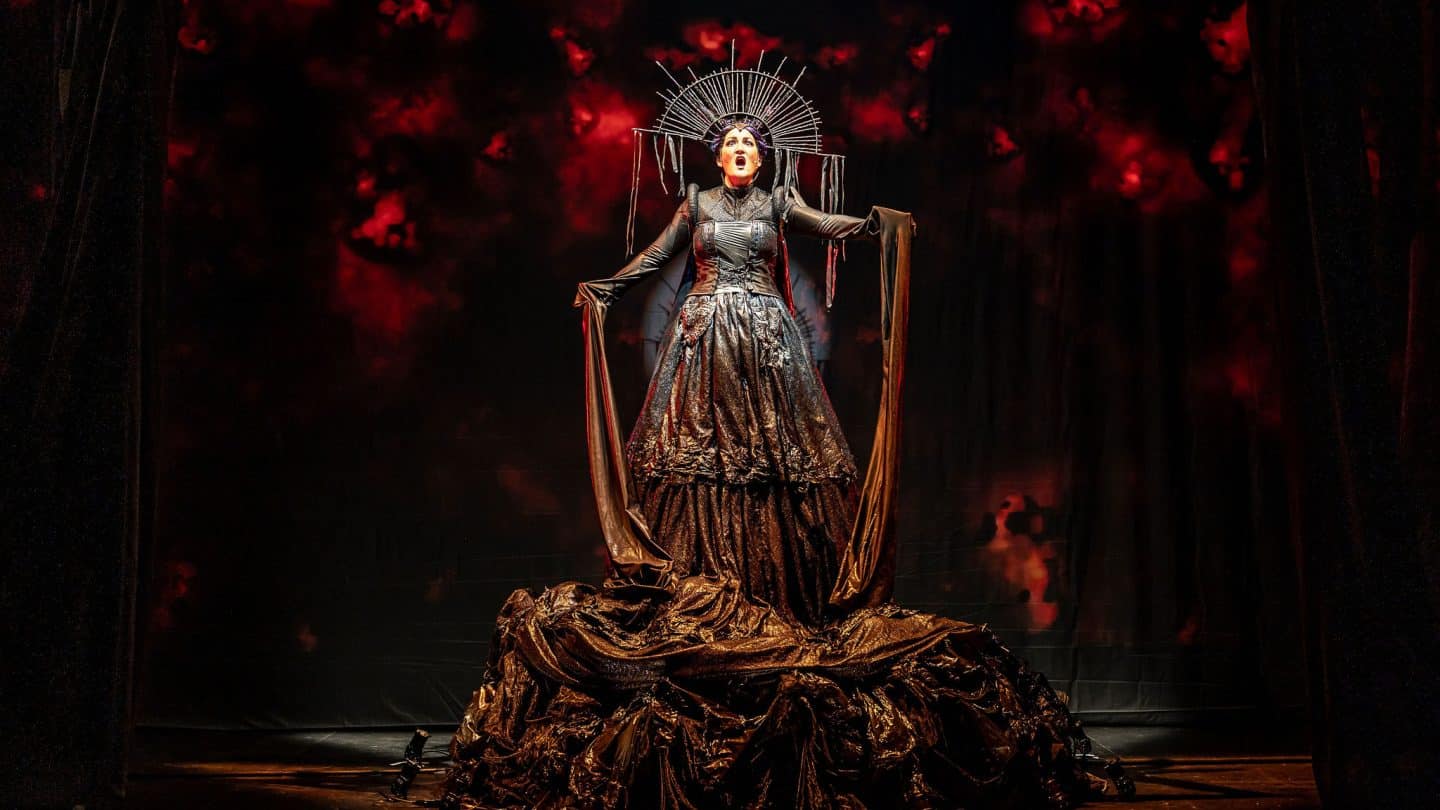 The Queen In Me
---
Teiya Kasahara 笠原貞野 Theatre Gargantua, Nightwood Theatre, Amplified Opera, Canadian Opera Company
When The Magic Flute's iconic Queen of the Night refuses to keep singing, theatre and opera combine for a thrilling performance that sheds light on the restrictive notions of race and gender within the opera industry.
The curtain rises on The Magic Flute's iconic Queen of the Night, ready to sing her highly anticipated aria "Der Hölle Rache," but tonight, she refuses to play the  fallen woman. Tonight, she takes a stand against the expectations that bind her by refusing to sing as prescribed.
In a thrilling performance that combines theatre and opera, comedy and drama, Teiya Kasahara (they/them) explores the many ways that race, gender, and sexuality are policed in the opera industry.
Told through the lens of the Queen of the Night, the show reclaims space for the multitudes of women, trans, and non-binary individuals excluded from the stage, daring to imagine new narrative possibilities for the art form.
Featuring music from La Bohème, Lucia di Lammermoor, Macbeth, Madama Butterfly, Manon Lescaut, Rigoletto, Salome, and The Magic Flute.
Note: Use of strobe lighting and strong language. Age guidance that the show may not be suitable for young children.
Post show discussion: Tuesday 18 October
Part of BIAF's 2022 focus on artists from Canada.
---
Credits
Creator/Performer: Teiya Kasahara 笠原貞野
Co-Directors: Andrea Donaldson & Aria Umezawa
Set & Costume Design: Joanna Yu
Lighting Design: André du Toit
Projection Design: Laura Warren
Pianist: David Eliakis
Image by Lead Gaetz Photography
PREMIERE PICK N MIX TICKET DEAL!
OFFER 1: Multi-buy discount
– Choose 2 selected events: save £8 Full/ £7 Conc*
– Choose 3 selected events: save £12 Full/ £10.50 Conc*
Bookings must be made in one transaction to qualify for the discount. Available throughout the festival.
*Discount on advertised Full and Concession rate tickets.
OFFER 2: Earlybird discount
Take advantage of 20% discount on selected events when you book between Tues 9 Aug – Sun 11 Sep.
Only one offer can be applied at checkout.