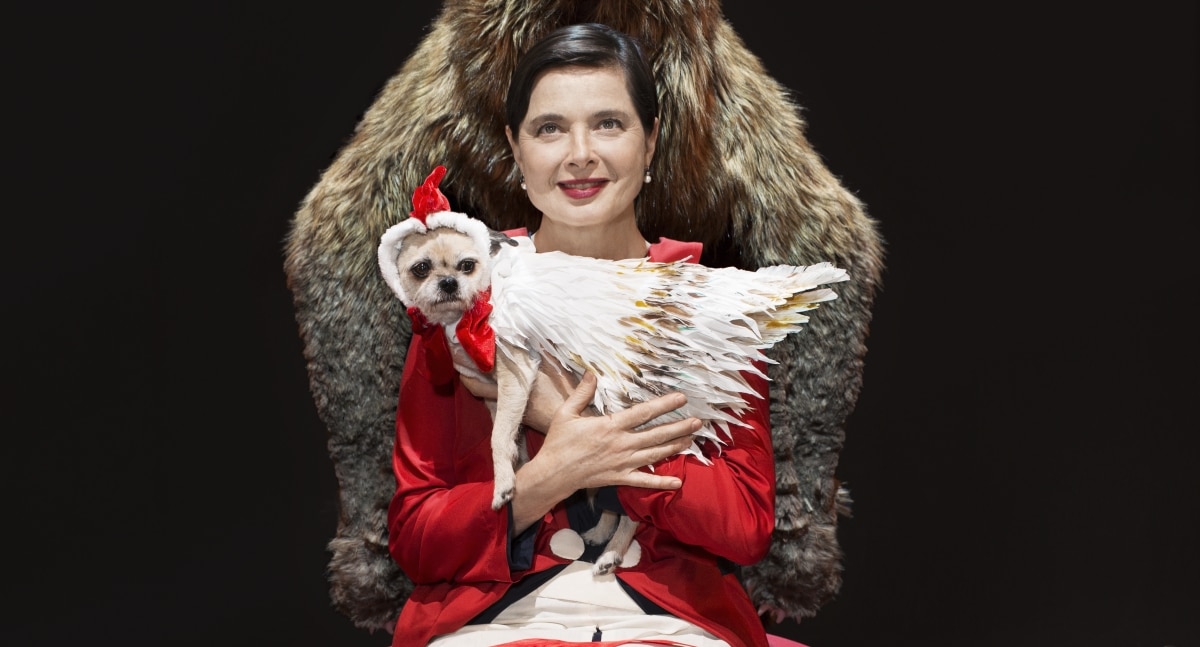 Festival Brings Hollywood Royalty Rossellini to Belfast Stage
Belfast International Arts Festival is thrilled to be welcoming Italian actress and screen siren Isabella Rossellini to the Grand Opera House on the 31 October 2018 with her new one-woman show Link Link.
An Irish premier, the brand new one-woman (and one dog) show by Golden Globe-nominated actress and filmmaker Isabella Rossellini (Blue Velvet, Death Becomes Her, Fearless, Joy), Link Link is a monologue inspired by the animal world, based on scientific research with a comic twist.
The audience will get to see enduring style icon Rossellini transforms herself into Aristotle, René Descartes, a medieval theologian, Harvard Professor BF Skinner and Charles Darwin to explore, in her own intriguing way, what distinguishes humans from animals.
Rossellini's monologue will be accompanied by projections of her short comic films, home movies, photos, and drawings whilst her dog Pan, an outstanding supporting artist plays various animals assisted by puppeteer and animal handler Schuyler Beeman.
Isabella Rossellini is "Impossible to resist" – The Hollywood Reporter

"… it is hard to deny how pleasurable Ms. Rossellini's company is." – The New York Times.
Rossellini has had an amazing career, and is known for making brave choices in the roles she plays.  Her previous show Green Porno received rave reviews and was hailed as 'hilariously weird'.
Belfast International Arts Festival Director, Richard Wakely, says: "The Festival is honoured to host one of Europe's most versatile and celebrated female performers.  Isabella Rossellini has graced the screen and stage for many years and her new work, Link Link is an exquisite and comical tour de force that is also thought provoking in its approach to enhancing our appreciation of the animal world."
Noirin McKinney, Director of Arts Development, Arts Council of Northern Ireland, added, "The Arts Council of Northern Ireland is delighted to support the Belfast International Arts Festival in bringing the internationally renowned performer,  Isabella Rossellini, to Belfast with her show Link Link.  The importance of staging an arts festival of this magnitude in Belfast cannot be overestimated and with something to suit all tastes and budgets in this year's terrific programme, I would encourage everyone to go along and enjoy."
The Belfast International Arts Festival is supported by the Arts Council of Northern Ireland, The National Lottery through the Arts Council of Northern Ireland, Belfast City Council, Tourism Northern Ireland and British Council.
Tickets are available now at belfastinternationalartsfestival.com.  With over 120 event including 12 premiers make sure to check out the full programme launch on the 16 August 2018.