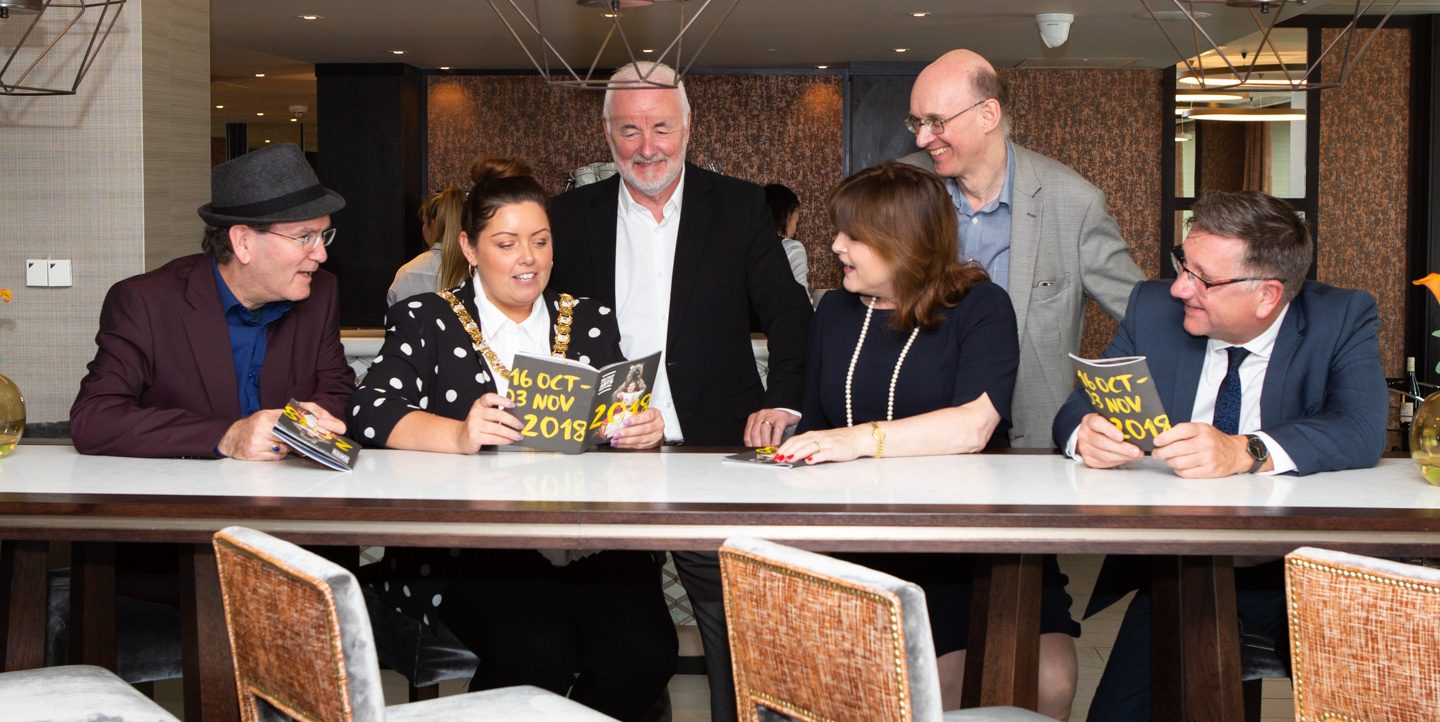 A 'Grand' unveiling of the 2018 Belfast International Arts Festival Programme
The Belfast International Arts Festival has launched a spectacular programme of over 120 events from home and abroad, including 12 premieres, running from the 16 October to the 3 November, at the city's newest iconic hotel, the Grand Central.
The biggest contemporary arts festival in Northern Ireland, the 56th edition will bring a world class and eclectic fusion of theatre, dance, music, visual art, literature, films and talks to venues across Belfast this autumn.
Hosted by Festival supporters, Hasting Hotels, the official unveiling of the programme was followed by a performance from Olivier nominated actress Josette Bushell-Mingo OBE, star of 'Nina – A Story about me and Nina Simone', one of the many critically acclaimed shows to be brought to Belfast as part of the 2018 Festival.
Alongside Josette, this year's Festival sees a strong star studded female line-up
including Italian actress and screen siren Isabella Rossellini with her one woman show Link Link, former Irish President Mary Robinson discussing her forthcoming new book, Climate Justice, and 3 time Grammy award winning singer Angelíque Kidjo playing her version of the iconic Talking Heads album Remain in Light tour.
With 120 events to choose from, it's difficult to highlight just a few but with several UK, Irish and world premieres not to be missed, other highlights include:
Stroke Odysseys, a cathartic and colourful show of music and dance, uncovering what it means to live your life after suffering a stroke.
Facing the Sea, for Tears to Turn into Laughter is a beautifully sculpted contemporary dance piece from Tunisia and a curious, heart-warming and fun packed show for all the family, Handle with Care, arriving from Catalonia.
Local theatre companies will also present new and exciting work with award winning Marie Jones' brand new play Dear Arabella staged in the Lyric Theatre, darkly humorous Freak Show taking place in the MAC and Pulitzer Prize winner Paul Muldoon, with his new translation of the greatest love poem in the Irish language The Lament for Art O'Leary with music by members of the original Irish Celtic Rock Band, Horslips, and featuring acclaimed actress, Liz Dwan.
Add to this world class blues music, a unique classical screening in St Anne's Cathedral and a diverse range of talks to include Conservative MP Dominic Grieve and the curators of the Repeal the 8th Anthology and we are set for a very exciting few weeks of events.
Artistic Director and Chief Executive, Richard Wakely said;
"Art has the power to generate ideas, inspire revolutions, and change the way we view ourselves, the world around us and our place in history. Nowhere is this power more clear than in our 2018 programme which brings together artists and audiences, from home and abroad in a genuine celebration of arts and culture"
Principal Funder and Arts Council of Northern Ireland Head of Drama and Literature, Damian Smyth, added:
"The Arts Council of Northern Ireland is immensely proud to be Principal Funder of the Belfast International Arts Festival which continues to bring world-renowned acts to Belfast as well as offering a platform for our own impressive artists and performers. The importance of staging an international arts festival in Belfast cannot be overestimated and the Arts Council recognises this festival's enormous contribution to arts and culture in return for a relatively small amount of public investment.  I would encourage everyone to check out the Arts Council's Embrace section in this year's programme, which highlights an exciting range of free events and workshops on offer."
Lord Mayor of Belfast, Councillor Deirdre Hargey said of the festival;
"Belfast City Council is proud to invest in the Belfast International Arts Festival.   It continues to inspire and energise us through its innovative programming of world-class acts and home-grown talent. And Belfast's creative reputation is ever expanding. Our artists help us to make sense of, and navigate the world around us – and they're also helping to position Belfast as a must visit destination. I wish everyone involved in the Festival the very best of luck."
The Belfast International Arts Festival is supported by the Arts Council of Northern Ireland, National Lottery through the Arts Council of Northern Ireland, Belfast City Council, Tourism Northern Ireland and British Council.
Tickets are available now at belfastinternationalartsfestival.com or via the official Festival Box Office at Visit Belfast.