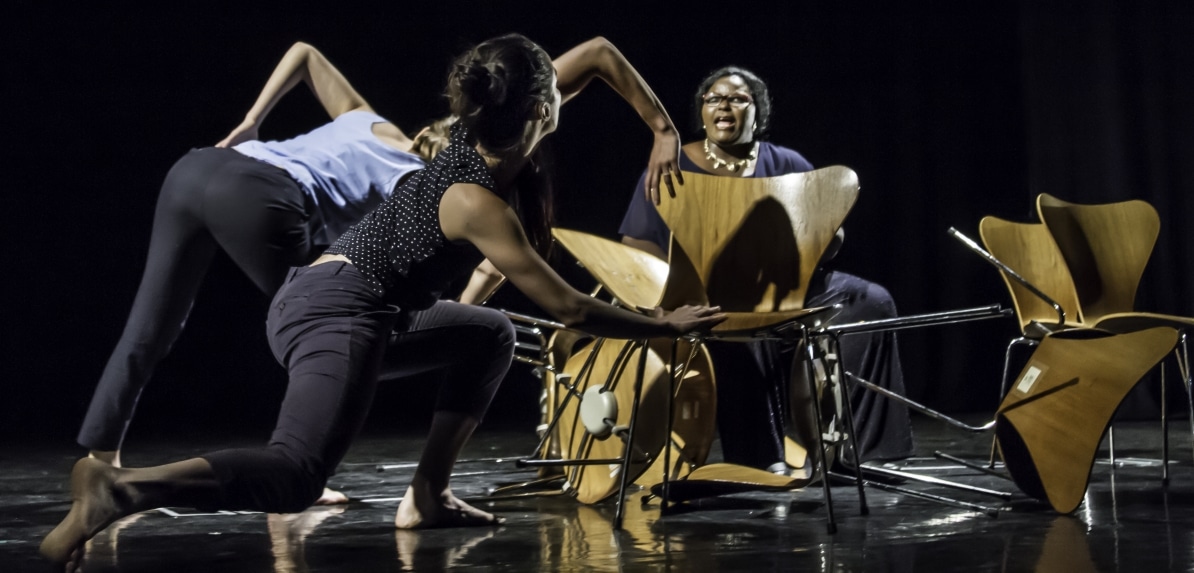 Rosetta Life presents:
Stroke Odysseys
Stroke survivors take to the stage in a daring movement and song project specially choreographed by Ben Duke
Music by Orlando Gough | Choreographed by Ben Duke
Choreographer Ben Duke, composer Orlando Gough, health professionals and survivors of traumatic brain injury have collaborated on a poignant movement and song production that asks who we become when we lose a part of ourselves. Some of the most profound questions that preoccupy survivors of stroke and other traumatic brain injuries touch on hopes of regaining the lost faculties that are core to their identity, including speech, song, movement and dance. In Stroke Odysseys, stroke survivors perform alongside professional musicians, singers and dancers to tell their stories: of who they are, who they were, and the journey they're on.
Rosetta Life is an organisation that use the arts in health innovation, and has been working for three years on the Stroke Odysseys project to help people living with the debilitating long-term effects of a stroke or brain injury. The project is a partnership between health professionals and artists to help those with an altered capacity to move, speak and express themselves. Often the participants are suffering from severe depression or anxiety: Stroke Odysseys helps them to recover their identities and find purpose again. There are around 100,000 strokes in the UK each year.
The show, first performed at London dance venue The Place in May, will be accompanied by panel discussions with dancers, musicians, neurologists and neuroscientists to explore the impact of storytelling through song and dance on the brains ability to heal itself. In each area, Rosetta Life will be working with local health professionals and artists working in health care to share their findings of the benefits of using movement and song in recovery. They will be running extensive residencies and discussions on topics such as Dance and Health (The Point, Eastleigh) Post Stroke Music and Neural Plasticity (Queen's University Belfast), Movement, Voice and Recovery (Theatre by the Lake, Keswick), and Performance Arts and Life After Stroke (Kings College London).  At most venues they will also be leading free workshops for people living with the effects of a stroke.
Ben Duke said, "As in all of my work I am interested in how to bring the stories of the people I am working with onto the stage.  This may or may not involve a literal telling of their story, but it will involve a searching for what the stories are that define us, and how do we find a way to share those stories so that other people will really hear them. For people who have suffered a stroke the process of absorbing that identity of stroke survivor into their existing sense of self is obviously a complicated one and my interest is in how to present this journey as a moving and entertaining piece of dance theatre. The piece will follow very loosely the idea of an odyssey and will look at how any sense of a destination, of arriving at an identity, is an illusion and that we are all constantly moving. The show is about the very human struggle to understand who we are, and whether as we lose bits of ourselves the answer to that questions seems closer or further away."
Rosetta Life has been partnering with artists and health professionals to co-create Stroke Odysseys, working with South London's stroke community to create a music and movement performance arts intervention that improves the quality of life and sense of well-being of those affected by traumatic brain injury such as stroke. Hospital patients who have experienced a traumatic brain injury experience the severe loss of confidence and self-esteem that comes with an altered capacity to move, speak and express themselves. Participation in the project allows stroke patients to make remarkable progress in the long process or rehabilitating, speech, movement, confidence, sense of self and agency in the world.  The suggestion is that exploring one's creativity on the journey of stroke recovery can have a remarkable impact on the brain's healing process.  Stroke Odysseys is being developed to be widely replicated and used.
Lucinda Jarrett, who leads the project, said "We are proud of the creative confidence and skills of our Stroke Ambassadors, who have been trained to become advocates for life after stroke through public performance. Drawn from their stories, this Stroke Odysseys show explores the brain's capacity to keep learning after stroke damage and challenges conventional wisdom about the lack of plasticity in adult and ageing brains. We are delighted that their first performance will be supported by professional dancers and musicians on a commission directed by choreographer Ben Duke with the music of our longstanding associate composer, Orlando Gough."
The need for Stroke Odysseys has been identified by a wide network of clinicians, health care practitioners, patients and family members who are guiding the direction of the project through a series of practice research workshops.  Following the project, a clinical evaluation report will be released to assess its effectiveness and make recommendations for future implementation.
Stroke Odysseys will be performing at the MAC as part of the 2018 Belfast International Arts Festival on Thursday 18 October. Celebrating Optimism & Hope: Post Stroke Music and Neural Plasticity  takes place in SARC @ Queen's University on Wednesday 17 October.