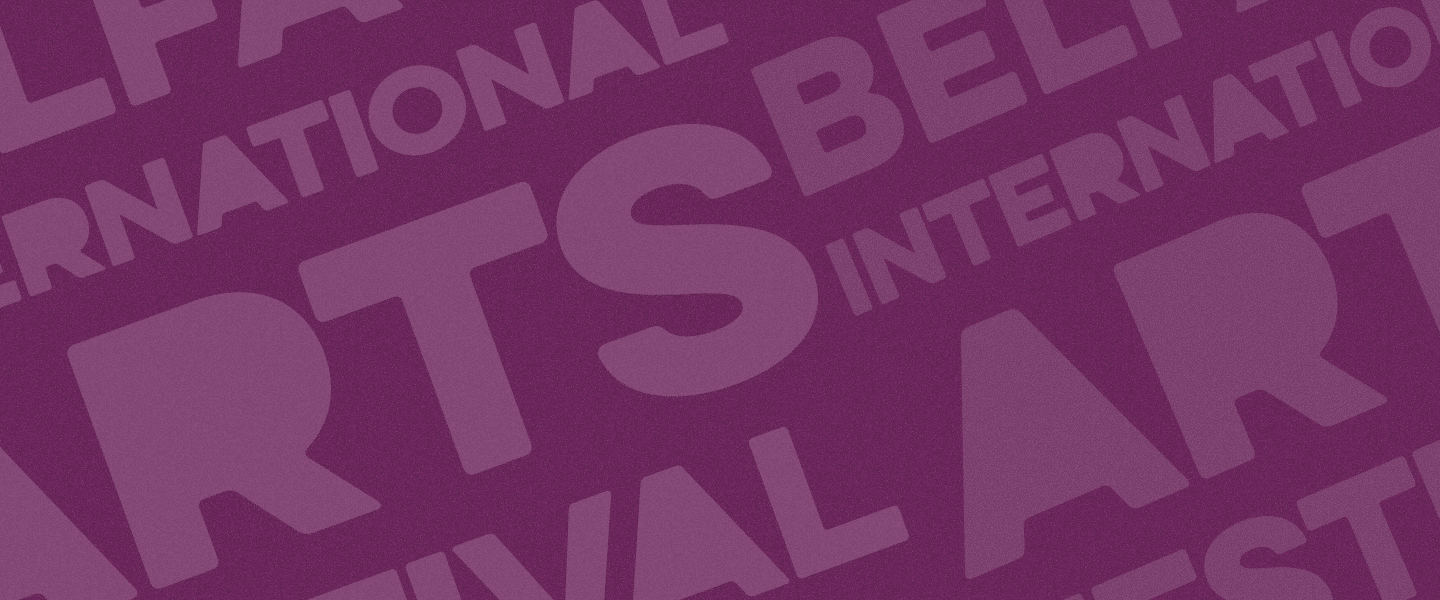 This privacy policy sets out how Belfast International Arts Festival treats any information that you give us when you use this website, subscribe to our newsletter or purchase tickets for our events.
Belfast International Arts Festival is committed to ensuring that your privacy is protected. Should we ask you to provide certain information by which you can be identified, then you can be assured that it will only be used in accordance with this privacy policy.
What we collect
We may collect the following information:
Full name
Contact information including telephone number, postal address and email address
Demographic information such as birth date, preferences and interests
Other information relevant to customer surveys and/or offers
A record of your purchases
What we do with the information we gather
We require this information to understand your needs and provide you with a better service, and in particular for the following reasons:
If you have given permission for us to do so, we send relevant promotional emails about events, special offers or other information which we think you may find interesting using the email address which you have provided
To direct mail our annual festival brochure
To improve our festival and events and to customise the information we send you according to your interests
Event attendance and customer recording
Visitors to Our Website
When someone visits www.belfastinternationalartsfestival.com  we use a third party service, Google Analytics, to collect standard internet log information and details of visitor behaviour patterns. We do this to find out things such as the number of visitors to the various parts of the site. This information is only processed in a way which does not identify anyone. We do not make, and do not allow Google to make, any attempt to find out the identities of those visiting our website. You can find more information on how cookies are used on this website in the Cookies Policy below.
E-Newsletter Sign Up
As part of the registration process for our e-newsletter, we collect personal information (name, email and country of residence). We use that information for a couple of reasons: to tell you about what is happening at Belfast International Arts Festival; and occasionally other news from other organisations that we feel is of interest, to tell you about Belfast International Arts Festival Events and send through special offers; to check our records are right and to check every now and then that you're happy and satisfied. We don't rent or trade email lists with other organisations and businesses.
We use a third-party provider, MailChimp, to deliver our e-newsletter. We gather statistics around email opening and clicks using industry standard technologies to help us monitor and improve our e-newsletter. For more information, please see MailChimp's privacy notice. You can unsubscribe from our e-marketing list at any time by clicking the unsubscribe link at the bottom of any of our emails or by emailing enquiries@belfastinternationalartsfestival.com.
Purchasing Tickets
When you purchase a ticket (or tickets) through the Belfast International Arts Festival Box Office or online via belfastinternationalartsfestival.com your data will be processed by our box office partner and stored in their box office system.  We require that our contracted box office provider complies strictly with our instructions and with data protection laws, for example around security of personal data. Your data remains under the control of Belfast International Arts Festival.  Our box office partner will only send you emails in relation to your booking, unless you have expressly indicated that you would like to be added to their mailing list. If you opt to join the Belfast International Arts Festival mailing list when making your booking, data will be shared with Mailchimp (email partner).  We may contact you after you have purchased a ticket for a specific event to provide any necessary information relating to that event which is in your legitimate interest to know or respond to.   We will not contact you about other events unless you have opted in to receive our e-newsletters.
Direct Marketing
We post out a hard copy of our brochure to those who have consented to receiving it annually. If you would like to receive the brochure by post you can sign up here http://bit.ly/2wan7kG or alternatively email enquiries@belfastinternationalartsfestival.com stating your name, full address and your consent to receive the annual brochure.  If you would like removed from our direct mailing list or wish to update your address you can do so at any time by writing or emailing using the contact details listed below.
Links to Other Websites
Our website may contain links to other websites of interest. However, once you have used these links to leave our site, we cannot be responsible for the protection and privacy of any information which you provide whilst visiting such sites as they are not governed by this privacy policy. You should exercise caution and look at the privacy policy applicable to the website in question.
Security
We are committed to ensuring that your information is secure. In order to prevent unauthorised access or disclosure, we have put in place suitable physical, electronic and managerial procedures to safeguard and secure the information we collect online.
Sharing of Data
Many of the events at Belfast International Arts Festival are presented in partnership with other theatre companies, venues and promoters.  Please be assured that we do not share your personal details with any other company without your consent. Where activity is delivered with a partner venue or organisation, we may provide them with a customer list in order to fulfil your booking and to be able to contact you in the event of any last minute changes. Partner venues or organisations are not allowed to store this beyond the event.  They can't contact you for marketing purposes unless you have explicitly opted in to hear from them.
We may share anonymised personal information such as audience demographics with other organisations, particularly funders to help them understand the impact of their investment and to help us secure future funding.
We will not sell, distribute or lease your personal information to other third parties unless we have your permission or are required by law to do so. We may use your personal information to send you promotional information about third parties which we think you may find interesting if you tell us that you wish this to happen.
Changes to this Privacy Notice
Belfast International Arts Festival may occasionally change or update this policy. You should check this page to ensure that you are happy with any changes. This policy is effective from May 2018.
Access to Your Personal Information
You are entitled to view, amend, or delete the personal information that we hold at any time. Email your request to enquiries@belfastinternationalartsfestival.com
If you believe that any information we are holding on you is incorrect or incomplete, please write to or email us as soon as possible using the contact details below. We will promptly correct any information found to be incorrect.
Contact Details
Email: enquiries@belfastinternationalartsfestival.com
Address: Belfast International Arts Festival, 4th Floor, Cathedral Quarter Managed Workspace, 109-113 Royal Avenue, Belfast, BT1 1FF
Cookie Policy
A cookie is a small file which asks permission to be placed on your computer's hard drive. Once you agree, the file is added and the cookie helps analyse web traffic or lets you know when you visit a particular site. Cookies allow web applications to respond to you as an individual. The web application can tailor its operations to your needs, likes and dislikes by gathering and remembering information about your preferences.
We use traffic log cookies to identify which pages are being used. This helps us analyse data about web page traffic and improve our website in order to tailor it to customer needs. We only use this information for statistical analysis purposes and then the data is removed from the system.
Overall, cookies help us provide you with a better website, by enabling us to monitor which pages you find useful and which you do not. A cookie in no way gives us access to your computer or any information about you, other than the data you choose to share with us.
You can choose to accept or decline cookies. Most web browsers automatically accept cookies, but you can usually modify your browser setting to decline cookies if you prefer. Please note this may prevent you from taking full advantage of the website.