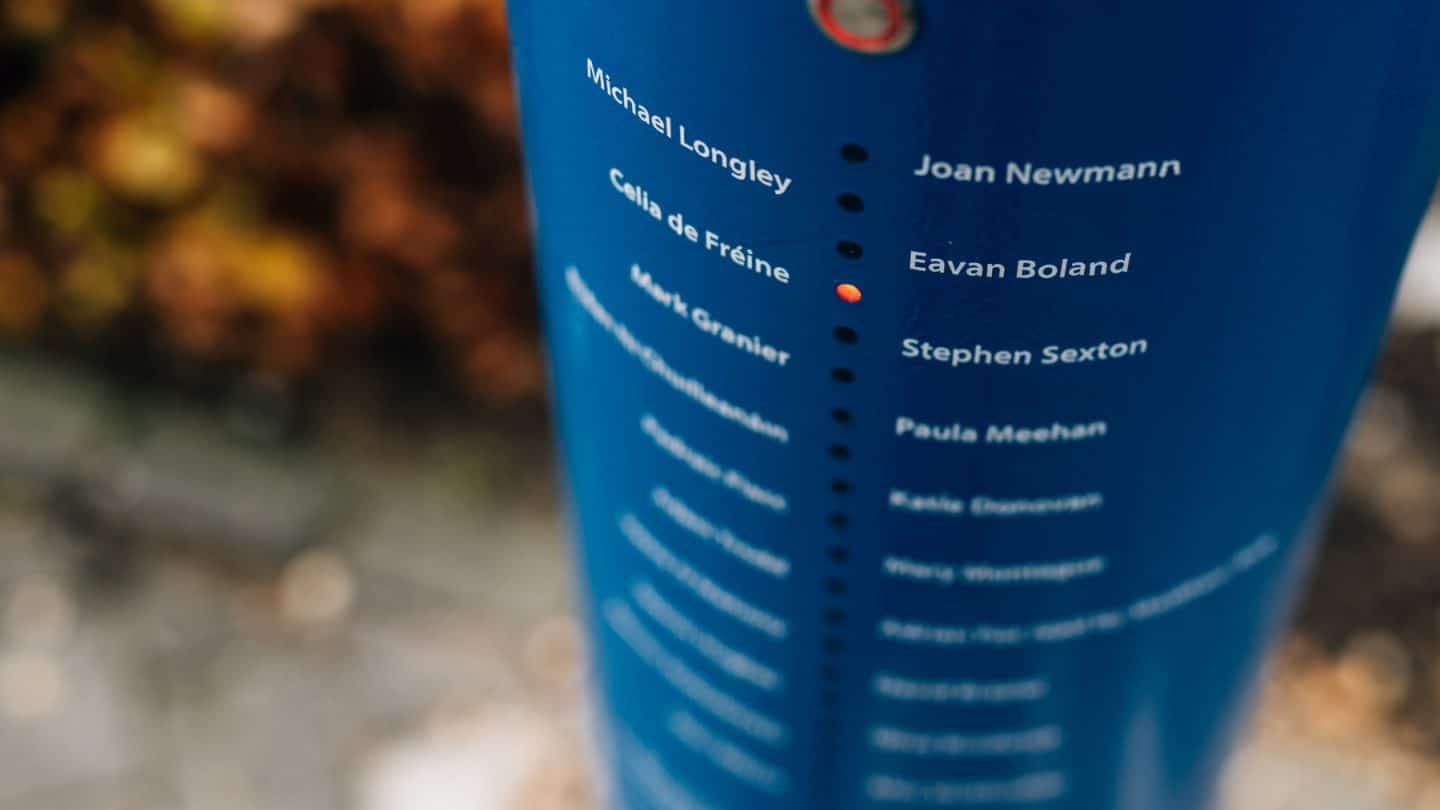 Revisit: Poetry Jukebox 2017
Ireland'S FIRST 'POETRY JUKEBOX'
In 2017, Belfast International Arts Festival Artists in Residence, Maria McManus and Deirdre Cartmill, brought poetry to the streets of Belfast with a brand-new initiative to Northern Ireland, Poetry Jukebox.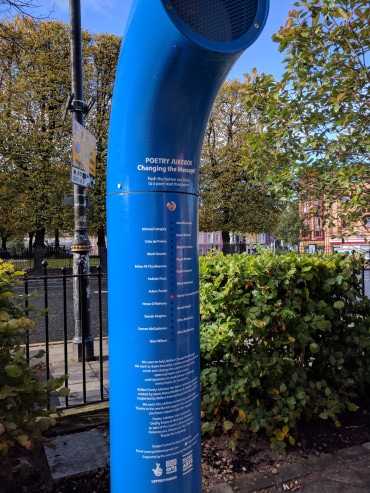 Part of the Quotidian – Word on the Street project, which seeks to put poetry into public space, to surprise and delight the unsuspecting, the Poetry Jukebox opened at the Crescent Arts Centre on the 12th of October as part of the 2017 Belfast International Arts Festival, and remains a permanent and accessible asset to those who want to hear poetry in a unique way.
Likened to a submarine's periscope, the blue funnel speaker, with a panel of names and a metal button, invites people to select a poem of their choosing. At the push of a button the listener will be swept away with recordings of talented artists.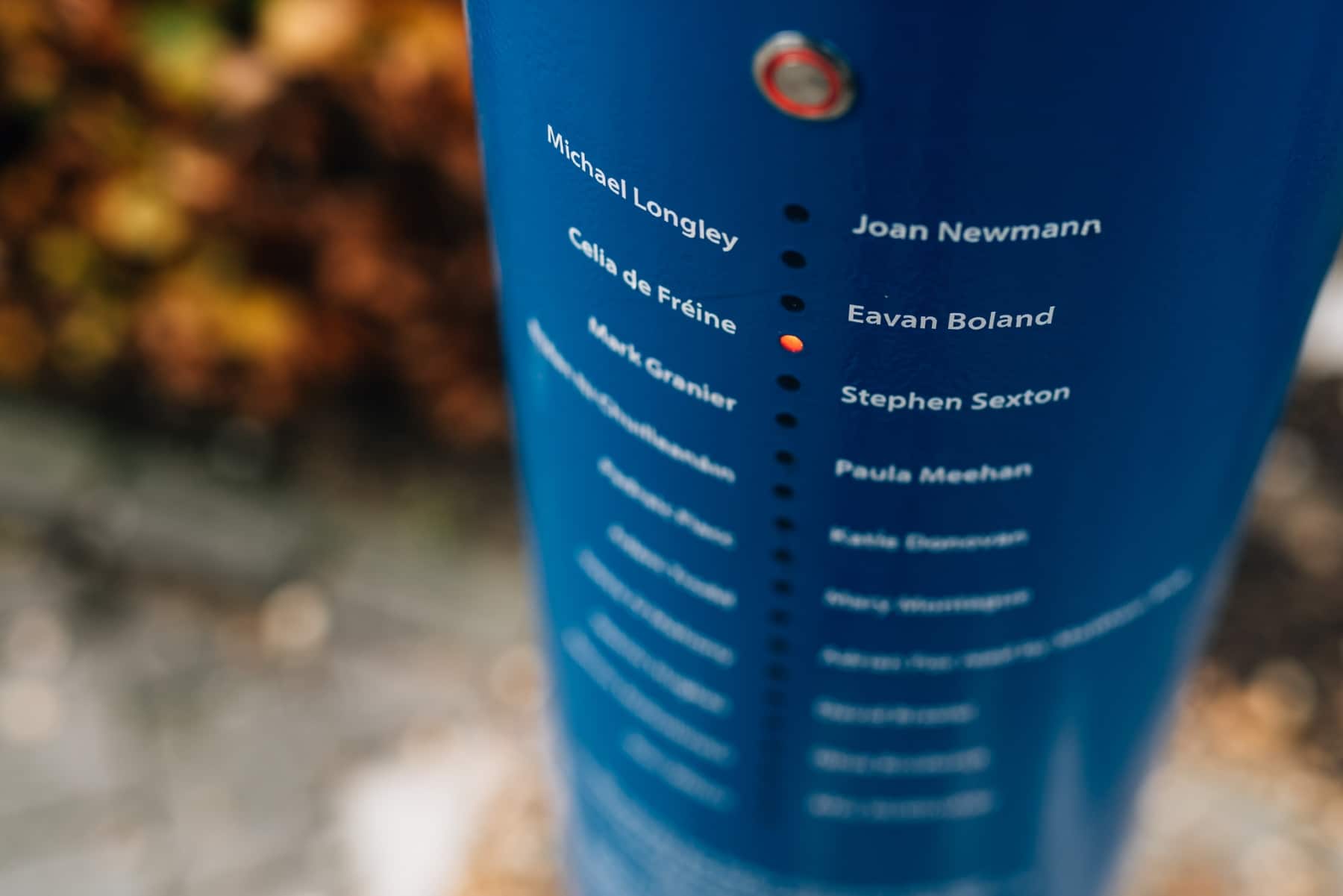 The inaugural edition played host to 20 original poems from a variety of writers living in Ireland. Since then, there have been several editions and a second permanent installation opened in CS Lewis Square, during the 2019 Belfast International Arts Festival.
The idea behind Poetry Jukebox came from Ondrej Kobza & Michaela Hecková as part of the Czech cultural project Piána na ulici (Pianos on the Streets). In 2017, Belfast joined the ranks of Berlin, New York, Warsaw, Brussels and Prague in having its own Poetry Jukebox. Belfast was also the first one to be entirely poet-led.
The Official Launch at Belfast International Arts Festival in 2017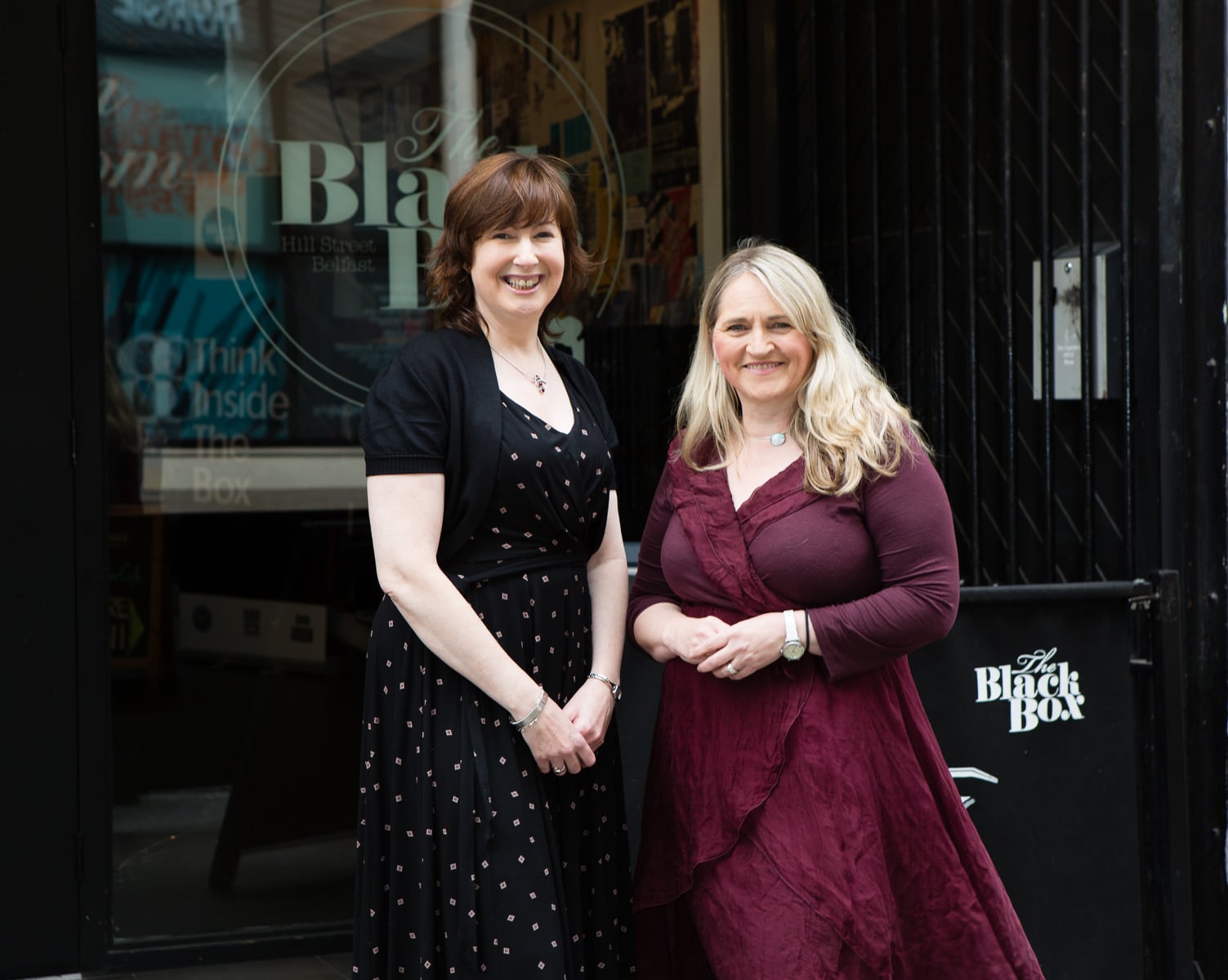 Speaking at the time of the launch of the first Poetry Jukebox, poet and writer Maria McManus explained the passion and reason behind this project:
"We want to open minds and hearts with the power and intensity and gentleness of poetry.  The things that are currently unspeakable or unspoken in public spaces are gentle, they are loving, they are beautiful, profound and life-affirming. The things that are most loudly spoken are often messages of hate, racism, bigotry, separation and despondency.
We want to change this by bringing literature, primarily poetry to people where they are, out on the streets, so we can, as Heaney said, 'catch the heart off guard, and blow it open'."
Fellow poet and writer, Deirdre Cartmill said of the exciting project:
"Poetry Jukebox creatively puts literature in public space. Words have power: words change lives. Quiet words are drowned out, silenced and are often unspoken. We create evocative, engaging, artistic interventions to 'change the message' in public spaces – an alternative to sectarian, racist, sexist and homophobic words."
---
Poetry Jukebox 2017 #ChangingTheMessage playlist:
Mark Granier – Vulture Bone Flute 38,000 BC
Joan Newmann – Dancing with Manuel*
David Braziel – Belfast Sonnet*
Celia de Fréine – Dréimire Jacob /Jacob's Ladder*
Adam Trodd – This Place Meant*
Mary Montague – Hillestad Child*
Katie Donovan – Muse*
Olive Broderick – Friar's Bush Cemetery*
Adrian Fox – Kavanagh's Ditch (read by Matthew Rice)*
Nessa O'Mahony – Bolus Head Sonata*
Glen Wilson – The Angelshare*
Eamon McGuinness – Before You Spoke A Word*
*With thanks to Ben Tucker, Belfast Telegraph for supplying the recordings.
---
Maria McManus reflects on the evolution of Poetry Jukebox:
Poetry Jukebox – How we have grown…
"We launched Poetry Jukebox at Belfast International Arts Festival in 2017 – a first for the island of Ireland – push a button and hear a poem in the poet's own voice, free, gratis and for nothing. At the time of writing, our project Quotidian – Word on the Street remains the only one of its type in the UK and Ireland – putting literature where it belongs, everywhere, for everybody.
It's a bit miraculous that we were able to make it happen, but as is the case with these things, it took persistence, support and generosity to bring it into being. Without the impetus of artists residencies for poets Maria McManus & Deirdre Cartmill from Belfast International Arts Festival, a Lottery Fund small grant via the Arts Council of Northern Ireland and crucially the support of the general public through crowdfunding, it wouldn't have been possible. Our debut curation of poems included leading lights such as Eavan Boland and Padraic Fiacc as well as Paula Meehan, Katie Donovan, Michael Longley and Joan Newmann, in addition to important newer voices such as, Mark Granier, Aifric McGlinchey, Olive Broderick, Matthew Rice and Seanín Hughes.
Since then, the jukebox family has grown. Quotidian has a further two 'touring' jukeboxes, which can be installed in venues, streetscapes, hospitals, schools and museums. Our Czech partner, Ondrej Kobza, who invented the jukebox, worked with artistic director Maria McManus to innovate and integrate features which make it more accessible for disabled people. She said,
"As a former occupational therapist, I could see that small changes to Ondrej's original design would make an impact and improve disabled accessibility. These are small but repeatable innovations which can be replicated elsewhere. It's win:win."
With the support of Belfast City Council and the Department for Communities we now have the first jukebox in the world which integrates features for enhanced disabled access.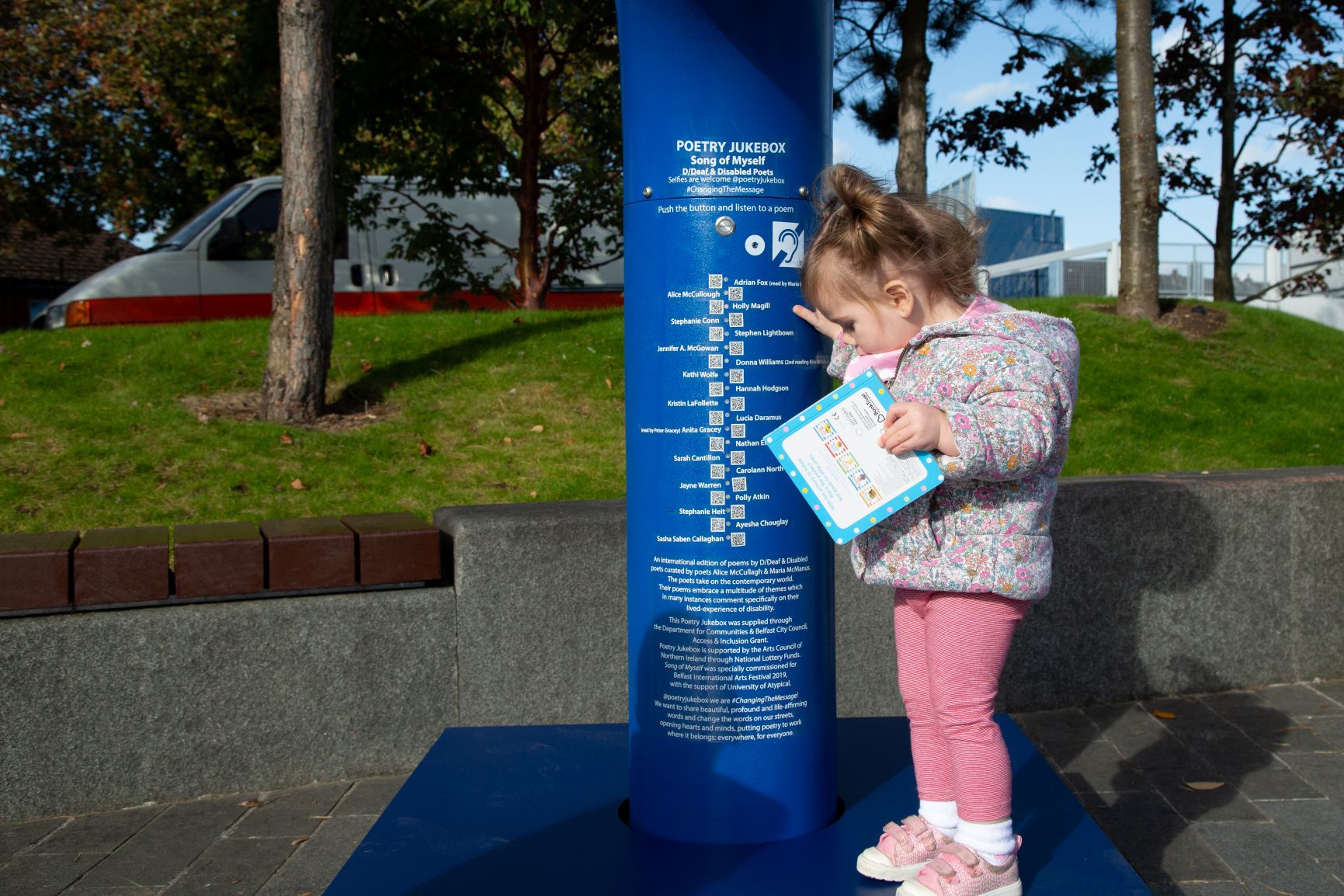 Every year since we launched at Belfast International Arts Festival, we have been able to contribute something new to the festival – a focus on Irish Women poets in 2018, with FIRED!, and then Song of Myself with D/deaf and Disabled poets in 2019.
To date we have produced ten international curations of contemporary poetry on themes as diverse as the work of CS Lewis, hunger and migration, the Good Friday Agreement, and poetry from the LGBTQI+ community. Literally just before lockdown we skidded our most recent curation #WeAreThePoets into place. Through our collaboration with former Laureate na nÓg, Sarah Crossan, the voices of children and young people went live ten days early, outside EPIC The Irish Emigration Museum, Dublin, on Friday 13th March. It felt like one big positive gesture towards a better future, in the face of all of the uncertainty we collectively face with COVID-19, and with lockdown. It is all the more poignant given how important the arts in general, but poetry specifically, has been as a source of comfort and inspiration to the public during lockdown.
We have worked with fantastic curators such as Moyra Donaldson, Alice McCullough, Tade Ipadeola, Stephen Sexton, Jessica Traynor, Lucy Collins and Paul Maddern. We have worked with and toured poetry curations to University College Dublin's James Joyce Library, and EPIC The Irish Emigration Museum. Our climate curation, 'Once Barefoot….' celebrated a new international collaboration with Centre Culturel Irlandais (CCI) in Paris and the fabulous Tropical Ravine at Belfast's Botanic Gardens. CCI has invested in a poetry jukebox – a first for all France and yet another innovation – a crank handle design and the 'green energy' version. It means that we can tour curations through Paris. We have already agreed to bring Hungering, which we created with EPIC Museum and Hour by Hour commissioned by Outburst Queer Arts Festival to Paris. Words matter and words are traveling the distance.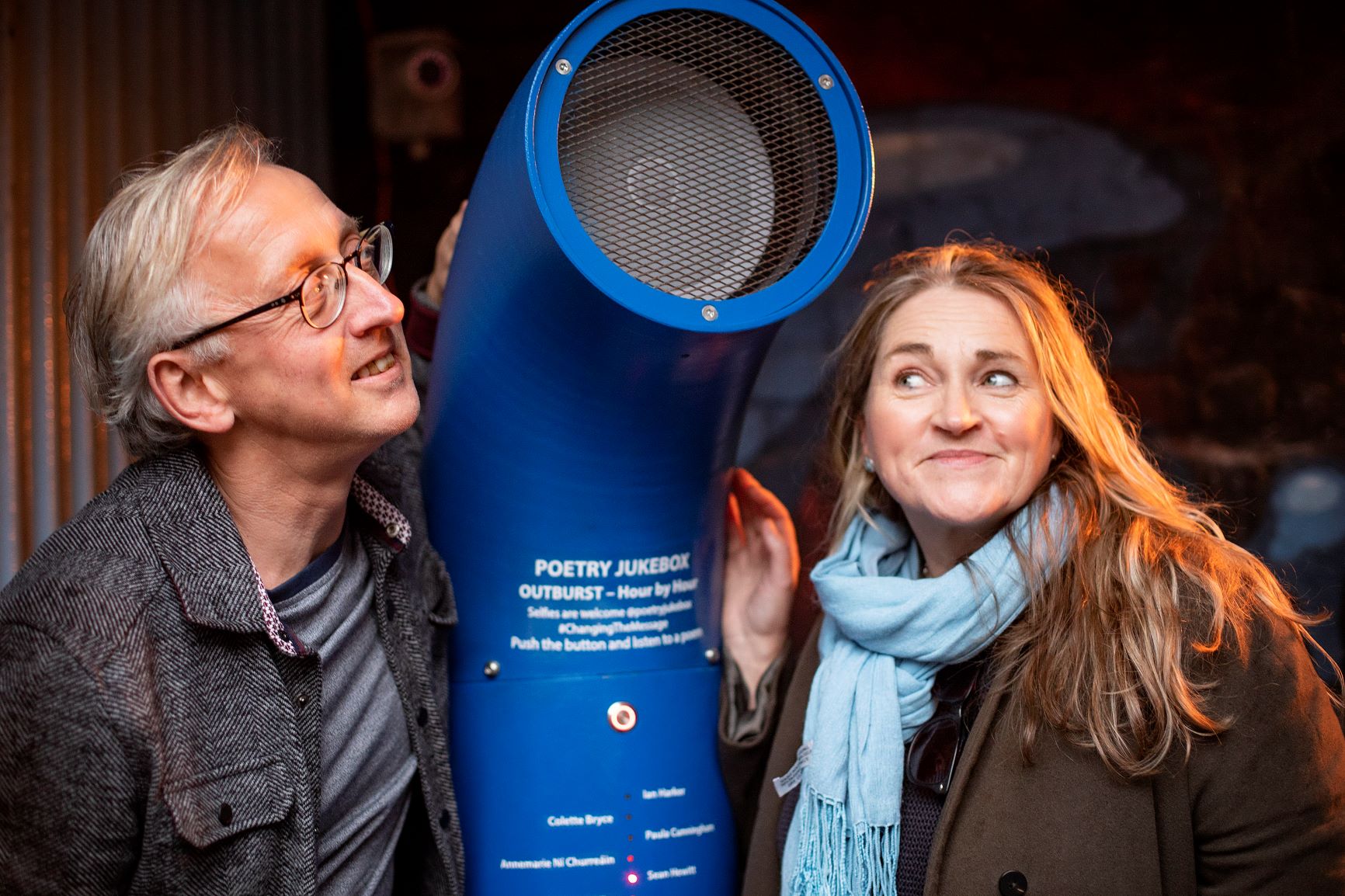 We want to keep working internationally – developing our links, being outward focused, connected and progressive. In Ireland as a whole and particularly in the north of Ireland, poetry is something we do well – we want the world to know that, but we also need to know it and appreciate it here!
We are working behind the scenes on our programme for 2020/21 and we look forward to working with Belfast International Arts Festival again. Together we are celebrating our wonderful poets and finding ways to help more people get access to poetry by bringing it into public space here and internationally. With more people walking and cycling, going to the parks and enjoying the environment, this is one way we can keep the arts accessible and fresh – we are a point of light. Onwards!"
Maria McManus 23.06.20
---
Poetry Jukebox gives people the opportunity to unexpectedly encounter poetry, with a chance to lift them out of their ordinary life for a moment and transport them elsewhere, to inspire them, to let them connect with something deeper and to gently challenge them and let them glimpse a different way of being.
Did you know that the Poetry Jukebox even has its own Twitter profile? You can follow @poetryjukebox
---