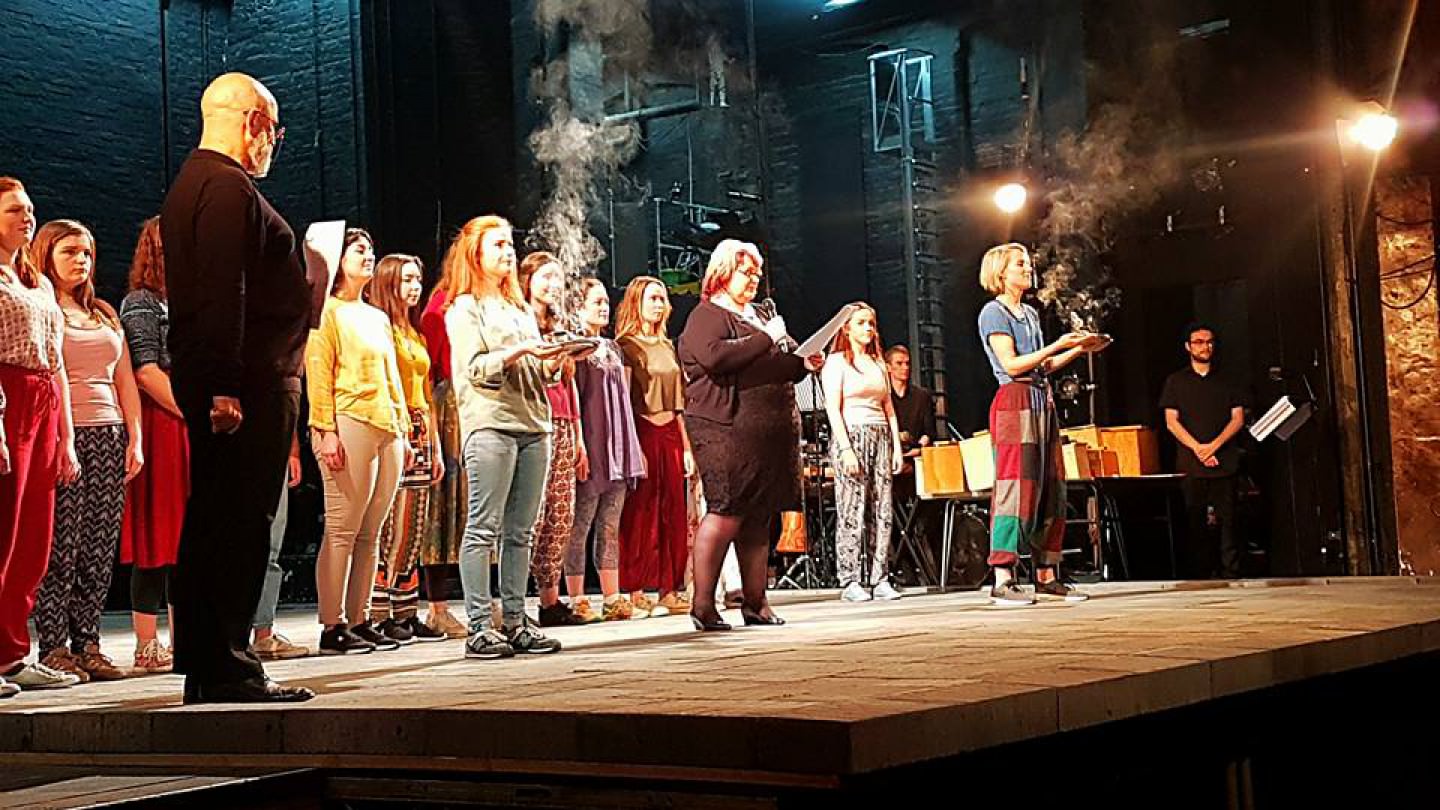 Revisit: The Suppliant Women 2016
In 2016, BIAF welcomed Actors Touring Company and Royal Lyceum Theatre Edinburgh's production of The Suppliant Women to Belfast. A community cast of 32 participants from across the city were recruited and rehearsed their parts for several weeks prior to performances at the Grand Opera House.
"Seeing Aeschylus's The Suppliant Women restored my faith in the power of theatre…what was outstanding about the play, apart from performance and direction, was the way it translated to a 21st century Belfast audience" Irish News
Written 2,500 years ago by the great playwright Aeschylus, The Suppliant Women is one of the world's oldest plays, yet its themes of identity, politics and democracy resonate just as strongly today. Fifty women leave everything behind to board a boat in North Africa and flee across the Mediterranean. They are escaping forced marriage in their homeland, hoping for protection and assistance, seeking asylum in Greece.
The Making of The Suppliant Women
Actors Touring Company and Lyceum's Artistic Director David Greig were keen to use the techniques of Ancient Greek theatre, pairing a community cast with professional actors to create an extraordinary theatrical event.
The community cast worked with David Greig, Ramin Gray, John Browne and Sasha Milavic Davies and local rehearsal leaders Mairéad Duffy  and Sarah Johnston to develop their singing, dancing and performance skills. The production presented an opportunity for participants and audiences to explore, investigate and increase their understanding on issues around the on-going refugee crisis and women's rights.
Part play, part ritual, part theatrical archaeology, it offered an electric connection to the deepest and most mysterious ideas of the humanity – who are we, where do we belong and, if all goes wrong, who will take us in?
"When the performers appear – 15 young Belfast women dressed in colourful street clothes – they are dwarfed but not overcome by their surroundings. Though relatively small in number, their concentrated close harmonics and chants make a powerful, visceral impact." **** Irish Times
---
Suppliant: the act of making or expressing a plea, especially to someone in power or authority
---