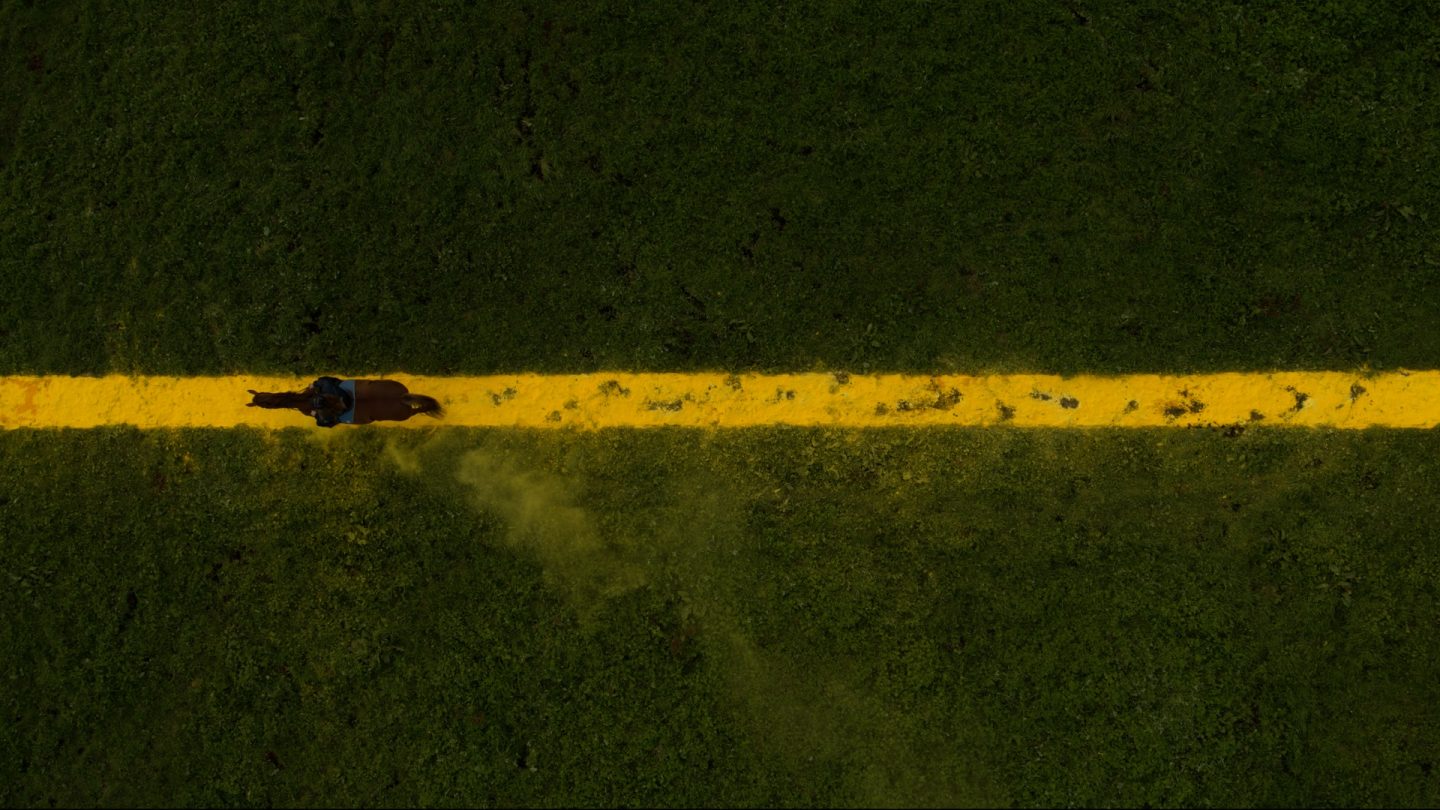 Revisit: Across and In-Between, Suzanne Lacy, Belfast International Arts Festival 2018
---
Across and In-Between by Suzanne Lacy
Created in collaboration with communities in Ireland from both sides of the border, almost 100 years since the partition of Ireland, Across and In–Between explores the profound impact the border has on the lives of people living there during a time of intense international focus around Brexit.
Across and In-Between created a mass response by over 300 border residents interrogating a line on a landscape with a collective, metaphorical act of 'drawing and erasing.'
Co-commissioned for the closing season of 14-18 NOW and Belfast International Arts Festival (2018), it amplified the voices and experiences of border residents through words, imagery, sound and performance giving them an opportunity to reclaim the landscape around them.
The project consists of The Yellow Line and Border People's Parliament connected by an Across and In-Between documentary following the journey from border to parliament. A museum installation will premier at the Whitworth Gallery in Manchester in Spring 2021.
Across and In-Between – The Documentary
Deeply engaging people on each side of the border in Ireland, including many artists, Across and In-Between consists of:
The Yellow Line
 In five rural regions where the borderline between Northern Ireland and Ireland is indiscernable, residents engaged in playful construction of unique 'actions' expressing their various sentiments and hopes for the future of their region. The actions were filmed, resulting in a three–screen film projection made with farmers, horse–owners, scouts, hikers and villagers from communities across Fermanagh, Donegal, Leitrim, Cavan and Monaghan.

Border People's Parliament
At the height of the Brexit crisis, 150 people arrived at Northern Ireland's Parliament Buildings, Stormont, for a Border People's Parliament. On 20th October 2018, guests were part of a carefully staged event, their opinions recorded in Parliamentary committee rooms and their photographic portraits captured. Over dinner they participated in drafting The Yellow Manifesto – A True Account of a Border and its People launched on the Today programme, BBC Radio 4, 22nd October, 2018.
"Tolerance is one of the most important things that people who live across and in-between the border in Ireland feel it can teach the world." Read full article 'What can the border in Ireland teach the world'.
The Yellow Manifesto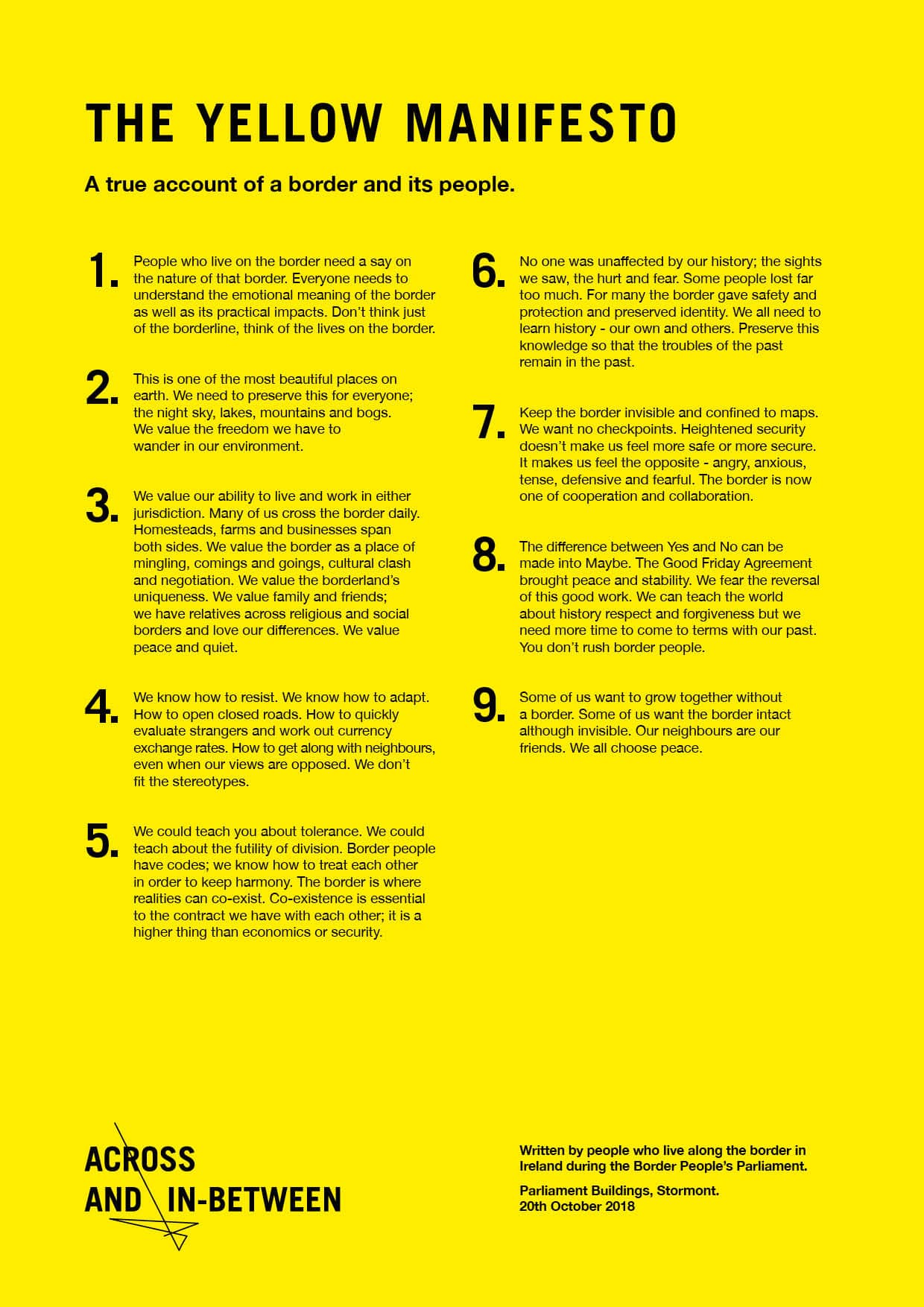 Both parts of the project are brought together in a documentary film following the participants' journey from the border to Parliament – featuring interviews, the process behind the artwork and the drafting of a manifesto revealing lessons participants learned from life on the borderlands in Ireland.
Across and In-Between is a creative collaboration between Suzanne Lacy and Cian Smyth with Helen Sharp and communities in Pettigo, Tullyhommon, Cuilcagh Mountain, Castle Saunderson, Magheraveely and Newtownbutler.
From 16th to 23rd October, 2018, it was presented as a live artwork in process at Belfast International Arts Festival as part of the closing season of 14-18 NOW: staging the performance of the Border People's Parliament in Stormont; drafting The Yellow Manifesto; and concurrently projecting The Yellow Line at scale upon the façade of the Ulster Museum.
Projection upon Ulster Museum
---
Credits
Collaborating artists include:
The Yellow Line: Mark Thomas and Soup Collective
Border People's Parliament: Garrett Carr (Seamus Heaney Centre, Queen's University Belfast) with Eva Grosman
Across and In-Between: The Documentary: Conan McIvor with Michael Daly
Stills Photography: Helen Sloan SMPSP with Ross Mulhall
Sound: Pedro Rebelo with Michael McKnight (Sonic Arts Research Centre, Queen's University Belfast
Artistic Advisors included: Declan McGonagle; Ali Curran; Trish Lambe (National Gallery of Photography, Ireland); Rita Duffy; Conor Mulvagh (UCD); and Garrett Carr.
A co-commission by 14-18 NOW: WW1 Centenary Art Commissions and Belfast International Arts Festival with support from: the National Lottery Heritage Fund; Arts Council England; the Department of Digital , Culture, Media and Sport; and the Government of Ireland through the Department of Culture, Heritage and the Gaeltacht; and Department of Foreign Affairs and Trade (Reconciliation Fund).
---
About Suzanne Lacy
Belfast International Arts Festival Artist in Residence 2018 was renowned social practice artist, Suzanne Lacy. A Californian native, Suzanne is an internationally exhibited visual artist, social activist, educator, writer and feminist whose body of work includes performances, video and photographic installation, critical writing and public art with a focus on social and urban issues.
Best known as one of the Los Angeles performance artists who became active in the seventies and shaped an emergent art of social engagement, she has addressed issues through her artwork such as rape, violence, feminism, ageing and incarceration. Her work has been on display at Tate Modern, the Museum of Contemporary Art in Los Angeles, the Whitney Museum and will open a retrospective at SFMOMA in 2019. In addition to producing art, Suzanne has pioneered feminist art education and social practice programming at premier institutions throughout California.
Creating participatory events, soundscapes, interviews, film, and photography she worked with communities along the border to create Across and In-Between.
A major retrospective of her career is planned at The Whitworth in early 2021.
---