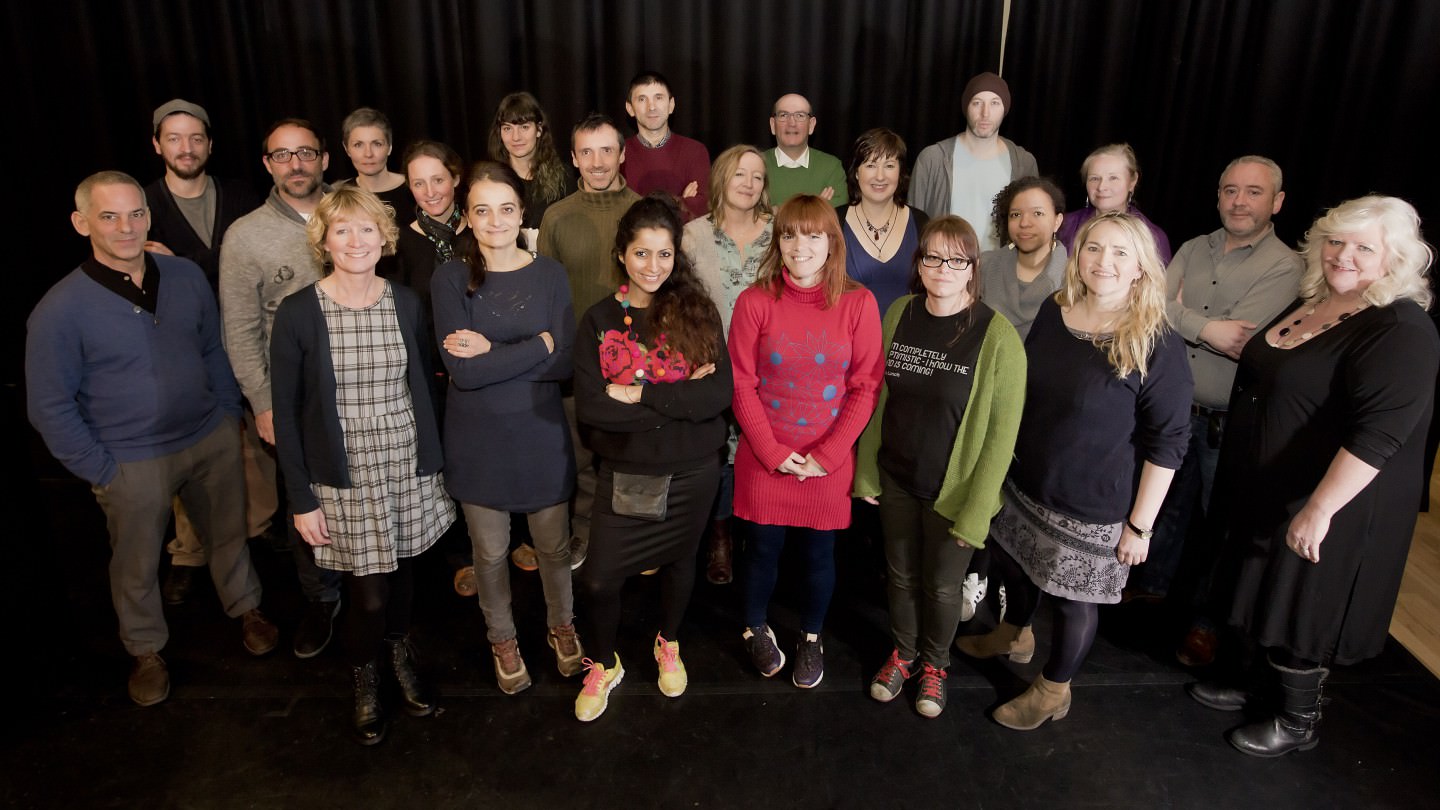 23 Artists collect stories from the Corners of Europe to re-tell in Belfast
Seven artists from Northern Ireland will join forces with sixteen other artists from across Europe to present a series of nine free projects and events as part of the Corners Showcase at the Ulster Bank Belfast International Arts Festival, in partnership with the Arts Council of Northern Ireland.
The Corners initiative is a platform for artists and audiences, designed and driven by organisations at the fringes of Europe, linking cities, including Belfast, and artists in collaborative, international, multi-disciplinary projects.  The idea is for two or more artists from different corners of Europe to collect stories in one part of Europe and re-tell it in another through a collaborative project.
Roisin McDonough, Chief Executive, Arts Council of Northern Ireland, said: "We are delighted that the Ulster Bank Belfast International Arts Festival is presenting the work of the Corners programme in Belfast. This European initiative supported by the Arts Council has provided a brilliant opportunity for our artists to exchange ideas, collaborate across art forms and tell stories from the corners of Europe. These are stories which give voice to more marginalized groups in our society – children, homeless people, prisoners – but they are stories which connect us across cultures through multidisciplinary art. I would encourage everyone to go along and experience these unique, captivating and immersive projects."
Highlights involving artists and participants from Northern Ireland include;
Built To Contain, hosted at Crumlin Road Gaol, is a radio play developed by people with convictions in Northern Ireland and was created by Irish artists Laurence McKeown (Playwright), Paula McFetridge (Director) and Slovenian archivist Ana Frank.  Stories were gathered to produce a unique 26 minute play exploring life in prison.  This unique sound installation will be followed by a post-show discussion exploring arts engagement and education in prison chaired by writer and journalist Susan McKay, Carlo Gébler, Writer-in-residence HMP Maghaberry 1997-2015, Creative Writing Tutor HMP Maze (1992-97), and Dr Jenny Meegan, Open University tutor/counsellor in NI prisons 1983-2003; alongside the project creators.
Polish visual artist and musician, Maciej Salamon, and Bulgarian Theatre Director, Nedyalko Delchev, will take up residency for two weeks at Hazelwood Integrated College in North Belfast for their project, Birdhouse Gallery.  The artists will work with the young people at the school to produce a series of art filled birdhouses culminating in a public exhibition.
The windows of the houses of Duncairn Parade, New Lodge area in North Belfast, will light up in a  new participatory, outdoor theatre work taking place on Saturday 17th October. The project entitled, Windows, will involve local residents answering a series of questions using coloured lights to display their answers in their windows and visitors to the area can also participate.  This project was inspired by the people of San Sebastian/ Donostia who protested a new law by hanging rubbish bags from their balconies and is a collaborative project from Northern Ireland artist Michael Hanna, Asier Zabaleta Gipuzkoa (Spain) and Valeria Simone Ruvo di Puglia (Italy).
The Belfast Telegraph offices will become a hive of artistic activity when Corners project, Sister of Another Mama, rolls in to town for a two-week residency at the popular Belfast daily newspaper.  Together artists and young participants, aged 11-14, will look at the nature of today's newspapers, tell stories, play games, experiment and make art in response to their surroundings culminating in a public drop in day in the Titanic Quarter and a one off edition generously printed by the Belfast Telegraph.   Sister of Another Mama is presented by artists Joseba Irazoki, Mila Pavicevic, SIMKa – Simon Haggblom, Karin Lind and Northern Ireland artist, Tonya McMullan.
Other projects include; Atlas of Tremors, Bridging the Silence, Hide or Reveal, Oh My Home – Lost and Found, and Flashes with full details available on the Festival website.
Richard Wakely, Director, Ulster Bank Belfast International Arts Festival, added:
"We are delighted and honoured to host a selection of these collaborative and inter-disciplinary projects and artistic residencies from around Europe in our inaugural Festival. Audiences not only have an opportunity to experience and witness innovative new work from a new generation of European artists that crosses different artistic disciplines but will also have an opportunity in many cases to directly interact with the artists and participate in the projects. Moreover, these projects take place right across the city and are all free and open to the public."
Watch the Corners video here https://www.youtube.com/watch?v=pQLGvr-u4EM
The Corners Showcase at the Ulster Bank Belfast International Arts Festival begins on 5 October and continues until 27 October.  Visit www.belfastinternationalartsfestival.com for full details on all nine Corners projects
About Corners
CORNERS creates opportunities for artists and researchers to produce multidisciplinary contemporary artistic and cultural collaborative projects. The objective is to enable exchange across geographical, political and economic divisions. More than 50 artists and researchers (and the number grows) have met through CORNERS, as well as more than 30 organisations and institutions as partners and collaborators.
CORNERS interconnects artists with different backgrounds – geographical, social, political and professional – and of different disciplines – photography, video, sound, new technologies, dance, theatre, performance, music. CORNERS artists are both both young / emerging and experienced / established. They are chosen based on artistic excellence, on their ability to design protocols for engaging people and on their capacity to communicate interculturally. Sometimes researchers (sociologists, academics, architects…) join the group, which remains open to interdisciplinary encounters.
Artists most often meet during CORNERS Xpeditions, exploring outer regions of Europe – North/Sapmi, Caucasus, Balkans, East, Basque Country, Northern Ireland, North East England, Puglia in Southern Italy and more. Together with researchers and guided by local hosts, they travel within each region, encountering citizens and landscapes. Participants on an Xpedition both observe and animate the places they visit. They prepare collective actions to interact in public spaces, addressing both hot topics from the local context and their specific artistic perspectives. These actions, called sometimes Piazza or Pazar or Stanica, evolve where people commonly meet: squares, markets, train and bus stations. One primary outcome of Xpeditions are the DocuArt works, responses from the artists / researchers – reflections on their own experience in one particular corner of Europe and the process.
From these experiences, artistic collaborations involving two or more artists from different corners of Europe are commissioned and co-produced. Each chosen co-creation is coordinated by two or more CORNERS Partners. CORNERS co-creations are developed across borders of artistic disciplines and have strong cross-cultural dimensions. The task is to communicate with different audiences and communities at the edges of Europe. Artists collect stories from one corner of Europe, re-telling them in another. They use cultural and social diversity to develop fresh artistic values. Giving voice to groups usually hidden and non-visible (children, elderly people, migrants, prisoners…) is often a focus of CORNERS artistic projects.
The co-creations will be presented in unusual places and in public spaces using Partners' cities as their stages: Umea and Stockholm (SE), Ljubljana (SI), Prizren (Kosovo), Gdansk (PO), Zagreb and Rijeka (HR), Donostia / San Sebastian (Basque Country, ES), Belfast (Northern Ireland), Northumberland and Middlesbrough (England), and more to come.