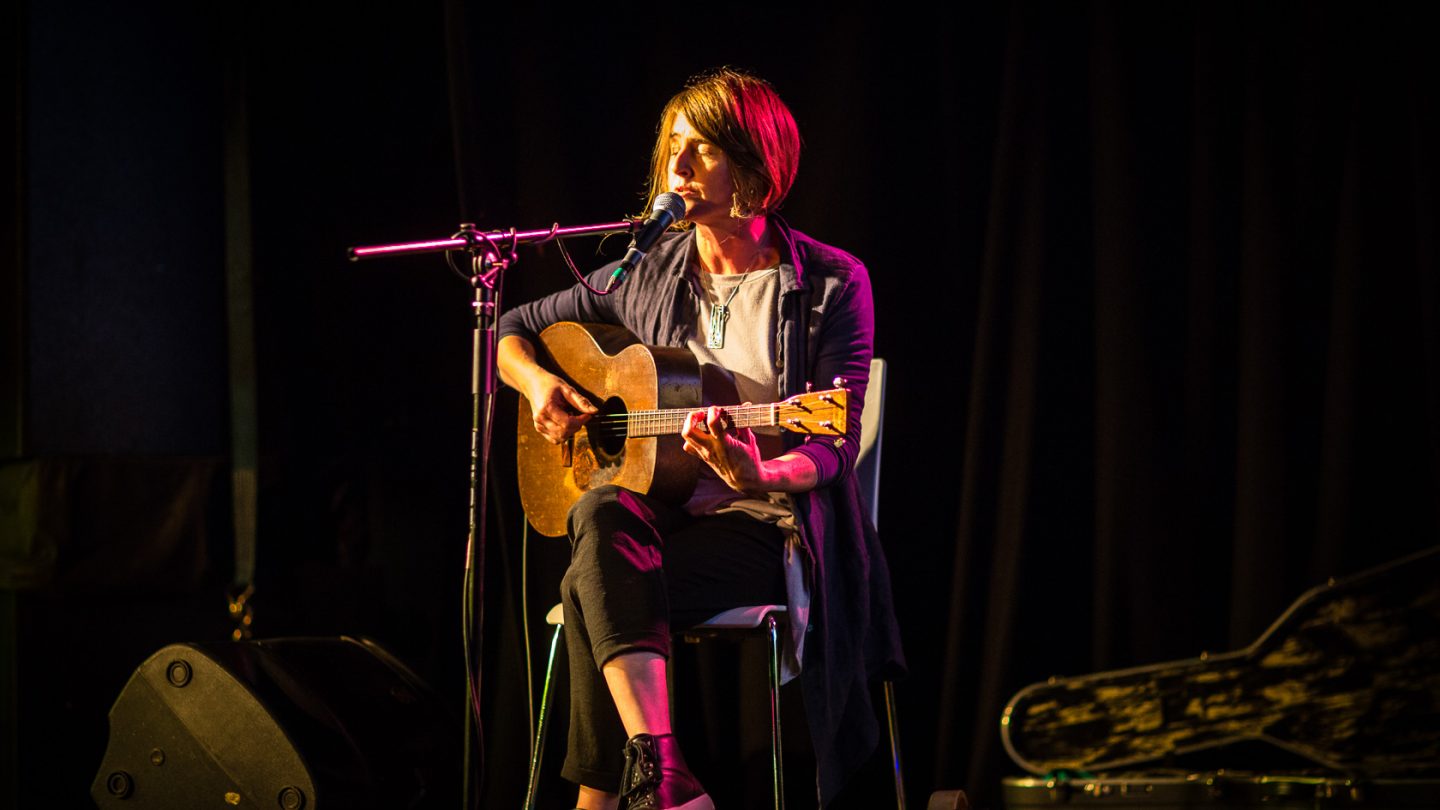 Belfast International Arts Festival 2017
Belfast International Arts Festival 2017 launched on Tuesday 29 August, as Festival Director Richard Wakely announced an exciting line-up for the annual celebration of contemporary arts and ideas from home and abroad.
Belfast International Arts Festival brings an eclectic fusion of cutting edge performances to the Belfast stage, with 191 events from 14 countries taking place over 23 days from the 6 – 28 October 2017, including 12 premieres.
Guests at the opening event were treated to a performance from special guest, Scottish singer songwriter Karine Polwart, and readings from the 2017 Artists in Residence, Maria McManus and Deirdre Cartmill.
Karine Polwart appears in the Irish premiere of 'Wind Resistance' at The MAC on Tuesday 10 and Wednesday 11 October, a 'poignant, unflinching show about healing, protection, the fragility of human life and the world around us' (The Daily Telegraph, 5*).
Joint Artists in Residence, Maria McManus and Deirdre Cartmill, will be bringing poetry to the public realm with 'The Poetry Jukebox', a contemporary on-street sound installation at the Crescent Arts Centre.
Other highlights of the Belfast International Arts Festival include:
Richard Wakely, Festival Director on launching the 2017 edition, the 5th under his tenure said,
"This year's Festival explores artists as innovators and activists, addressing the uncertain times we live in. The Festival is a place for our communities to gather together with a belief that change is possible. Often entertaining and always enlightening, there is something for everyone in the 2017 Belfast International Arts Festival."
Roisin McDonough, Chief Executive, Arts Council of Northern Ireland said,
"Northern Ireland enjoys many arts and cultural festivals, all of which contribute something unique and special to the richness of our creative landscape.  The Belfast International Arts Festival is no exception, bringing us world-class acts and using its international profile to promote our home-grown talent, strengthening Northern Ireland's creative reputation.  The Arts Council is proud to support the Belfast International Arts Festival through both Exchequer and National Lottery funding and I hope everyone takes the opportunity to be part of it."  
Lord Mayor of Belfast City Council, Cllr Nuala McAllister, spoke at the launch event.
"I've chosen 'Global Belfast' as the theme for my year in office. So I'm delighted that Belfast City Council is continuing to invest in the Belfast International Arts Festival – it not only attracts international acts, but it also showcases homegrown talent and helps to position Belfast as a must visit cultural destination.  I'd encourage everyone to check out this year's impressive programme and wish everyone involved in the Festival the very best of luck."
As well as support from principal funder, the Arts Council of Northern Ireland, Belfast International Arts Festival receives core funding from Belfast City Council, Tourism NI and the British Council Northern Ireland.
Event and project funders for 2017 include the Government of Ireland, Embassy of Switzerland in the United Kingdom, 14-18 NOW WW1 Centenary Arts Commissions and Institut Francais and Festival 2017 partners are Ramada Encore, the Ulster Museum, Visit Belfast and the Belfast Telegraph.
Many other Festival supporters means Belfast International Arts Festival goes from strength to strength with a wide programme of events suitable and accessible for all audiences across the island of Ireland.
Tickets are available now at belfastinternationalartsfestival.com; by calling 028 9089 2707 or at the Festival Box Office in The MAC.  Follow Belfast International Arts Festival on Facebook and Twitter @BelfastFestival for all the latest news.