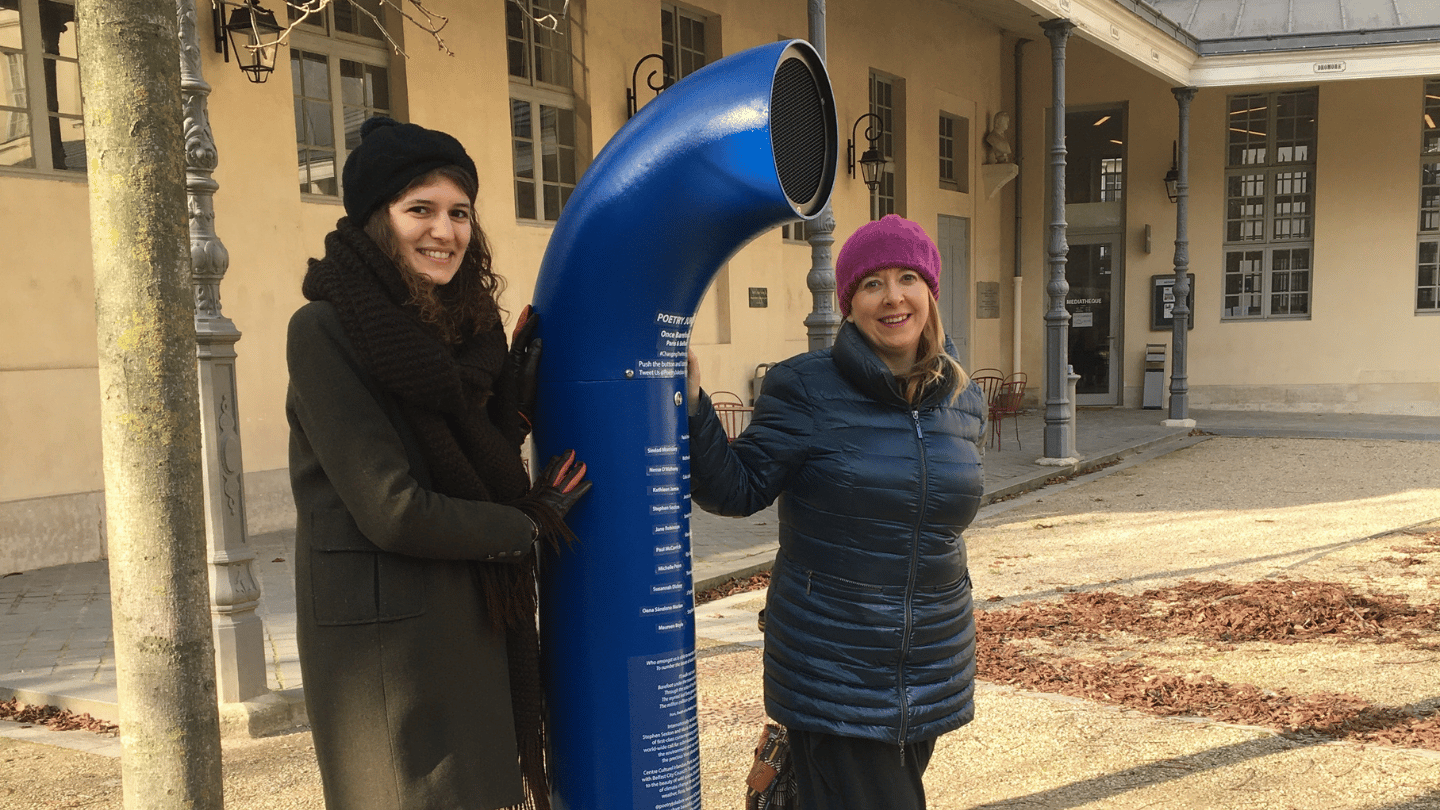 Poetry Jukebox
5 rue des Irlandais
---
Quotidian – Word on the Street Limited
A cornucopia of poems in Irish, French & English celebrating the 'city of light'.
5 rue des Irlandais, is that most seductive of Parisian addresses – Centre Culturel Irlandais! It is also the name of a new anthology of Irish poets celebrating the city of light. Poetry Jukebox will host a fantastic tri-lingual on-street audio installation in French, Irish and English at An Chultúrlann. En flaneur in west Belfast? Stop a while at Cultúrlann (or listen online!) while we bring the essence of Paris to transport your thoughts and imagination in a celebration of the everyday and the fantastic.
Poets include poets Dermot Bolger, Iggy McGovern, Gerard Smyth, Catherine Phil MacCarthy, Afric McGlinchey, Mary Noonan, Caitriona O'Reilly, Ailbhe Ní Ghearbuigh, Doireann Ní Ghríofa, Paddy Bushe, Mary Dorcey, Hugh O'Donnell, Michael Coady, Gerry Murphy, Derry O'Sullivan, Aifric Mac Aodha, Theo Dorgan, Pat Boran, Edward Denniston, and Matthew Sweeney.
Quotidian – Word on The Street, Centre Culturel Irlandais, and An Chultúrlann
---
Launch Event
All welcome Saturday 8th October at 1.00pm in An Chultúrlann. The anthology 5 rue des Irlandais will be on sale, and there will be readings, light refreshments and music. Bígí linn! Bienvenue!