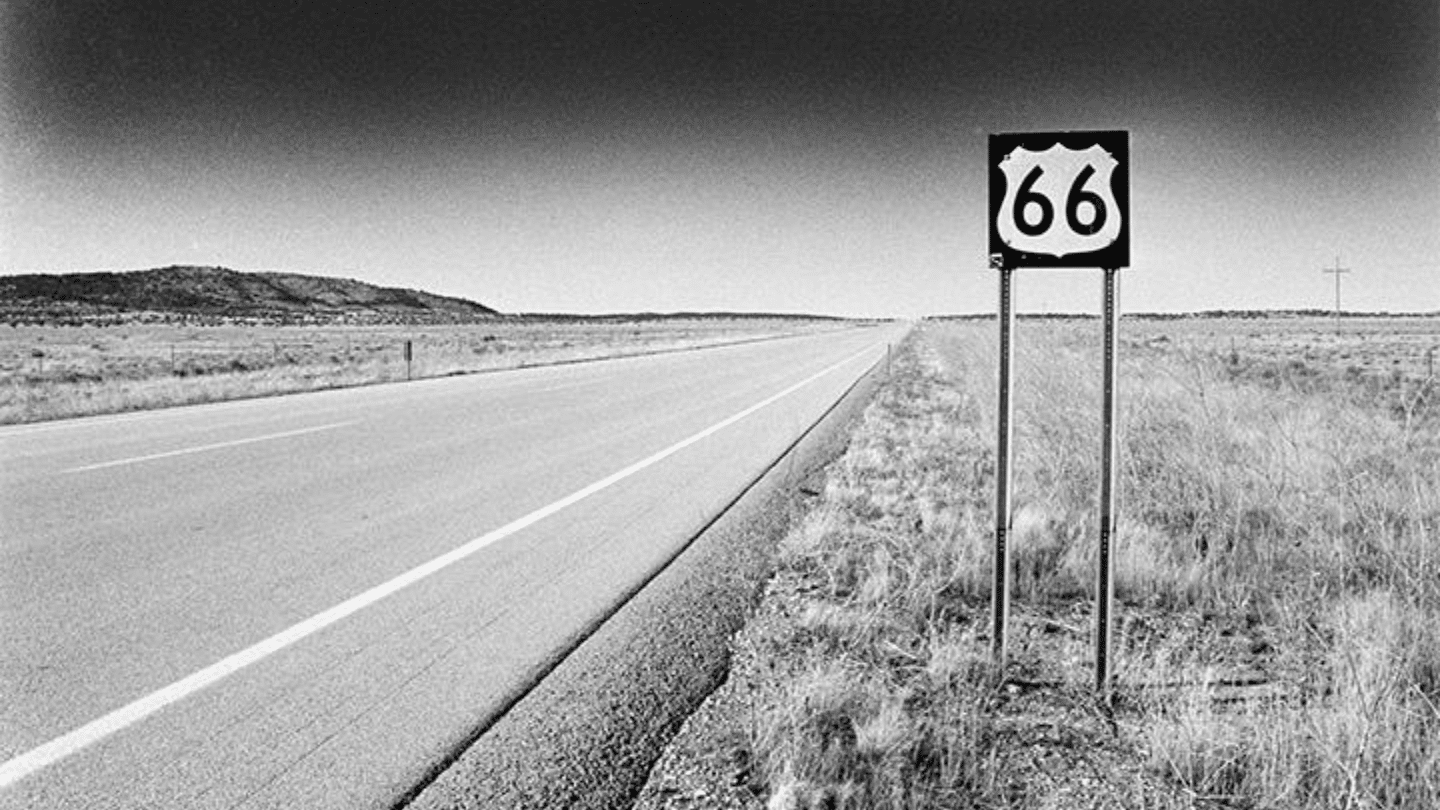 As the 2020 US presidential election approaches, join us as we journey back to '80s America and a film that has a strikingly renewed resonance today. John T. Davis' Route 66 will be free to watch on QFT Player from Fri 16 to Sun 18 Oct.
Route 66 is an epic road film chronicling the history and closure in 1981 of the iconic highway that, mythologised in music, film and literature, spanned 2,500 miles from Chicago to Los Angeles, traversed eight states and cut through the heart of Middle America. The film features an anonymous sojourner driving a cherry red Chevy Impala ragtop, who travels the highway west. Through his eyes, and through Davis's camera lens, we encounter the underbelly of the US and the shattering of the American Dream. "Just like Route 66, America was grinding and cracking at the seams." – John T. Davis.
Route 66 was a touchstone and inspiration for Southern Journey (Revisited), a new film by Rob Curry and Tim Plester (screening at QFT on Sat 17 Oct), retracing the song collecting journey made by Alan Lomax in the late '50s.
Free to watch worldwide from Friday 16 – Sunday 18 October here – https://queensfilmtheatre.com/QFT-Player/Route-66
Dir: John T. Davis | 1985 | UK | 1 hr 44 mins
---
To read more about the new measures Queen's Film Theatre are taking to stay COVID-secure, including our new allocated seating click here. If you have any questions, they have a new range of FAQs here, and you can e-mail them on qftmanager@qub.ac.uk.
I've always been a fan of John's punk films, but came across Route 66 a while back and found it completely mesmerising. It held a sort of quasi mystical quality in my head as there's so little information about it available, but when we came to make our own US road trip movie it was top of the list of references. Other than the incredible soundtrack, what I loved about it was how it seemed to be without agenda, and managed to convey real depth of meaning despite how little time each set of subjects had on screen. Made during the Reagan era, it shows the complexity and diversity behind the cliches, which was something we hoped to emulate in the Trump era.
Director Rob Curry