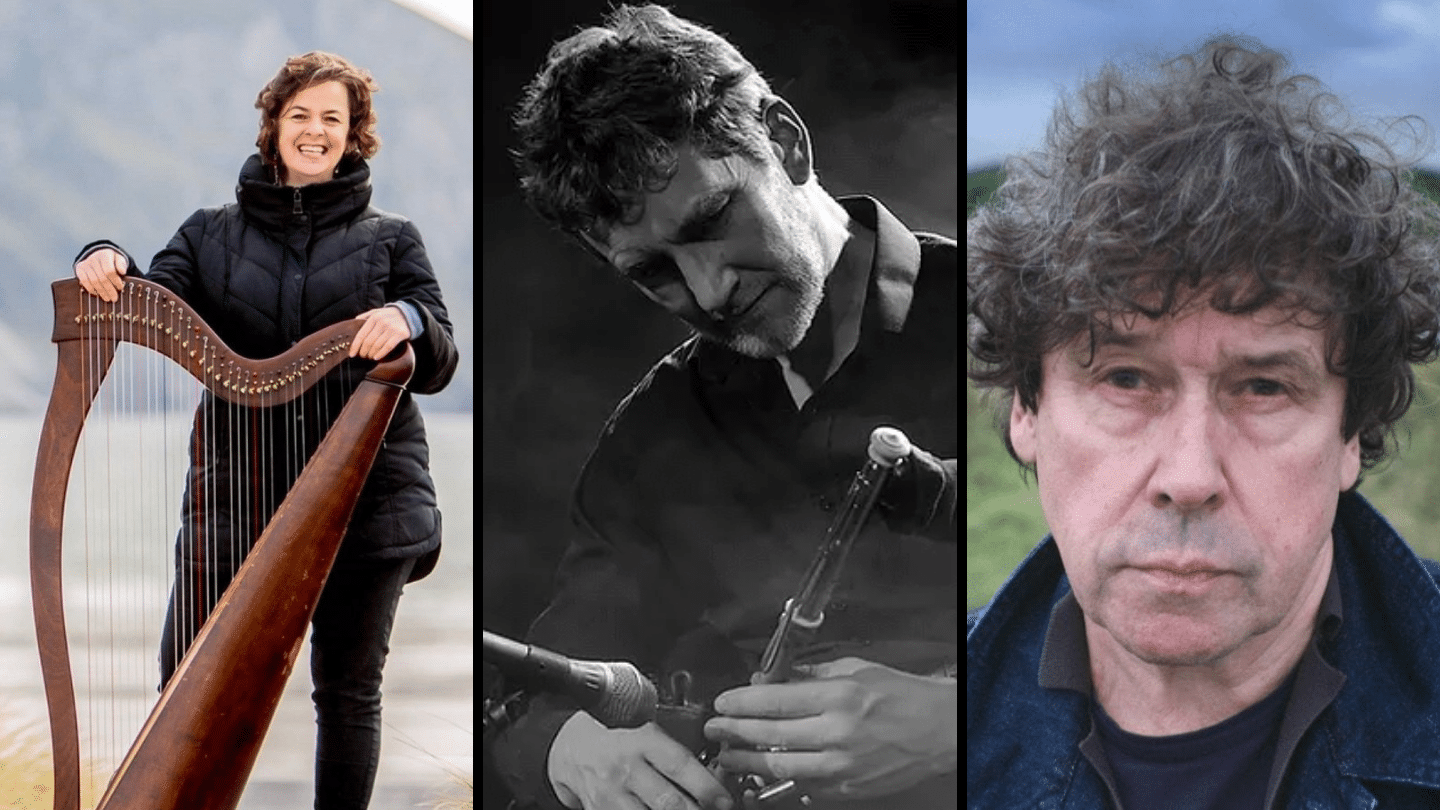 The Bunting Collection: Laoise Kelly & Tiarnán Ó Duinnchinn with Stephen Rea
---
Explore Belfast's unique place in the history of harp music with narration by Stephen Rea, Laoise Kelly (Harp and TG4 Musician of the Year 2020) and acclaimed Monaghan uilleann piper, Tiarnán Ó Duinnchinn. They will perform new versions of rarely heard music from the legendary 1792 Belfast Harp Festival (held in the former Northern Bank building on Waring Street), part of the Edward Bunting manuscript collection, alongside new music from their forthcoming recording.
Their acclaimed album 'Ar Lorg na Laochra' | 'On the Shoulders of Giants' pays homage to the source of their repertoire, encompassing many of the various tune and song air types to be found in 17th-19th century manuscripts from different parts of Ireland.
The performance will be accompanied by a harp workshop by ear for intermediate players with an introduction to the Bunting Manuscripts of the 1792 Belfast Harp Festival as part of our annual public engagement programme, Embrace. Taking place on Sunday 17 October in The Green Room Cafe at the Black Box 10am-11.30am. Click here to book for the Harp Workshop.
Part of IN-visible ID-entities 3, an on-going BIAF initiative encouraging cultural collaboration across the island and supported by the Government of Ireland's Department of Foreign Affairs.
Supported by the Arts Council of Northern Ireland's Development Fund.
If a mix of full price and concession tickets are required within a seat group, please call our box office at Visit Belfast on 028 9024 6609 and they will be happy to facilitate your order.
This event is based on a 1m social distancing seating plan. 
18+ (due to Black Box licensing)
---
Artist Biographies
Laoise Kelly is from Westport, Co. Mayo. She has three critically acclaimed solo albums 'Just Harp' (1999), 'Ceis' (2010), and 'Fáilte Uí Cheallaigh' (2015), and 'The Wishing Well' (2010) a live duo album with fiddle player Michelle O'Brien. Laoise was a founding member of traditional group 'Bumblebees' with whom she recorded two albums (1997, 1999) and toured extensively internationally. Throughout her solo career she has recorded on over 60 albums with many of Ireland's foremost artists including The Chieftains, Christy Moore, Sharon Shannon, Dónal Lunny, Tommy Makem, Matt Molloy, Mary Black, Maighread & Tríona Ní Dhomhnaill, Eimear Quinn as well as Kate Bush and American country/bluegrass icon Tim O'Brien.
Tiarnán Ó Duinnchinn is an award winning Uilleann Piper from Monaghan who started playing the Uilleann Pipes when he was around nine years of age in The Armagh Pipers Club. He has won 4 Fleadh Ceoil (Ist place) All-Ireland titles –and two Oireachtas titles. In January 2013, Tiarnán won the Seán O Riada Bonn Oir (Sean O Riada Gold Medal) competition.Tiarnan has been described by many as being one of the most influential pipers of his generation.
Stephen Rea is an acclaimed Irish film and stage actor. Rea has appeared in films such as V for Vendetta, Michael Collins, Interview with the Vampire and Breakfast on Pluto. Rea was nominated for the Academy Award for Best Actor for Neil Jordan's thriller The Crying Game (1992). He has during later years had important roles in the Hugo Blick TV series The Shadow Line and The Honourable Woman, for which he won a BAFTA Award. In 2020, The Irish Times, ranked Rea the 13th greatest Irish film actor of all-time.