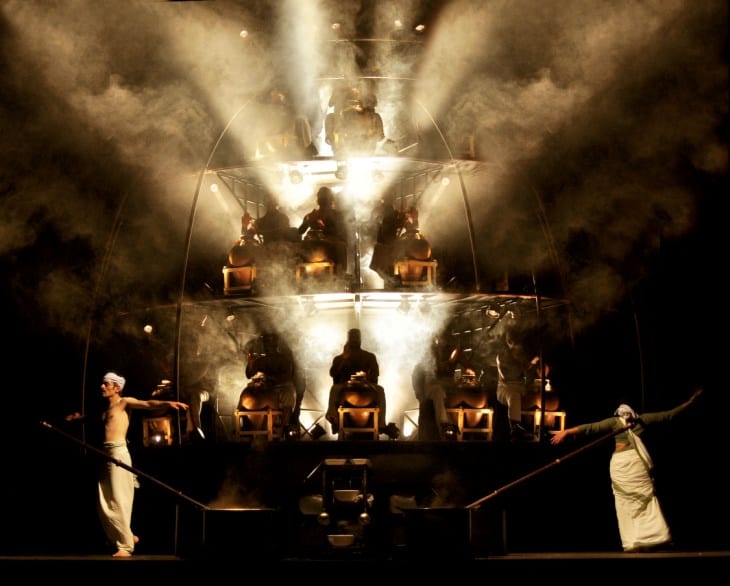 India Week at the Festival
The Ulster Bank Belfast International Arts Festival is now in full swing.  Next week (19-24 October) is its busiest week, with a bumper night of entertainment on Friday 23rd which includes the BBC Big Band and Festival Swing Dancers at the Ulster Hall playing swing hits from Frank Sinatra and Ella Fitzgerald.
This year's festival features artists from 23 countries but there is a strong Indian theme in next week's programme, from heart-warming food and home cooking through to the harsh reality of the country's rape crisis.
The Kitchen – this play is a large-scale musical and visual spectacular from India at the Grand Opera House, on Wednesday 21st & Thursday 22nd October.  Belfast Festival hosts this significant UK & Ireland premiere.
The Kitchen is a fusion of food and family, with cooking at the heart of the home.  The rhythm of the household beats out on twelve shiny Indian drums amidst the steam from the large copper cooking pots.  The theatre air is filled with sweet fragrant spices as the husband and wife wordlessly stir a vast Indian pot of rice pudding throughout the show, which is shared among the audience as the curtain falls.
Two nights only – not to be missed.
India's Daughter – QFT 6.30pm Tuesday 20th October (Cert 18) ​This (previously banned) documentary film tells the story of the brutal gang rape and murder of 23-year-old medical student Jyoti on a moving bus in Delhi in 2012, and the unprecedented protests and riots which this horrific event ignited throughout India, leading to the demand for changes in attitudes towards women.
India's Daughter is one of four films nominated for Best Documentary on a Contemporary Theme – International in The Griersons 2015, considered the Oscars of the documentary world.
If you are interested in Jyoti's story and would like to know more, Lyndee Prickitt author/creator of We Are Angry.net is also appearing at Festival:
Lyndee Prickett – American journalist Lyndee will reveal how her multi-media fictional work on India's rape crisis, www.weareangry.net , sparked an online political movement. Blending the written word with audio, video, pictures, statistics, thought bubbles, cartoons, artwork, music and more, it is also a work that reflects the growing role of technology in the future of mass storytelling, 23rd Octat Brian Friel Theatre.
Nine Nights -in association with ArtsEkta, this production from Walk the Plank celebrates India's festival of light, Diwali.  It will feature over 1000 dancers, actors and performers in a spectacular candlelit procession through the city on the evening of Saturday 24th October.
Other festival highlights next week from across Europe include:
Hallo – Swiss acrobat, clown and choreographer Martin Zimmerman brings his stunning and humorous one-man show to the MAC on 23-24 October. This fast-paced virtuoso performance pitched somewhere between Samuel Beckett and Buster Keaton is a beautiful blend of acrobatics, theatre, comedy with a touch a magic too.
To Break – The Window of Opportunity – Enter the extraordinary world of Belgian artists, Frank & Robertt, who bring colour and life to otherwise inanimate objects in a strange Americana influenced landscape. Playful, stylish and endearingly charming, these two young theatre makers are making waves throughout Europe with their multi-disciplinary work. (The MAC 20-21 Oct).
BBC Big Band – release your inner Strictly-Come-Dancer, as the Ulster Hall comes alive to the much-loved sounds of Frank Sinatra and Ella Fitzgerald. It don't mean a thing if it ain't got that swing, so grab your partner and your dancing shoes on Friday 23rd October, when the Festival Swing Dancers will show you how it's done.