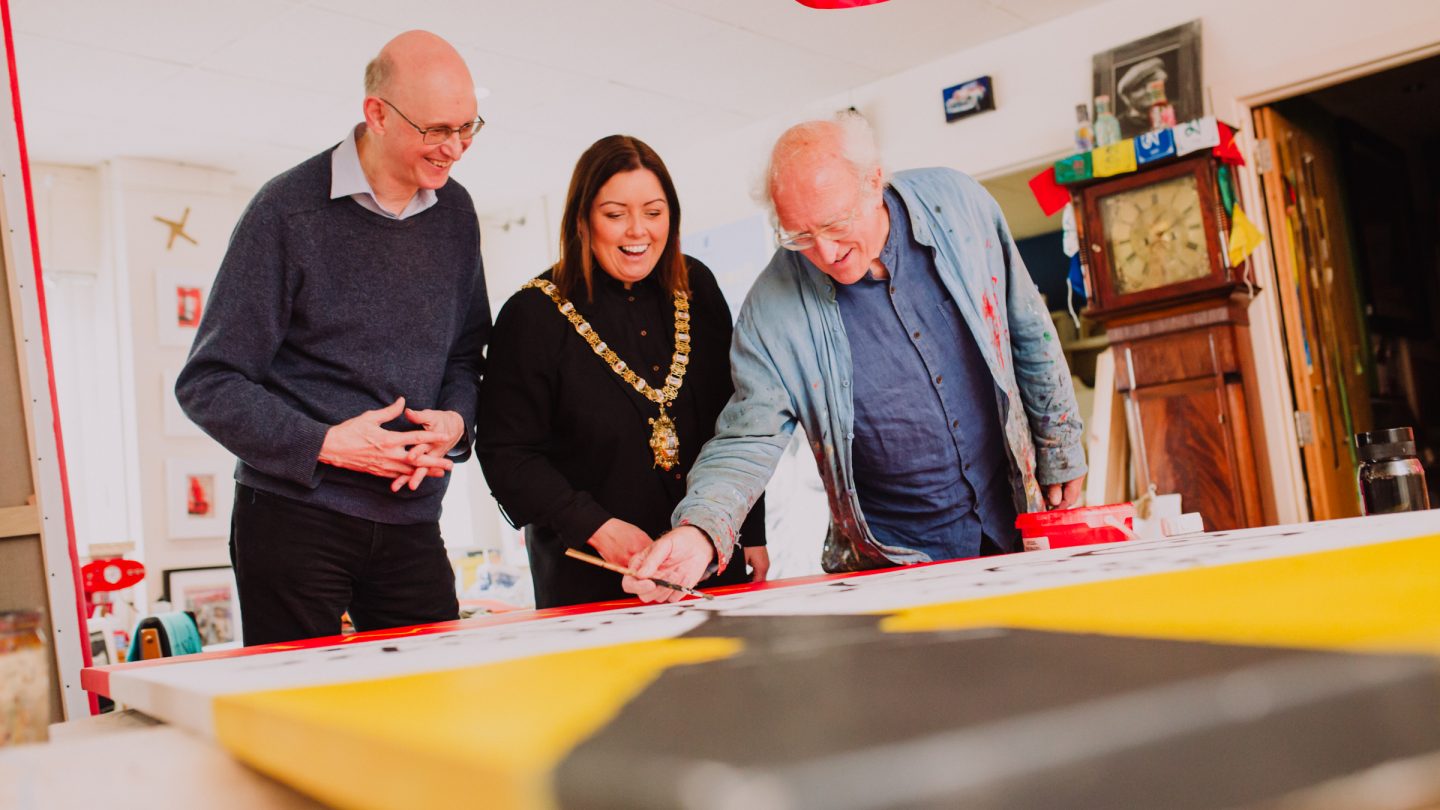 New exhibition to showcase and celebrate Belfast writers
A new exhibition which pays tribute to many of Belfast's leading authors, playwrights, poets and composers, is to open to the public later this month. Neil Shawcross, one of Ireland's most eminent artists, has gifted his complete 'Writers of Belfast' collection to Belfast City Council in appreciation of his 'home' city.
It features 36 dramatic 7ft-high paintings of book covers, posters and albums, and will be on public display at Titanic Belfast from Wednesday 24 October, in the Andrews Gallery.
Shawcross, whose previous portrait subjects have included former Lord Mayor of Belfast David Cook, was born in Lancashire, England, but has lived in Belfast since 1962.
He was awarded an MBE in 2014 for his services to the arts in Northern Ireland, and was a much respected lecturer in fine art at Ulster University until his retirement 10 years ago.
Belfast Lord Mayor Councillor Deirdre Hargey recently met with Mr Shawcross at his Belfast studio to witness him at work.
"Neil is one of our finest artists and I was absolutely thrilled to meet with him and see some of his work; he is an amazing talent," said Councillor Hargey.
"I am delighted to accept Neil's very generous and special gift on behalf of Belfast City Council and it's fantastic that everyone will have an opportunity to see this collection, free of charge, when it opens in Titanic Belfast later this month.
 
"'Writers of Belfast' is as much a celebration of our homegrown talent – our city's writers, books, our literature and drama – as it is an art exhibition."
She added: "We feel this important collection will be of real interest to both citizens and visitors, and it's also a great way of showcasing some of Belfast's greatest writers down through the decades."
The people featured in the collection range from the renowned CS Lewis, John Hewitt, Van Morrison and Marie Jones, to the perhaps lesser-known Thomas Carnduff, Forrest Reid, Padraic Fiacc, and Deirdre Ni Grianna.
Whilst not strictly a Belfast native, the late Seamus Heaney is also featured, given that he lived and worked in the city for so long, and with such distinction.
The exhibition is one of the highlights of this year's Belfast International Arts Festival and a special outreach programme has been arranged to give people an insight into the exhibition and Neil Shawcross's art practice.
Festival Director and Chief Executive, Richard Wakely, said: "Belfast International Arts Festival is delighted to partner with Belfast City Council to host this exhibition and in doing so, to celebrate the artistry of Neil Shawcross and the wealth of literary talent that is at its centre. The exhibition reminds us that authors, poets and composers are a crucial and valued part of the Belfast story."
The accompanying engagement and outreach programme, specially curated by the Festival includes a number of events which are free but must be booked in advance:
Neil Shawcross in conversation with Prof Liam Kelly, Thursday 25 October, 1pm
Writing the City: writing workshops, Saturday 27 October, 11am and 2pm
Gallery tour with Dr Denise Ferran, Wednesday 24 October, 1pm
Gallery tour with Dan Dowling (in Irish), Saturday 27 October, 4pm
Writing Ourselves: Women Writers of Belfast, Tuesday 30 October, 6pm
'Writers of Belfast' will be on public display from Wednesday 24 October until Thursday 1 November, 9am-6pm.