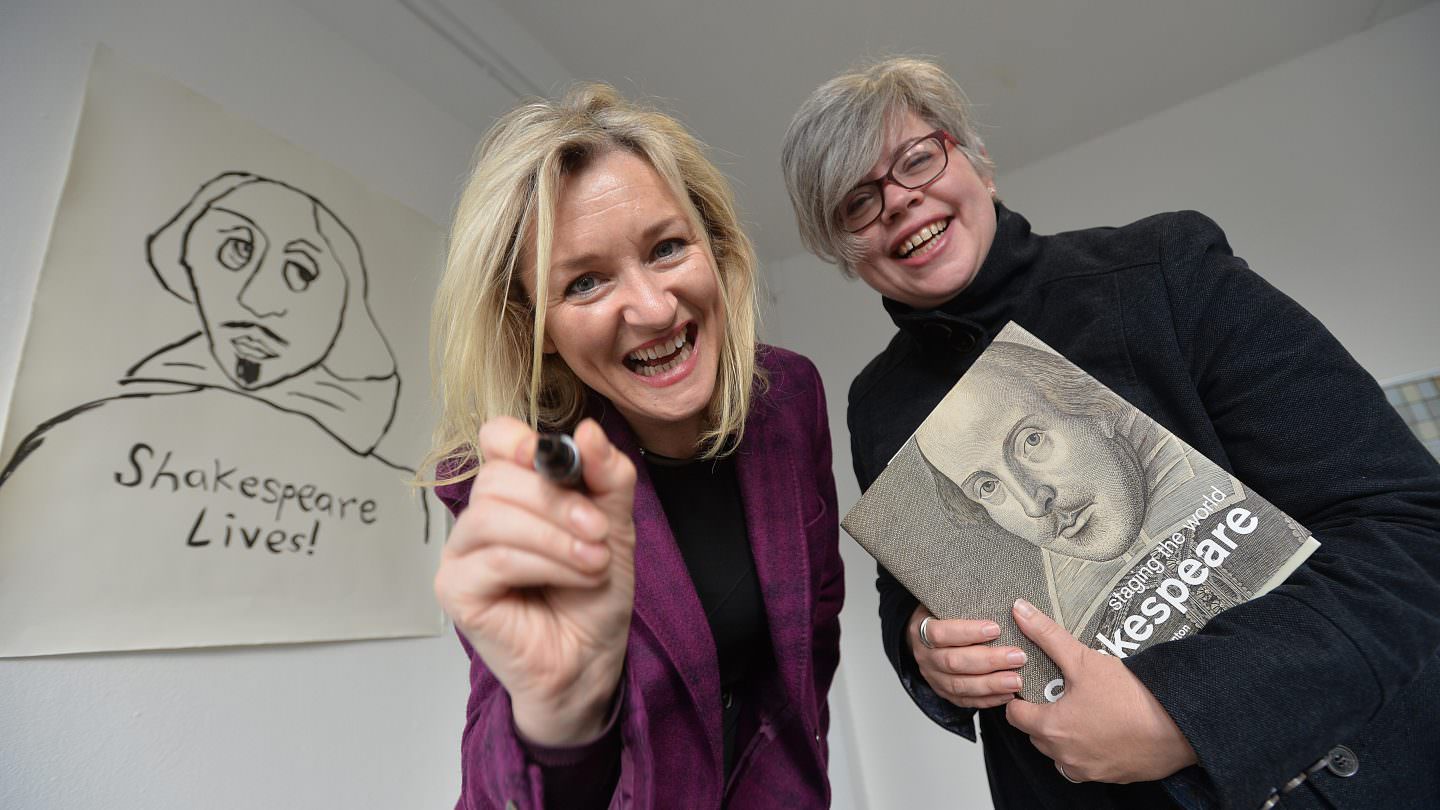 Shakespeare Lives in Northern Ireland!
Two Belfast productions will be part of a global celebration of William Shakespeare.
Our 2015 Artist in Residence Amanda Coogan, and Belfast theatre company,  Terra Nova Productions, will be part of British Council's Shakespeare Lives campaign — a major global programme for 2016, celebrating Shakespeare's works and his influence on culture, education and society on the 400th anniversary of his death.
The global project, which will launch at the Houses of Parliament in London today (October 29), is also supported by the GREAT campaign and will see over 140 countries around the world get involved throughout the year — through exhibitions, unique online collaborations, public readings, conversations and debates and educational resources for classrooms.
As part of the celebration, Dublin-born artist but now Belfast resident, Amanda, will present her new multi-media work, You Turn Me On, I'm a Radio, a combination of sign language, performance, digital sound and live Instagram streaming.
Working in collaboration with Deaf communities in Northern Ireland and South Africa, different Shakespearean plays will be woven together into a performance that empowers both participants and audiences to take a fresh new look at Shakespeare's works.
Speaking about the project, Amanda said:
Through the British Council I was able to spend two weeks in South Africa in June, and while there, was really inspired by the story of the Robben Island Bible. The complete works of Shakespeare were smuggled on to Robben Island Prison — home to liberation leaders and activists including Nelson Mandela, and the book became one of the most treasured documents on the island. For this piece, I have chosen to base it on a line from Macbeth — 'All the perfumes of Arabia couldn't make my little hand smell better' — and will use four different performers, including a Deaf actor, to weave three different scenes together in 40 minutes.
The project is still in development, but as part of this year's Ulster Bank Belfast International Arts Festival, audiences can see how it's progressing with a performance at the Golden Thread Gallery this Saturday (October 31). Limited capacity – Book Now
Meanwhile, Terra Nova Productions will produce The Belfast Tempest, one of the largest Shakespeare productions Belfast has ever seen.
Inspired by the history of the great port city of Belfast, the play will feature local and international actors, with special emphasis on Asia and the 56 nations of Africa and the Caribbean.
Supported by British Council, Belfast City Council and Arts Council Northern Ireland, the project will bring together more than 230 community cast members to join professionals from around the world for a truly international and cross community event staged at Belfast's docks, and one of the largest Shakespeare productions this city has ever seen.
Taking place from April 20-23, 2016, the production aims to promote community engagement not only on stage, but behind the scenes, with 680 participation opportunities, including through set building, costume making and master-classes.
Andrea Montgomery, artistic director of Terra Nova Productions, who will be attending the launch in London today, said: "Terra Nova has always been an intercultural theatre company and since its inception in 2007, has aimed to bring local and global collaborations together.
 "This version of the Tempest however, will be a real Belfast version and take us through three stages of Belfast's history — from its formation in the 1600s, to its industrial heyday in the late 19th century, finishing  up in modern-day Belfast."
Also speaking about the launch of Shakespeare Lives was David Alderdice, Director, British Council Northern Ireland.
He said: "Four hundred years after his death, Shakespeare remains one of our greatest literary exports. His works have not only inspired the broadest range of artistic endeavour and motivated political change, but also given people from all walks of life a platform for self-expression through the genius of his language."
British Council Shakespeare Lives
Follow #ShakespeareLives