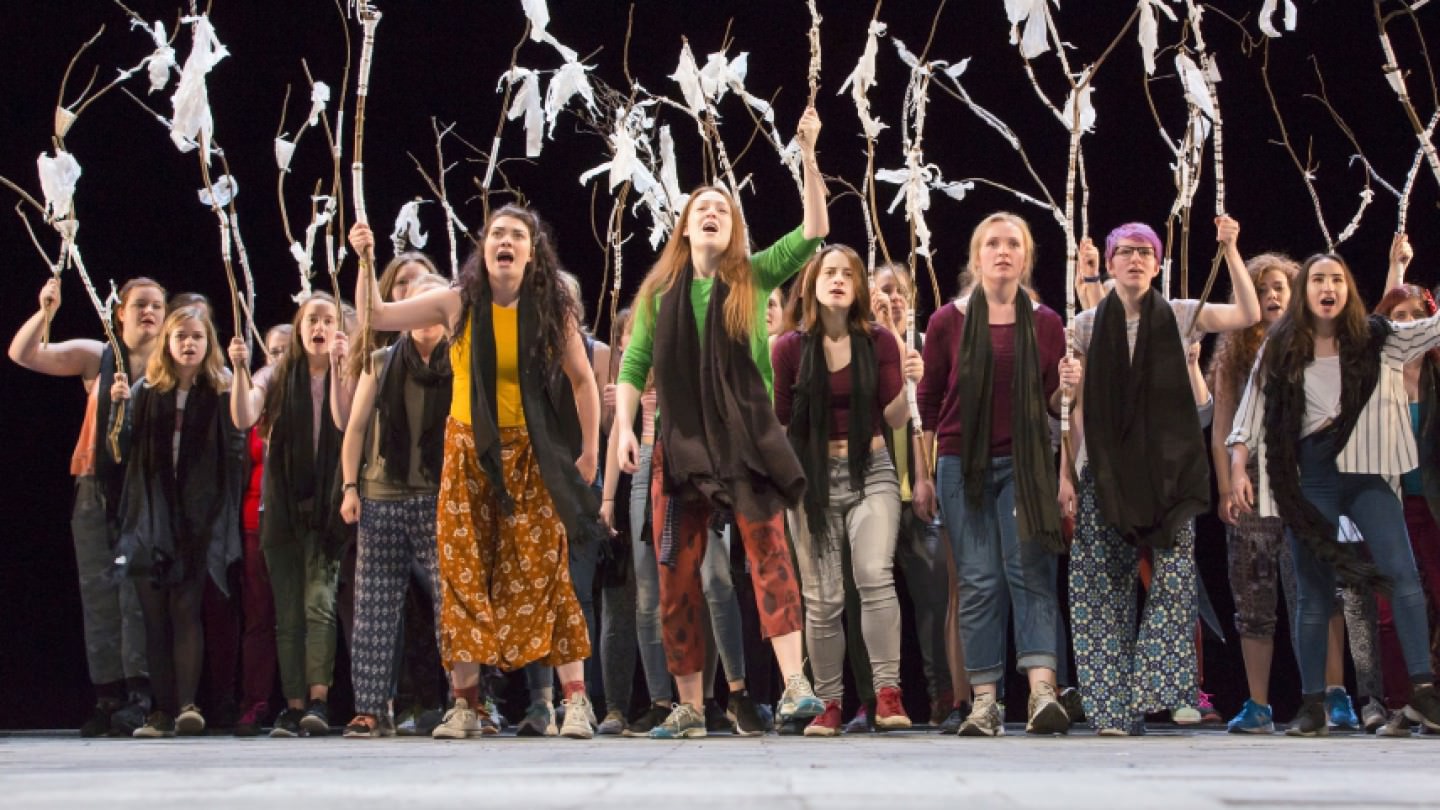 The Suppliant Women – Call for Participants
Are you…
a woman aged between 16 and 26? (You must be 16 years old by the 10th September)
a man aged between 18 and 30?
Err… yes.
Are you interested in…
Working with a critically-acclaimed theatre makers?
 Learning and developing your singing, dance and performance skills?
Sinking your teeth into some gritty themes such as immigration, feminism and democracy?
Performing on stage at the Grand Opera House as part of the Belfast International Arts Festival with a professional cast of actors?
Having a hell of a lot of fun?
Hells yeah! Tell me more.
Actors Touring Company creates contemporary theatre that travels. Touring extensively in the UK and overseas, we're perhaps best known for the multi-award-winning The Events by David Greig (The Lorax, Charlie and the Chocolate Factory).
In The Suppliant Women, written by the Greek playwright Aeschylus, fifty young women escape forced marriages in Egypt and seek asylum in Greece. One of the oldest surviving plays in existence – it's 2,500 years old! – this is a story for our time.
Am I supposed to know what "suppliant" means?
It's the act of "making or expressing a plea, especially to someone in power or authority"… (I just Googled it.)
And how's this going get me on stage at the Grand Opera House?
We'd like you to join a chorus (the "suppliant" women) who will rehearse and perform alongside a professional cast at this year's Belfast International Arts Festival.
You will work with David Greig, Ramin Gray and John Browne to develop the acting, singing and choreography that will be performed on stage. David Greig is the playwright and has written a new version of The Suppliant Women. Actors Touring Company are producing the play, our Artistic Director, Ramin Gray, is directing the production.
Composer John Browne wrote the music for The Events, which has been a hit worldwide since its premiere at the Edinburgh Festival in 2013. David wrote that play and Ramin directed it. Now they're all three reunited for The Suppliant Women.
Wait a sec, I'm tone deaf and have two left feet. Problem?
You don't have to be Beyoncé, but an ability to hold a tune and move to a beat is essential.
This won't be "ancient" music. We're not attempting to reconstruct the music of 2,500 years ago. The music in our production will be based on chants of various kinds (protest, sacred, football, tribal etc) and this means that some of the music will be closer to rhythmic speaking. Other bits will be half-sung plus, of course, lots of singing – in parts.
The sung passages will shift between earthy folk and plainchant styles with hints of various contemporary pop styles. There will be about 30 minutes of choral singing, some solos, and another 10 or 15 minutes of spoken text so there's a lot to learn. All off by heart!
Dancing, though…
"Dance" is an overstatement. You will work on developing loosely choreographed sequences with the creative team. These will be led by the emotions of the suppliant women you're playing, and not by complicated, intricate routines. Footloose this is not. That said, it will look fantastic on stage.
For a chance of being in the show, simply contact our Programme & Operations Manager, Georgia Simpson at georgia@belfastinternationalartsfestival.com
Sounds great. What's the commitment?
For the younger age group of women, rehearsals will begin on Sunday 11th September, and your involvement requires you to be available on Thursday evenings and each Saturday every week.
Male participants will join the process from Saturday 15th October.
All cast will be required for evening rehearsals 17th – 20th October and the afternoon of Friday 21st October.
The performances take place on Friday 21st and Saturday 22nd October.