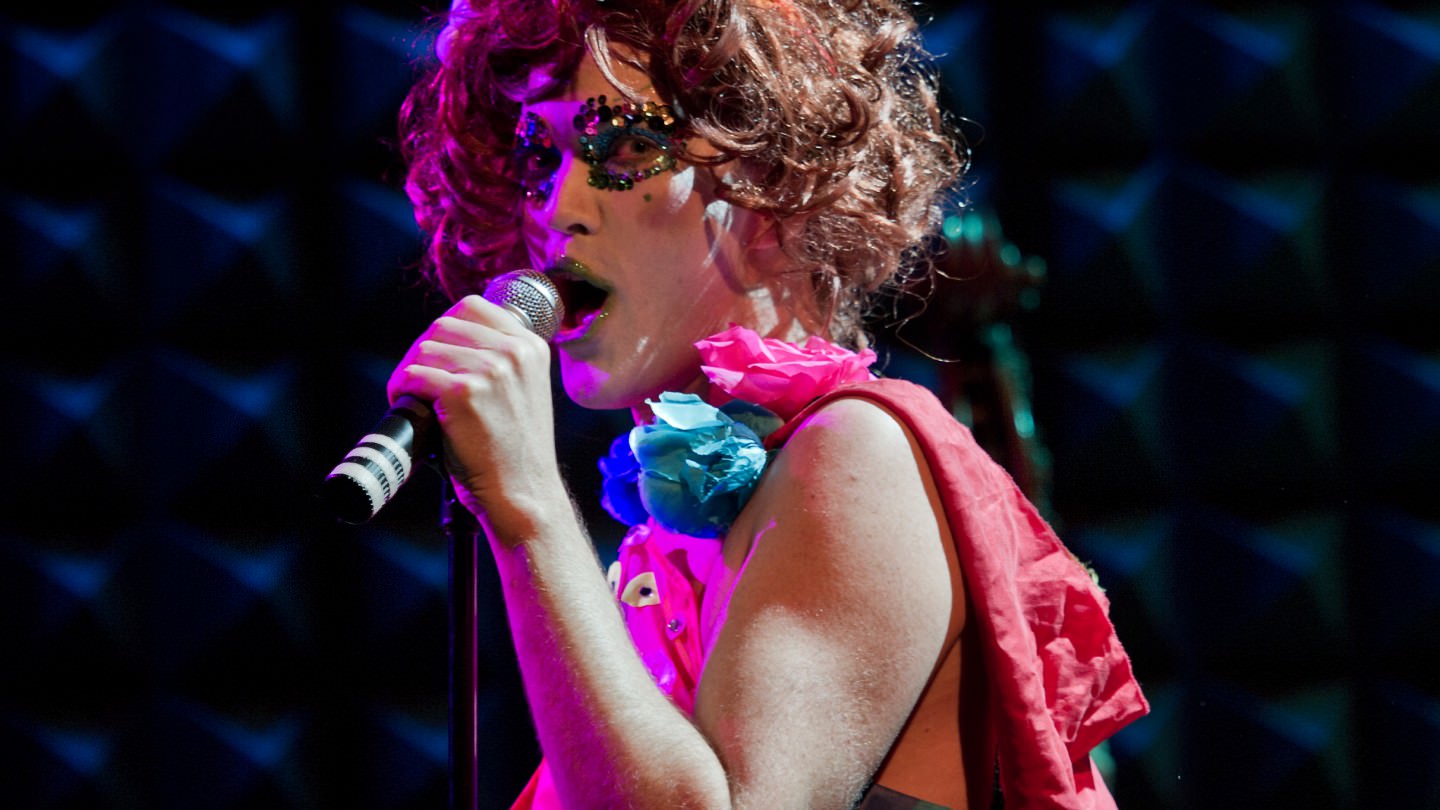 The Ulster Bank Belfast International Arts Festival is delighted to announce that the first events in its 2016 programme are now on sale. This year's Festival dates are Tuesday 11 October to Saturday 29 October.
Programme themes will include World In Motion (exploring the human face of the refugee crisis) Bending The Bard (a sideways look at the enduring appeal of Shakespeare on the 400th anniversary of his death) and Nineteen Sixteen (artists and writers consider the multiple legacies from a momentous year).
Taylor Mac
The first major international show on sale is A 24-Decade History of Popular Music: The WW1 Years and More by New York's dazzling performance artist, Taylor Mac. His debut show in Northern Ireland has been jointly commissioned by Belfast Festival and 14-18 NOW, the UK's arts programme for the First World War centenary.
Recently labelled by New York magazine as "The Critical Darling of the New York scene", Taylor Mac combines music, theatre, politics and multiple stunning glitter- and feather-encrusted costume changes. This highly entertaining, articulate, funny and outspoken performance artist is sure to enthral audiences at his three shows in the MAC, Belfast on 25th, 26th and 29th October.
In a review of Taylor Mac earlier this month, The Guardian said, "Mac makes the eyes and ears dazzle. But it's the extravagant generosity of spirit that makes the sequins shine more brightly, the notes sound truer and the wit seem sharper.  The New York drag queen and live artist certainly ensured that this… didn't just have lift-off but blast-off."
Earlier this year the New York Times said "He may look like a diva from another planet, but his spike heels are firmly planted on earth"
The Irish Times said, "Taylor Mac seduces you, breaks your heart, patches it back up again and sews sequins along the scars."
Taylor Mac's first two shows, The WW1 Years and More, will be his astute take on music and culture spanning the years before, during and after the First World War from 1896 through to 1926, and are supported by 14-18 NOW, the UK's official arts programme for the First World War centenary.
Mac's third concert, and Festival's Closing concert, will be a ten-decade spectacular capturing 1916, the Battle of the Somme and the Easter Rising, through to 2016. Accompanied by a live band and dressed in a dazzling array of costume creations, Mac's performance will reflect on notions of authority, class, empire, gender, patriotism and war. This event has been co-commissioned with 14-18 NOW: WW1 Centenary Art Commissions.
Run to the Rock
Also on release today is critically acclaimed Irish performer (and last year's Festival Artist in Residence), Amanda Coogan with the world premiere of Run to the Rock, opening on 20 October in the MAC.  This specially commissioned live art work involves deaf performers from Northern Ireland and South Africa and is based around the Robben Island Bible, a copy of the 'Complete Works of William Shakespeare' which was smuggled among, and annotated by, the single cell prisoners of the South African prison, during the period of Nelson Mandela's incarceration.
Coogan's Run to the Rock weaves a narrative of struggle for recognition, power and stability that springs from Shakespeare's continuing political relevance. The production will combine live multi-media messaging, projected images, sound and movements inspired by translations of Shakespeare's texts into sign language. This work has been generously informed by collaborators Educape and Jazz Hands, based in South Africa, and commissioned by the British Council's Shakespeare Reworked programme as part of Shakespeare Lives, marking the 400th anniversary of his death in 2016.
The Suppliant Women
The final release in this first programme announcement is David Grieg's reworking of one of the oldest, and yet never more relevant, plays in the world, The Suppliant Women by Aeschylus, performed by the Royal Lyceum Theatre Edinburgh and Actors' Touring Company. David Greig's previous work The Events was acclaimed as The Guardian's Best Play of 2013.
This contemporary retelling of the first Greek tragedy, at the Grand Opera House on 21 and 22 October tells the story of the mythical fifty daughters of Danaus, who were to be forcibly married to the sons of his brother, the king of Egypt, but who instead escaped across the sea with their father and wound up seeking refuge at Argos.  Some 2,500 years after its creation, the parallels of this play with the ongoing refugee crisis are evident, relevant and thought-provoking, resonating timely questions around identity, citizenship and freedom.
While most Greek dramas have just one protagonist, in this one the protagonist is the entire Chorus of suppliant women, to be played in Belfast by an amateur chorus of up to fifty women – the Festival will be recruiting 50 young females for the role. Details can be found in the News section of the Festival website.
Making today's announcement, Belfast International Arts Festival Director Richard Wakely said:
The Ulster Bank Belfast International Arts Festival is back with a bang for 2016, with 19 days of world class artists and events to enlighten and entertain: Taylor Mac and Amanda Coogan are leading artists of our time showcasing unique new productions and exploring timeless themes. Taylor Mac is an acclaimed hybrid performance artist combining theatre, music and cabaret who has been co-commissioned by the Festival to create a hugely entertaining spectacle that questions how much we should hold on to the past when trying to create a better future. Amanda Coogan's compelling and visually captivating new performance work, created with deaf performers, breathes new life and interpretation into Shakespeare and Grieg's stunning production of The Suppliant Women will be huge in its scale and appeal and as relevant today as when it was written 2500 years ago.
This is the final year of the Ulster Bank's 10 year title sponsorship of the Festival. The sponsorship, worth approximately £ 3million over this period, has enabled the Festival to attract a range of world class artists ranging from Charlotte Rampling to the Schaubuhne Theatre to Bettye LaVette.
Richard Wakely said:
The Ulster Bank has been a tremendous partner to the Belfast International Arts Festival and while this phase in our partnership is coming to a close, our work together, particularly over the last 12 months has created the best foundation for establishing a civic arts event of international stature, that engages all our communities in the joys of creative practice. We are enthusiastic about the future of the new Festival and we remain steadfast in furthering the shared ambitions of our audiences, artists and funders and the impact the Festival will continue to have on our great city.
Richard Donnan, Ulster Bank's Head of Northern Ireland, said:
As ever, this year's Festival provides a fantastic range of international talent and creativity to surprise and delight audiences. At Ulster Bank, we're really proud of the work we've done to date with Richard and the whole team behind the Belfast Festival. 2016 marks the end of our ten-year partnership with the Festival. Over that time I have been inspired by the way it has grown and evolved, and I look forward to this year being another excellent celebration of the arts. We wish them well for the future as an important platform for the arts in Northern Ireland.
Roisin McDonough, Chief Executive, Arts Council of Northern Ireland said:
The importance of staging an international arts festival in Belfast cannot be overestimated. As the Festival's principal funder, the Arts Council of Northern Ireland recognises its enormous contribution to high-quality arts and culture in return for a relatively small amount of public investment.  We are delighted to support the Belfast International Arts Festival once again and we wish the team every success with this year's terrific programme.
Councillor Aileen Graham, Chair of Belfast City Council's City Growth and Regeneration Committee said:
We are delighted that Belfast International Arts Festival has announced the first acts for their 2016 festival. It is great to see international artists coming to the city as well as new work being created especially for our local audiences. Festivals make a vital contribution to the city and we are sure that this year's festival will build on last year's success.
Chief Executive of Tourism NI, John McGrillen said:
The Belfast International Arts Festival makes a significant contribution to tourism in the low season months and presents a great opportunity for visitors to stay longer and contribute more to our economy. I commend the dedication and hard work of Richard and his team for the creation and delivery of a high quality event.
Jenny Waldman, Director, 14-18 NOW said:
One hundred years ago this year, the First World War was entering its darkest days. As the conflict entered its third year it must have felt as though the war would last forever, a sensation heightened by the intense brutality of the Battle of the Somme. It is important to remember the momentous impact of the First World War in Northern Ireland as well as mark the centenary of the Easter Rising, and we are delighted to be co-commissioning with Belfast International Arts Festival a new work from Taylor Mac which explores this pivotal moment in history.
Neil Webb, Director of British Council Theatre and Dance, said:
We had an outstanding calibre of artists from the UK take part in the research and development phase for Shakespeare Reworked, and I am delighted that Amanda Coogan's Run To The Rock project has been selected to be developed into a full-scale production. The artistic collaboration in this project between Deaf performers from Northern Ireland and South Africa demonstrates how Shakespeare continues to live in all people and all nations. I very much look forward to seeing how Amanda's project continues to grow, as she has placed Shakespeare at the heart of a project that makes Live Art more accessible to Deaf audiences and explores the creative potential of sign language.
Follow @BelfastFestival on Twitter and Facebook.