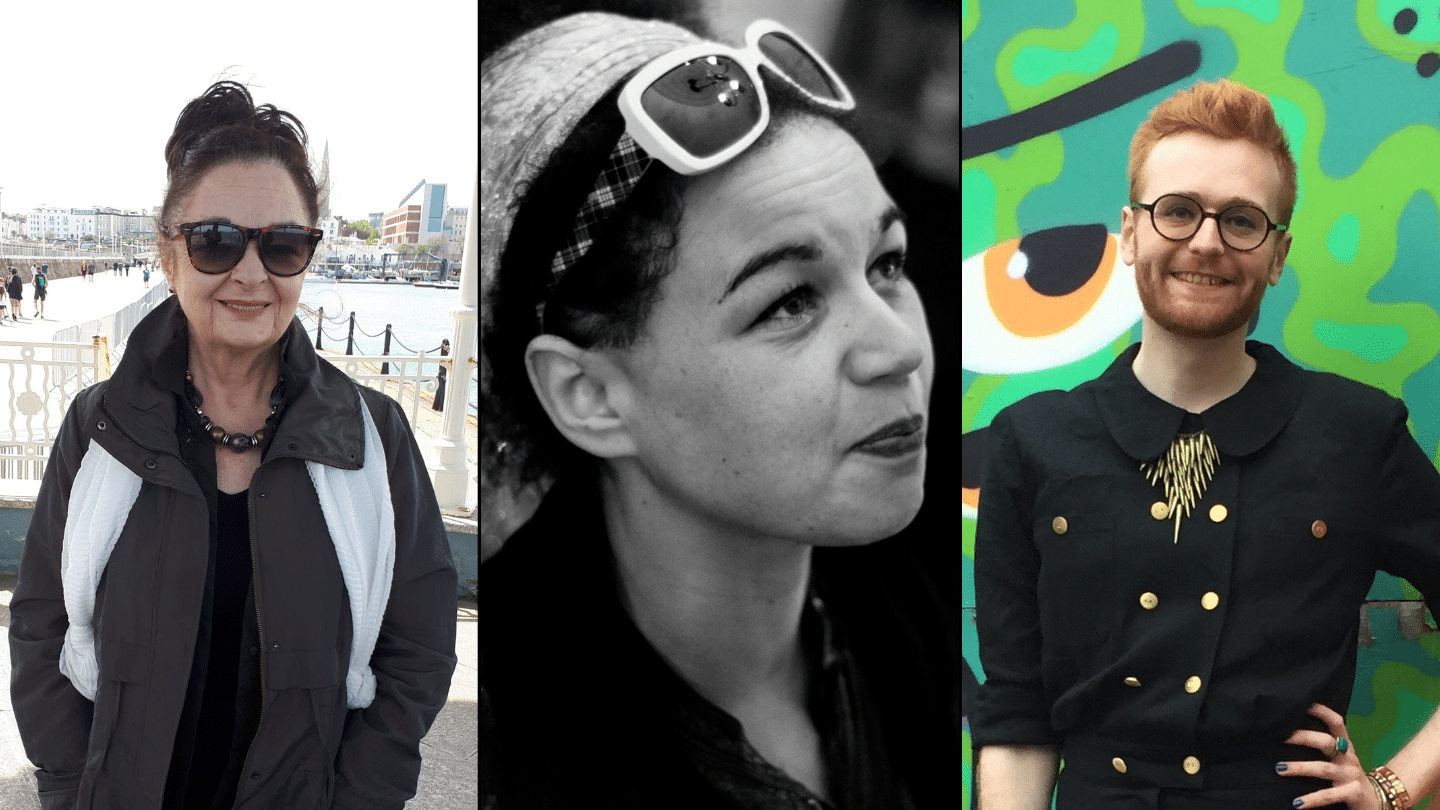 Acts of Commission 2 – The Spirit, The Psyche, The Body
---
The second of two major showcase events of new and innovative poetry commissions of poets of the North of Ireland.
Writing in Irish & English, poet Celia de Fréine presents an exploration of the indomitable spirit of woman.
Spoken word poet Abby Olivera articulates the experience being mixed race in a Caucasian society and how this impacts on the psyche.
Padraig Regan (they/them) presents their reflections and insights about the body, responding to source material inspired by other artists and anime.
Gníomhartha Coimisiúnaithe 2 – An Spiorad, An Aigne, An Corp.
An darna mórimeacht filíochta as beirt san fhéile, é bunaithe ar shaothar nua-scríofa, nuálach coimisiúnaithe le filí an tuaiscirt.
Ag scríobh go dátheangach, cuireann file Celia de Fréine léiriú inár láthair ar spiorad dochloíte na mban.
Fiosraíonn file ó bhéal Abby Olivera an t-eispéireas a bhaineann le bheith de chine measctha i sóchaí geal agus an tionchar atá aige seo ar an aigne.
Tugann Padraig Regan (siad/iad) radharc dúinn ar a gcuid léargais faoin chorp, ag freagairt d'ábhar foinse atá spreagtha ag ealaíontóirí eile agus anime.
Quotidian- Word on the Street is grateful to have the support of Poetry Ireland, the Arts Council of Northern Ireland and Centre Culturel Irlandais, Paris in the commissioning and production of Acts of Commission.
Part of IN-visible ID-entities 3, an on-going BIAF initiative encouraging cultural collaboration across the island and supported by the Government of Ireland's Department of Foreign Affairs.
This event is available to watch on demand from its premiere date until Sunday 7 November. 
---
This event can be bundled with our Digital Pass
Following on from our online Festival in 2020, BIAF is offering audiences worldwide the chance to experience a selection of events from this year's edition from the comfort of their own home with a special discounted Digital Pass on a selection of events.
For £15 we're offering access to the following events from our Talks & Ideas section (all priced at £5 individually):
Acts of Commission – Old Rope, Old Lough, Old Love
Laura Jean McKay & Meg Mason
Colm Tóibín & Damon Galgut
Dominique Barbéris & Gaëlle Josse
Séamas O'Reilly & Lucy Mangan
Acts of Commission – The Spirit, The Psyche, The Body
For £20 we're offering all the six talks above AND Fishamble's online presentation of On Blueberry Hill!
To purchase your Digital Pass just add the events individually to your cart when booking and the discount is applied! Simple!