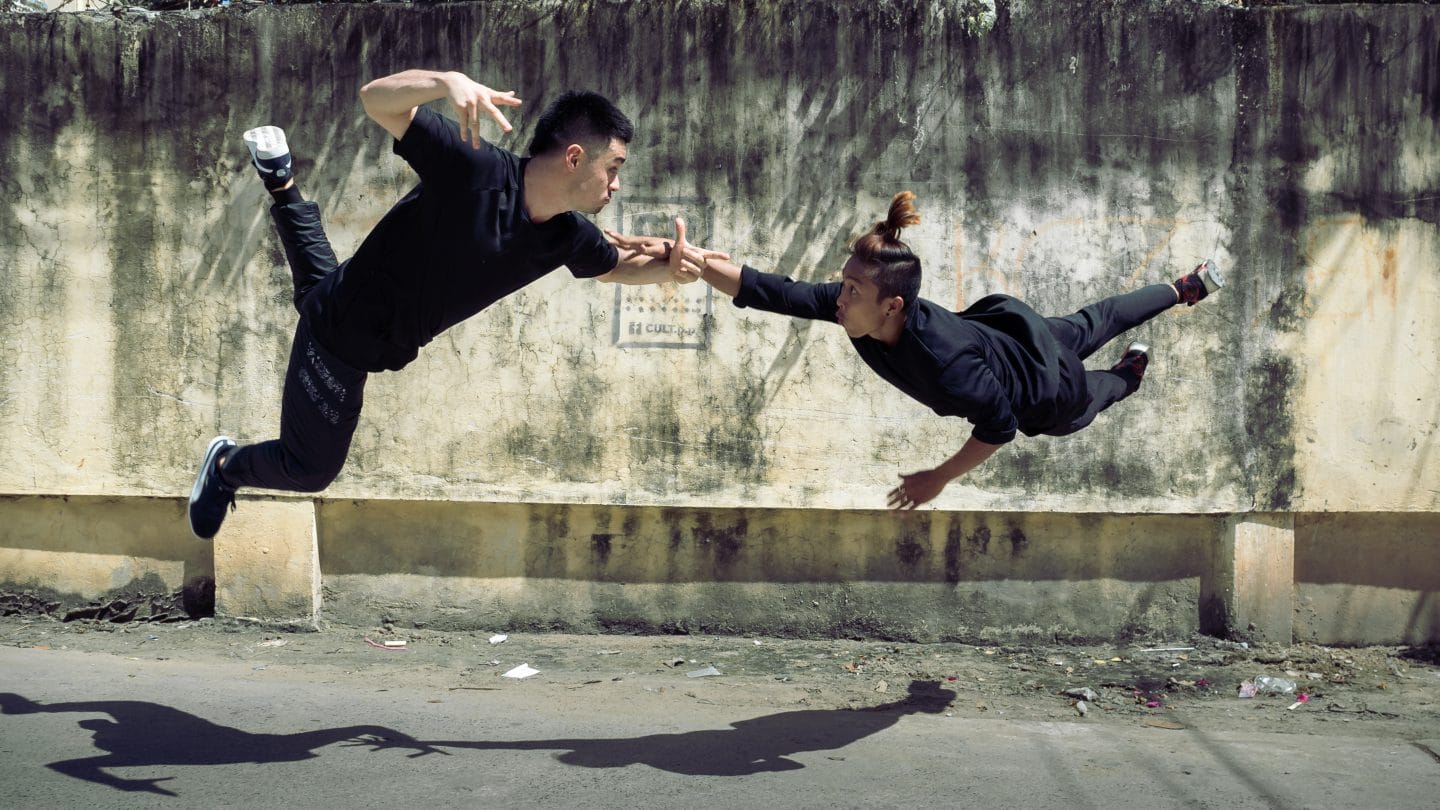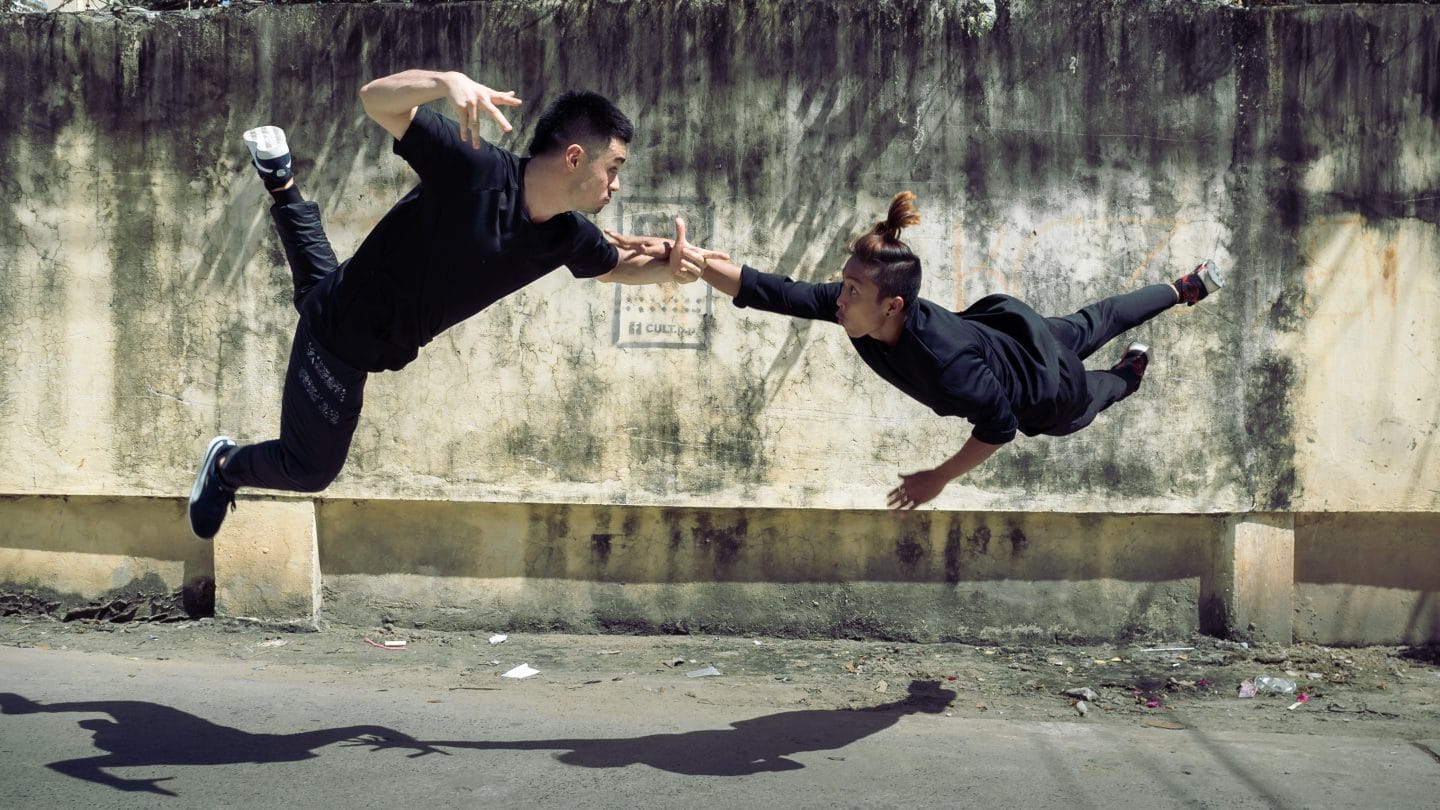 Between Tiny Cities រវាងទីក្រុងតូច
---
By Nick Power
In Between Tiny Cities រវាងទីក្រុងតូច, dancers Erak Mith, from Phnom Penh, Cambodia and Aaron Lim, from Darwin, Australia use the rituals, movement styles and language of their shared hip-hop culture to reveal the dramatically different worlds that surround them and uncover the choreographic links that unite them. 
Choreographed by internationally-renowned Australian hip-hop dance artist Nick Power and accompanied by the beats and sound design of Jack Prest, the work blends the raw, wild energy of b*boy battles with skilful improvisation and choreography, offering a cross-cultural perspective on style, culture and locality. 
The project is the result of a four-year dance exchange between Darwin's D*City Rockers and Cambodia's Tiny Toones youth program. The two crews have travelled, trained, battled and performed together, and Between Tiny Cities រវាងទីក្រុងតូច, is the culmination of that exchange. 
Get up close and personal to the action! The performance takes place inside a 10m diameter circular space and the audience are invited to stand around the edge.
Concession rates apply to those aged 16 and under, over 60s, students, the unemployed, and disabled persons. Proof of status may be required.
If you require assistance to enable your visit to the event, a complimentary ticket for a carer/companion is available. Please contact The MAC's Box Office by emailing tickets@themaclive.com
Post-show talk
There will be a post-show talk on Friday 6 May.
Credits
Choreographer : Nick Power
Dancers:  Aaron Lim & Erak Mith
Sound Designer:  Jack Prest
Designer : Bosco Shaw
Dramaturg: Lee Wilson
Original Creative Producer:  Britt Guy – Accomplice
Tour Producer: Harley Stumm – Intimate Spectacle
Between Tiny Cities is supported by the UK/Australia Season Patrons, the British Council, the Australian Government and Creative Partnerships Australia through the Australian Cultural Fund as part of the UK/Australia Season 2021-22.
The exhilarating Between Tiny Cities by Nick Power, coming to the MAC 6-7 May, see https://belfastinternationalartsfestival.com/event/between-tiny-cities/
About the Artist
Nick Power is an Australian b*boy and choreographer whose work draws on the rituals and culture of hip hop to create contemporary performances. His practice spans from remote Aboriginal communities to contemporary dance festivals in Europe.
Nick was founding Artistic Director of Platform Hip Hop Festival at Carriageworks from 2008–2012. In 2012, Nick was awarded the Australia Council dance residency at the Cite International Des Arts in Paris. His first full-length independent work, Cypher, premiered at Darwin Festival and toured extensively including Sydney Festival, Sydney Opera House, Arts Centre Melbourne, Tanz im August (Berlin) and URB Festival (Helsinki), as well as through remote and regional communities in NT and Queensland.
Nick's most recent work Two Crews (2020), made between Paris & Sydney with all-women Paris crew Lady Rocks and Sydney's Riddim Nation, was commissioned by Sydney, Adelaide and Brisbane Festivals.
Nick is a 2018 Sidney Myer Creative Fellow.
An intelligent, expressive and engaging production which gently subverts preconceptions around hip-hop and masculinity…. A rich exploration of the possibilities of hip-hop choreography..
Richard Watts, Arts Hub
****
Dancers Aaron Lim and Erak Mith are extraordinary. They blend contemporary dance, hip hop, Indigenous and traditional Cambodian dance in a thrilling, compelling mix full of incredible dynamic energy and fluid grace…. The audience is so close you can see and smell the sweat pouring off them and hear the squeak of their shoes… This was a fascinating, mesmerising dance dialogue/battle about two cultures colliding.
Lynne Lancaster, Sydney Arts Guide
Thrilling, humorous and heartwarming. Power and his dancers give new voice to the dance of a generation… Lim and Mith are masters of their genre, fuelling the forty minute performance with dynamic youthfulness and fiery spirit as well as tender acceptance and respect.

Canberra Critics Circle