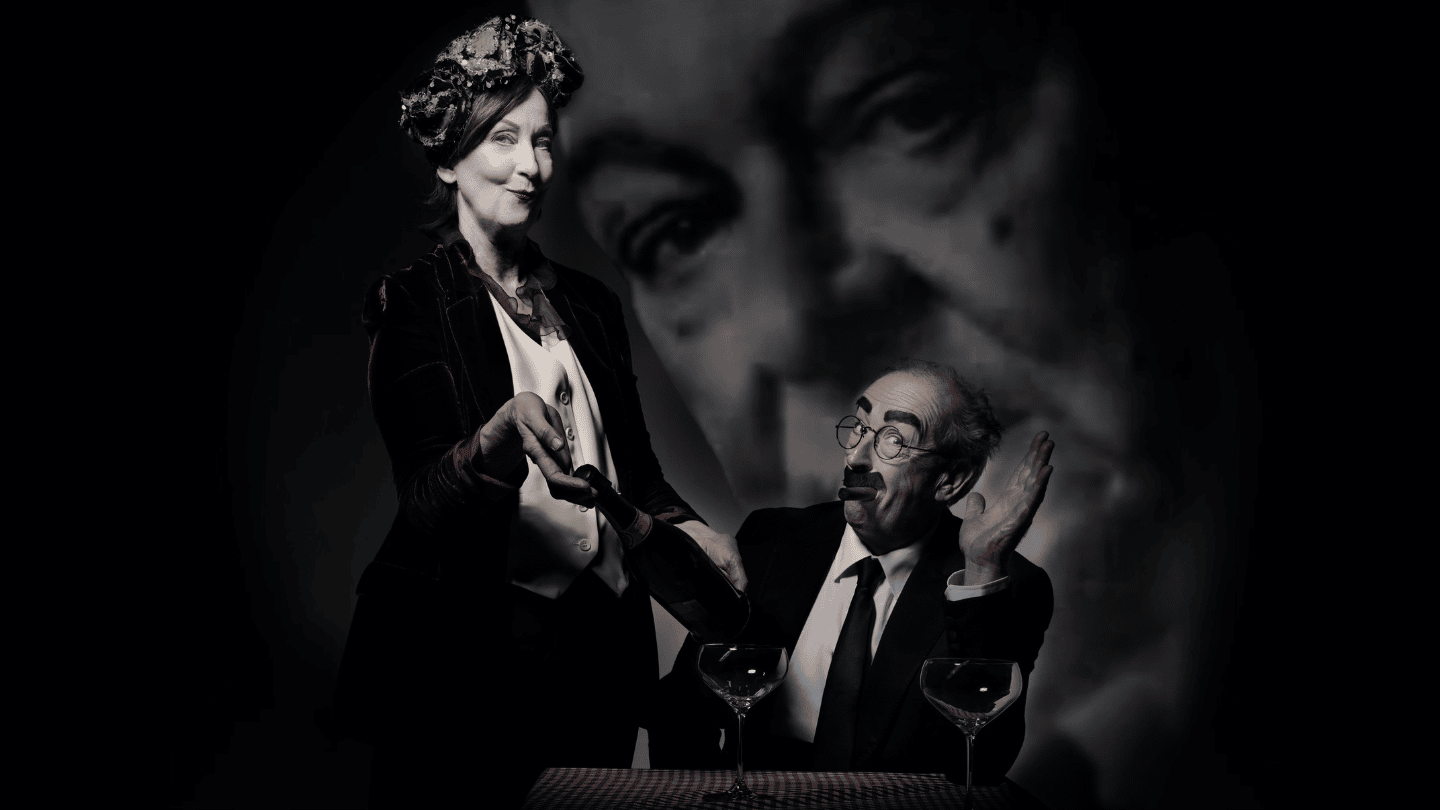 OPENING EVENT
Dinner With Groucho By Frank McGuinness
---
Presented by b*spoke theatre company
Two men, together, on the edge of heaven.
In a strange restaurant two American giants who revere each other, Groucho Marx and T.S. Eliot, meet for dinner. Both in their own ways great defiant spirits, they create magic and anarchy, revealing secrets and sorrows. The evening is presided over by the Proprietor, who seems to control the workings of the universe.
Or does she?
In Dinner With Groucho all is revealed, or nearly so…
An evening that promises blistering wit, brilliant buffoonery, and reflections on the ephemeral nature of life from the award-winning writer of such iconic plays as Observe the Sons of Ulster Marching Towards the Somme, Someone Who'll Watch Over Me and The Factory Girls comes this fast-paced fictional dinner date like no other.
Age guidance: 10 Yrs+
7 Oct: BSL signed performance by Kristina Laverty. Made possible thanks to support from Halifax Foundation For Northern Ireland.
Note: Sales will close on our Box Office at 4pm daily for that day's performance. Limited tickets available at The MAC.
---
Playwright
Cast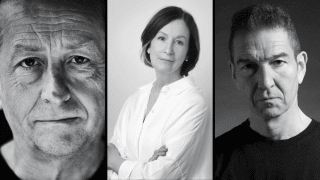 Ian Bartholomew (Geoff Metcalfe, Coronation Street) as Groucho Marx
Ingrid Craigie (Mary, Blood; Rita, You Are Not My Mother) as Proprietor
Greg Hicks (title roles in Coriolanus, Hamlet, and Macbeth for Royal Shakespeare Company) as Tom
Creative Team
Director: Loveday Ingram
Set Designer: Adam Wiltshire
Costume Design: Joan Bergin
Costume Design Assistant: Gabriel O'Brien
Lighting Designer: Paul Keogan
Choreographer: David Bolger
Composer & Sound Designer: Conor Linehan
Sound Programmer: Fiona Shiel
Magic Consultant: Pat Fallon
Production Team
Production Manager: Eamon Fox
Stage Manager: Audrey Cepeda
Assistant Stage Manager: Rachel Spratt
Assistant Stage Manager: Abi Cepeda
Production Assistant: Rachel Heyburn
Graphic Designer and Website Designer: Ben Stenning
Production Photography: Barry McCall and Ros Kavanagh
Bowe Communications
Marketing Director: Niamh Honer
Promo Film: David Merriman and Jim Sheridan
Rehearsal Photos: Martin Nagle
Photoshoot Makeup: Sarah McCann
Producer: Alison McKenna
b*spoke theatre company is supported by the Arts Council | An Chomhairle Ealaíon

Photography by Barry McCall ©
Background image is a detail from T.S. Eliot by Ida Kar © National Portrait Gallery, London
---
PREMIERE PICK N MIX TICKET DEAL!
OFFER 1: Multi-buy discount
– Choose 2 selected events: save £8 Full/ £7 Conc*
– Choose 3 selected events: save £12 Full/ £10.50 Conc*
Bookings must be made in one transaction to qualify for the discount. Available throughout the festival.
*Discount on advertised Full and Concession rate tickets.
OFFER 2: Earlybird discount
Take advantage of 20% discount on selected events when you book between Tues 9 Aug – Sun 11 Sep.
Only one offer can be applied at checkout.
---
Dinner With Groucho Playtext
Pre-order the playtext for Dinner with Groucho for £5 plus delivery from Faber (link opens to faber.co.uk)
Add the code Drama5 into the promo box at the checkout.
Note: delivery to Northern Ireland and UK addresses only.
This reimagined meeting between Groucho Marx and TS Eliot is delivered with breakneck speed, comic timing and subtlety
McGuinness is a master craftsman among dramatists
The Herald