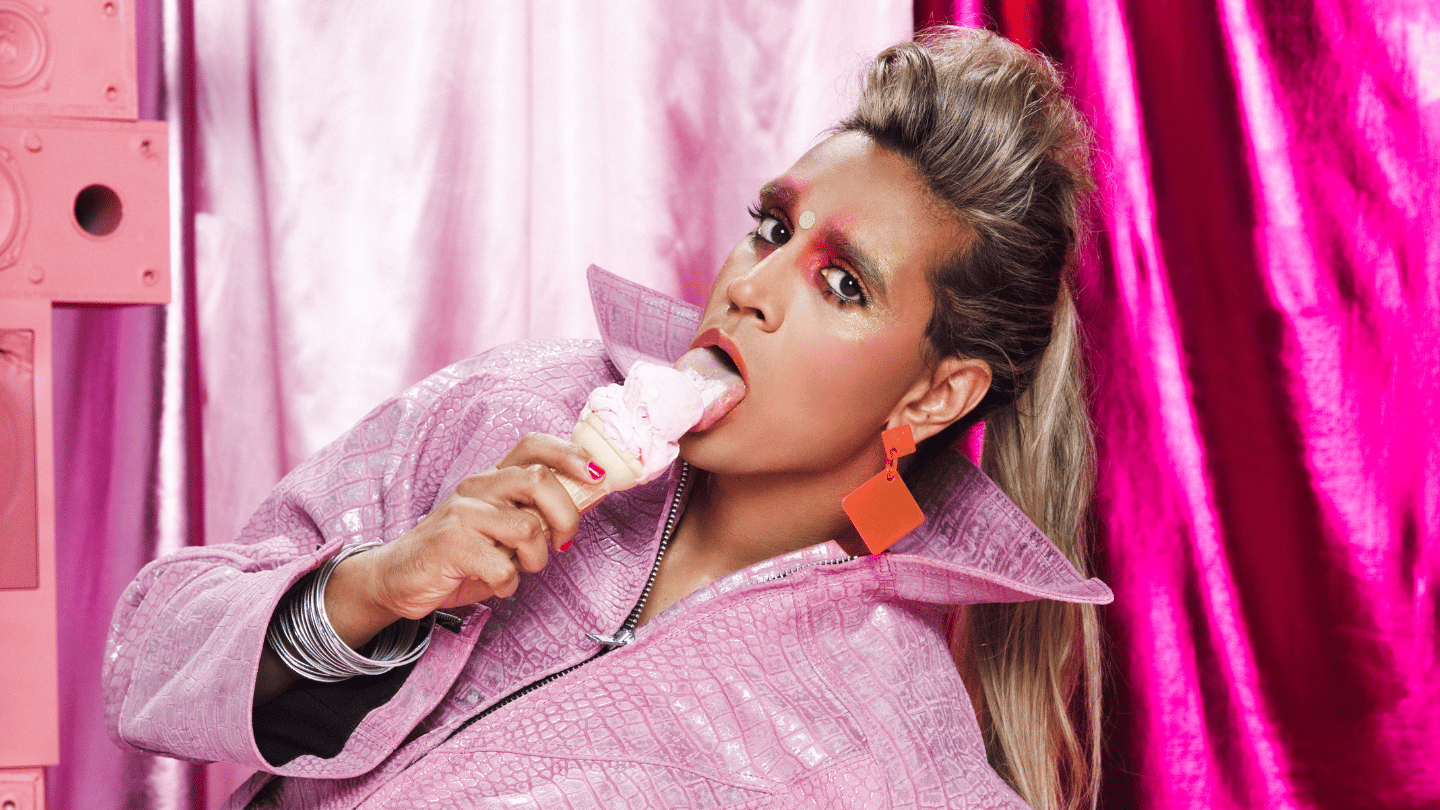 Vivek Shraya
How To Fail As A Popstar
---
Commissioned and produced by Canadian Stage | #PopStarPlay
Learn how to fail better with Vivek Shraya.
In How to Fail as a Popstar, the singer and writer tells us about her path to the margins of fame as a "not quite" major popstar with lots of humour and empathy. In a thrilling cabaret-style performance consisting of anecdotes, music, and choreography that straddles all genres, Shraya takes us on a journey through her rise in showbiz, beginning with singing Hindu bhajans and R&B covers when she was young at competitions for teenagers, to moving cities, all the way to her first album.
Bittersweet and yet triumphant, How to Fail as a Popstar is a wise and ultimately redeeming pop odyssey; a reflection on the power of pop culture, dreams, disappointment, and self determination and a celebration of her own authentic voice.
Part of BIAF's 2022 focus on artists from Canada #PopStarPlay
Note: Sales will close on our Box Office at 4pm daily for that day's performance. Limited tickets available at The MAC.
Find out more about Vivek with this Q&A interview here
---
Credits
Written and Performed by Vivek Shraya
Directed by Brendan Healy
Assistant Director (Rodeo) Clare Preuss
Choreographed by William Yong
Set and Costume Designer Joanna Yu
Original Lighting Designer CJ Astronomo
Tour Lighting Designer/ Operator Imogen Wilson
Music Composition and Sound Design James Bunton
Manager of Touring Chris Reynolds
Stage Manager/ Technical Director/ Sound Operator Adrien Whan
PREMIERE PICK N MIX TICKET DEAL!
OFFER 1: Multi-buy discount
– Choose 2 selected events: save £8 Full/ £7 Conc*
– Choose 3 selected events: save £12 Full/ £10.50 Conc*
Bookings must be made in one transaction to qualify for the discount. Available throughout the festival.
*Discount on advertised Full and Concession rate tickets.
OFFER 2: Earlybird discount
Take advantage of 20% discount on selected events when you book between Tues 9 Aug – Sun 11 Sep.
Only one offer can be applied at checkout.
A moving tale that any person who's struggled to achieve their dreams can easily relate to...
Broadway World