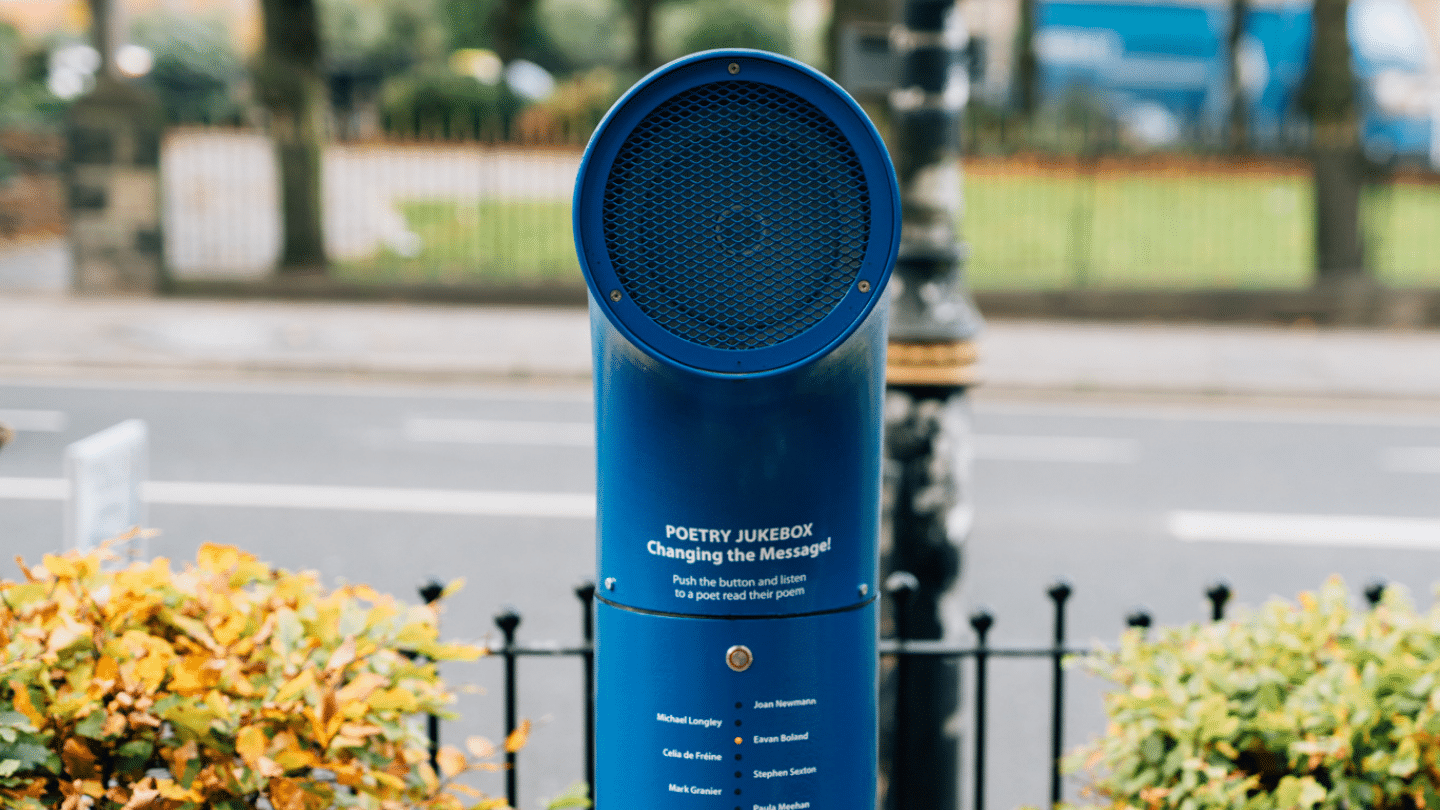 No Word for 'Stay' (Installation Online)
---
POETRY JUKEBOX, QUOTIDIAN - WORD ON THE STREET
No word for 'stay'
It is too simple
To say I miss you.
If there were a language
That could not say 'leave'
And had no word for 'stay'
That would be the tongue
For this strange country.
From Strange Country, by Seamus Deane
Curated by poets Moyra Donaldson and Maria Mc Manus, No Word for 'Stay', the 11th edition of Poetry Jukebox, is a selection of poems by poets from Northern Ireland who have lived-experience of The Troubles. The poets respond with language of loss, grief and remembrance.
Twenty of Northern Ireland's myriad wonderful poets are included in this curation.
They are: Jean Bleakney, Colette Bryce, Ciarán Carson, Gerald Dawe, Celia de Fréine, Damian Smyth, Moyra Donaldson, Padraig Fiacc, Leontia Flynn, Alan Gillis, Dennis Grieg, Michael Longley, Derek Mahon, Gearóid Mac Lochlainn, Gail McConnell, Paul Muldoon, Joan Newmann, Kate Newmann, Frank Ormsby and Lorna Shaughnessy.
How and where to listen
Online:
Listen to the poems online at quotidian.ie from 17 October.
*As of Friday 16 October, the Crescent Arts Centre and its grounds are closed for a planned minimum 4 week period in response to recent public health guidelines from the NI Executive with no access to the Jukebox itself. 
---
Launch: Saturday, 17 October, 6pm (Ireland)/7pm (France)
To launch No Word for 'Stay', the 11th curation of Poetry Jukebox, join Centre Culturel Irlandais and Quotidian – Word on the Street for a dynamic in-depth discussion about Northern Ireland, its poets and the lived-experience of the Troubles. Find out more
---
In partnership with Belfast International Arts Festival and the Centre Culturel Irlandais Paris
Quotidian – Word on the Street Limited is supported by the Arts Council of Northern Ireland through National Lottery & Exchequer Funds. This curation is supported by Crescent Arts Centre Belfast, EPIC Museum Dublin and Poetry Ireland.