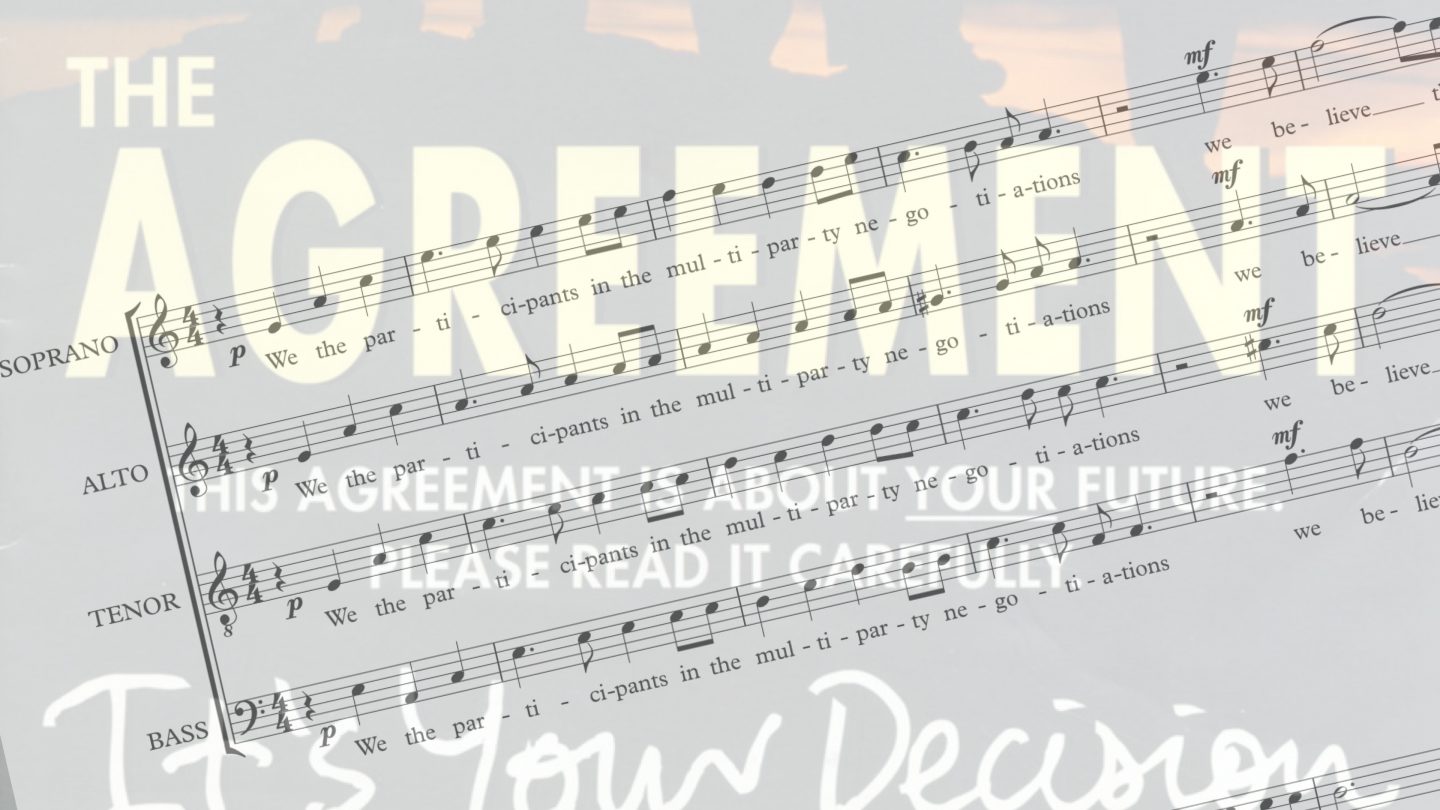 Singing Struggle and Agreement
---
Spark Opera in conjunction with Imagine! Festival of Ideas and Politics and Slugger O'Toole
The Black Lives Matter campaign and the recent death of John Hume both remind us about struggles for peace and justice. What part does music play in helping to appreciate and promote the reasons behind such movements?
Locally, The Belfast Agreement has been implemented, ignored and extended, but never before in Northern Ireland has it been sung in four-part harmony! Composed by Clare Salters, who worked in the Northern Ireland Office during the negotiations, the Good Friday Agreement: peace in 4/4 time is a somewhat unexpected work.
Spark Opera brings together singers from its chorus, NI Opera's Associate Artists, and across the island to perform the local premiere of this choral setting of the Declaration of Support at the start of the political text, together with a programme of songs of struggle from the Great Depression in Weimar Germany, enlightenment and the French revolution, and even the Celtic Revival.
Woven between the musical programme, an expert panel will bring insights from those inside the talks process, as well as comment from those feverishly reporting developments outside the room where it happened. Spark Opera's artistic director Kate Guelke will also join cultural and political commentator Alan Meban as the panel reflect on the negotiations leading up to Easter 1998 and the role of art in amplifying and soothing political differences at home and abroad.
Panel includes: 
Monica McWilliams (who co-founded the Women's Coalition and was inside the negotiations leading up to the Good Friday Agreement)
Mark Devenport (who was then BBC network radio correspondent for Northern Ireland and stood in the cold outside the negotiations)
Clare Salters (who set part of the GFA to music)
The musical programme will include:
Der Freie Mann – Ludwig van Beethoven
The Good Friday Agreement – Clare Salters
Circumdederunt me – Cristóbal de Morales
Lake Isle of Innisfree
Solidarity Song – Hanns Eisler
Opferlied – Ludwig van Beethoven
Part of IN-visible ID-entities 2, an on-going BIAF initiative encouraging cultural collaboration across the island and supported by the Government of Ireland's Department of Foreign Affairs.
Produced by Kate Guelke and Alan Meban with support from Slugger O'Toole and NI Opera.
---
First broadcast Wednesday 14 October, 7.30pm. Now available to view: