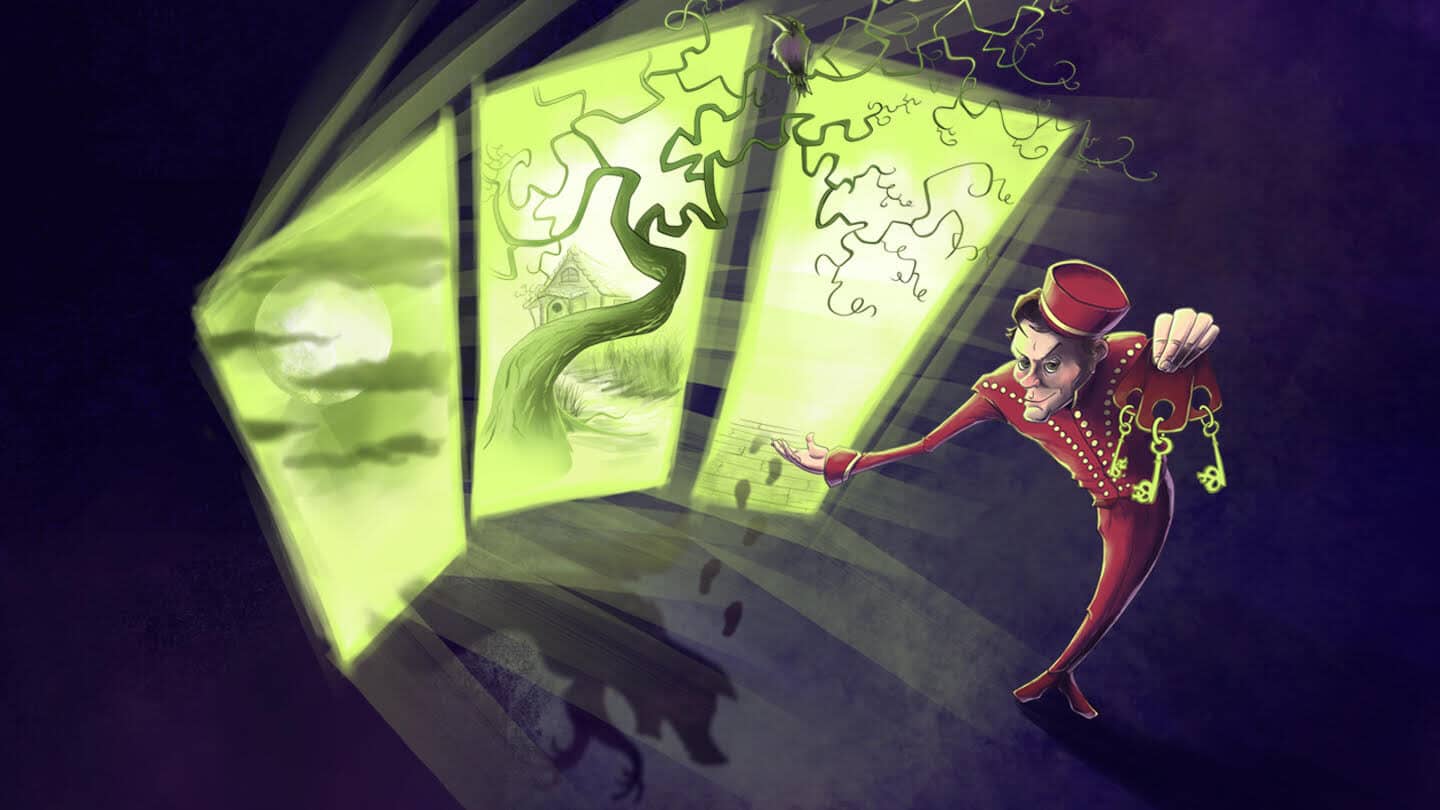 'Reservations' open at The Grimm Hotel!
Friday 13th calls to mind superstition and practical jokes, so it's no better date that award-winning children's theatre company, Cahoots NI launches its latest immersive family entertainment show, The Grimm Hotel, as part of the 59th Belfast International Arts Festival.
The groundbreaking show, based on the folktales of The Brothers Grimm, is set around a live hotel experience that has been built inside 10,000 sq ft of disused retail and warehousing space within the main mall at Cityside Retail & Leisure Park, Belfast.
When the 'hotel' opens its doors on the 12th of October, visitors will be greeted by a Grimm Hotel team member and guided to rooms of their choice through a series of spooky corridors. In each room, visitors will be entertained with a live performance featuring innovative theatre, live music, close-up magic and high-tech illusions.
"We are so excited to finally launch 'reservations' for our latest show, The Grimm Hotel," said Artistic Director of Cahoots NI, Paul Bosco Mc Eneaney. "Property agents Savills allowed us to take over this enormous space back in Spring 2021 and since then we have been busy building this massive set and developing stories and illusions that will be unlike anything seen before in Northern Ireland."
The show will feature a stellar local lineup of talented cast, crew and creatives.
"I'm delighted that this groundbreaking new walk-through theatre experience will open at Belfast International Arts Festival this October," said Richard Wakely, Artistic Director, Belfast International Arts Festival. "The Grimm Hotel marks a special moment in Cahoots NI's evolution as one of Northern Ireland's leading theatre companies and BIAF is happy to support this endeavour, which we are sure will delight audiences."
Caoileann Curry-Thompson, Acting Head of Drama, Arts Council of Northern Ireland, said, "The Arts Council of Northern Ireland is proud to support Cahoots NI, whose track record in creating innovative, surprisingly magical theatre experiences for young people and families speaks for itself.  Yet The Grimm Hotel is something that seems even beyond the creative minds of the Cahoots team! It is an immersive journey through a magical hotel, alive with familiar old tales told in exciting new ways and it promises to be a ground-breaking theatre adventure. Luckily for the grown-ups, this is top class theatre for all so we can enjoy it just as much as the young audiences."
The Grimm Hotel has been specifically designed to be Covid-Safe and operational in the context of any future potential lockdown scenarios. Visitors to the hotel will enter the show in small groups, timed to enter each element separately, reducing the likelihood of a large group gathering. To this end, visitors are urged to buy their tickets in groups.
"Future Screens NI is delighted to provide funding for The Grimm Hotel by Cahoots NI.  The unique format will ensure that a whole new generation will become enthralled in folk tales that are being told in new, innovative and interactive ways," added Paul Moore, Director of Future Screens NI. "Cahoots NI has shown great leadership in building this safe, exciting and sustainable experience in the context of the everchanging circumstances associated with Covid-19".
Tickets are now on sale online and by phone or in person at the Visit Belfast Welcome Centre priced at £15 with discounted tickets available for bookings of three or more people.
#TheGrimmHotel #BIAF21