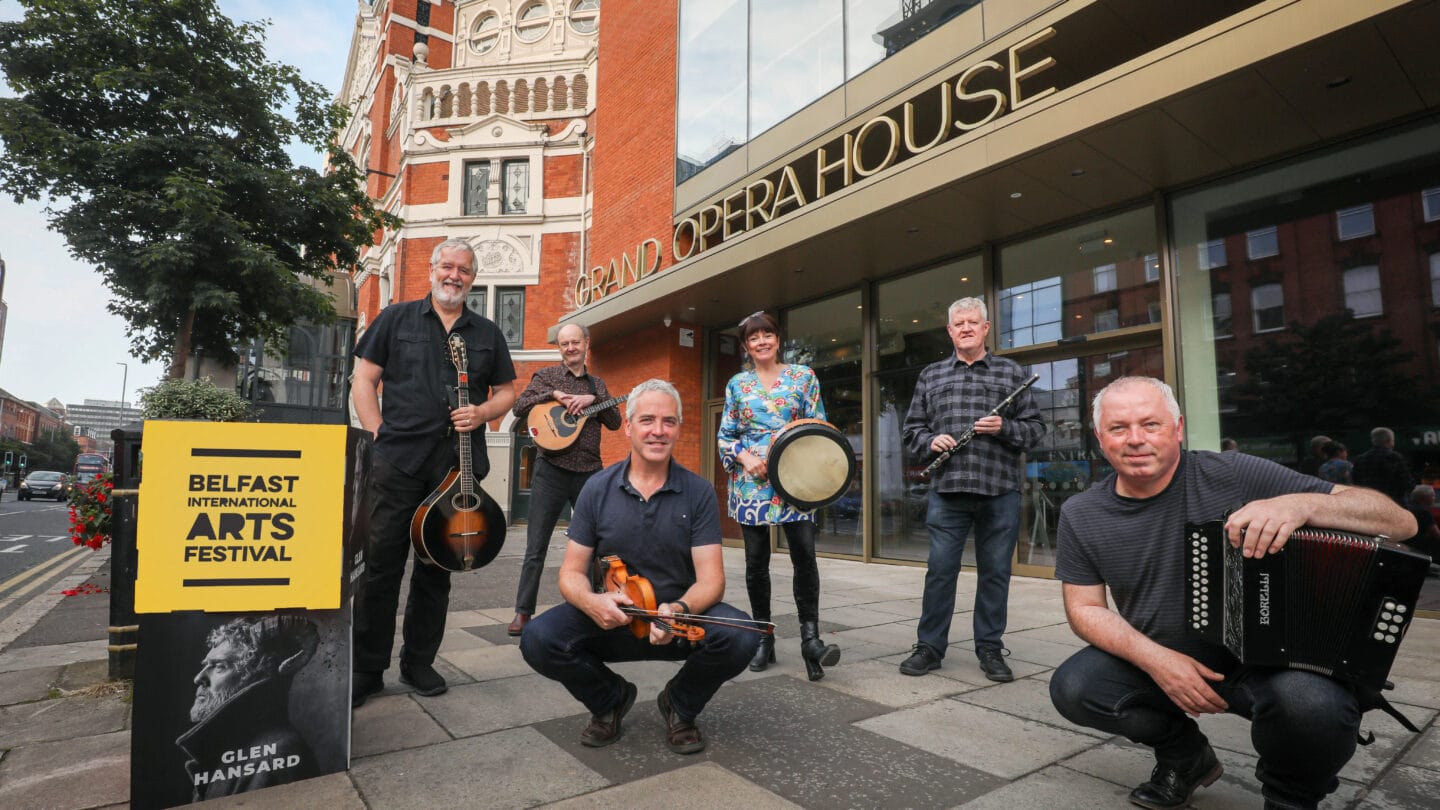 BELFAST INTERNATIONAL ARTS FESTIVAL RETURNS CENTRE STAGE THIS AUTUMN
The 59th Belfast International Arts Festival (BIAF) has been launched with an imaginative and inspirational programme that seeks to positively contribute to the post Covid social, economic and cultural revival of the city, and more widely its artistic communities and audiences.
From October 6 to November 7, over 200 uplifting, joyous and thought-provoking events featuring dance, music, theatre, film, visual arts and discussion will be hosted across Belfast as the festival welcomes the return of live, in-person arts events for 2021. In addition, there will be a number of special digital events to enjoy from home.
After a fully online offering in 2020, this year Northern Ireland's leading contemporary multi-artform festival presents an impressive programme that connects NI, its artists and audiences with artistic practice from across the world, exploring matters such as identity, race, gender stereotypes, legacy, social justice issues and, of course, lockdown.
BIAF21 will open with the premiere of The Border Game a co-production by local theatre company Prime Cut Productions and The Lyric. From the award-winning writers Michael Patrick & Oisín Kearney (My Left Nut and The Alternative) and Irish Times Theatre Award-winning director Emma Jordan (Red and A Streetcar Named Desire), The Border Game is a timely and powerful reflection on 100 years of the border and how it has impacted those who live along it. Running until 23rd October, the tale has been inspired by 100 testimonies collected by the writers from real people living all over the 300-miles of the border.
The theatre segment of the programme continues with the Irish Premiere of Sea Sick by Alanna Mitchell, award-winning Canadian science journalist whose acclaimed production on climate change and the state of the global ocean makes a timely appearance ahead of COP26. Another Lover's Discourse by Riham Isaac, one of Palestine's most exciting contemporary artists, is a solo theatre show, co-commissioned by BIAF, which encourages a more open conversation about how we understand romantic relationships and invites us to think differently about love.
Dance aficionados are in for a treat with Uncle Ray, a touching new dance duet by David Bolger, and the reflective and emotive Epilogue: A Dancer Dies Twice, a stunning film that will be projected onto the façade of The MAC. Online audiences can access two recent dance for screen works by Oona Doherty, Hunter Filmed and The Devil.
There are also two world premiere theatre events from local greats Cahoots NI and Big Telly. Returning to the festival with interactive experiences, Cahoots NI's The Grimm Hotel is an immersive spin on Grimms' Fairy Tales featuring close-up magic and high-tech illusions, while Big Telly smash together flash theatre and physical fiction in Department Story – a hybrid event where an online audience can collude with a physical one to shape what happens live.
The first in a triple bill of festival headlining concerts at the Grand Opera House is The Great Irish Songbook, a celebratory gala evening showcasing some of the best-loved songs in the Irish tradition. On Thursday 21 October, Dervish, one of the world's most renowned and imaginative interpreters of Irish folk music, will be joined by very special guests Eddi Reader, Cara Dillon, Brian Kennedy, Karen Matheson, The Open Arts Community Choir and Glen Hansard. The following night, an already sold-out Glen Hansard returns for one night only. On Saturday 23 October, in a special event for Belfast International Arts Festival, festival favourites the Ulster Orchestra and 'the Irish Queen of Game Music', conductor Eímear Noone, join forces to take video game music to a symphonic level with Electric Arcade.
Other spectacular music events at BIAF21 include Billy Bragg's first Belfast solo headline show for a decade, English indie folk trio The Staves, Belfast Music Society's Northern Lights Mini Festival and an exploration of Belfast's unique place in the history of harp music by Laoise Kelly and Tiarnán Ó Duinnchinn, narrated by Stephen Rea. In addition, three free BBC invitation concerts will take place at St Mark's Dundela as part of the festival's annual partnership with BBC Radio 3.
A collaboration with Queen's Film Theatre, BIAF will celebrate the influence of Hong Kong cinema as the venue becomes host to a season of films by renowned director Wong Kar Wai. With special thanks to Janus Films, works screening include the director's scintillating debut As Tears Go By, breakthrough Days of Being Wild and the whiplash Chungking Express, one of the defining works of 1990s cinema that made Wong Kar Wai an icon. Screenings will also take place of Irish language film The Queen vs. Patrick O'Donnell and an Irish language version of the BAFTA and Oscar-nominated Wolfwalkers.
The BIAF21 Talks & Ideas strand brings together established names and newer faces to explore love, grief, modern life, exile and new beginnings across their fiction and non-fiction works. Booker Prize winner Roddy Doyle paints a collective portrait of these strange times, living under lockdown; Northern Ireland's Lucy Caldwell and Jan Carson explore their latest collections of critically-acclaimed short stories; Nikesh Shukla and Musa Okwonga come together to discuss their powerful memoirs exploring race, racism, class, identity, and immigration; and Derek Scally and Susan McKay consider identity, religion, legacy and the potential futures of the North and South of Ireland going forward.
As part of UK Australia Season of Culture, and in association with the British Council, BIAF21 will present two fantastic writers in Laura Jean McKay and Meg Mason beamed directly from the land down under straight to your home to chat about their novels, The Animals in that Country and Sorrow and Bliss respectively.
The festival continues partnerships such as the cross-border relationship with Westival, an annual festival of arts and culture based in Westport, County Mayo, with a number of shared events as part of the Talks & Ideas portfolio, including nationally renowned journalists Séamas O'Reilly and Lucy Mangan coming together to discuss their latest books and a very special in conversation with acclaimed writers Colm Tóibín and Damon Galgut. This partnership is supported by the Government of Ireland's Department of Foreign Affairs. In addition, an ongoing partnership with Institut Français sees Dominique Barbéris and Gaëlle Josse, two of France's most revered writers, join the festival to talk about their work and inspirations.
Festival Artistic Director and CEO, Richard Wakely, issued this invitation, "Join us this autumn for the ultimate gathering of world class artists from home and abroad and audiences seeking new voices and fresh perspectives. We are currently working with our partners across the city to deliver a safe and accessible festival where our audiences and artists can come together to celebrate and discover new work, and each other. Whether you want to see work in person or from the comfort of your own homes, there is plenty on offer in this year's programme".
BIAF's principal funder is the Arts Council of Northern Ireland and is also supported by Belfast City Council, British Council, the Government of Ireland's Department of Foreign Affairs, Tourism Northern Ireland and a range of project funders and sponsors. In a new partnership, Irish News becomes media partner.
Roisín McDonough, Chief Executive, Arts Council of Northern Ireland, commented, "It's a great pleasure to welcome this year's Belfast International Arts Festival. Throughout the pandemic, the arts have been one of our brightest lights, shining out as they entertained, inspired and lifted our spirits, when we needed it most. Our appetite for arts, culture and entertainment has never felt stronger. With this year's brilliant festival line-up, we have a fantastic opportunity to satisfy that hunger, in the company of some of the best local and international creative talent.
"Our special thanks to the organisers at Belfast International Arts Festival – we recognise how difficult it is to plan a programme of this scale and this ambition in these uncertain times. The Arts Council is proud to be the festival's long-term principal funder and to have supported it throughout the challenges of the past year.  We know you, too, will want to give this remarkable festival your full support."
The Lord Mayor of Belfast, Councillor Kate Nicholl, said, "It's exciting to see the return of culture in our city venues and spaces as restrictions continue to ease and this festival promises some fantastic live, in-person events plus a range of unique digital events to enjoy from home.
"The festival team have put together an inspiring programme showcasing brilliant new work from local and international artists. Belfast is rightly very proud of its quality arts and culture scene and festivals like this play a vital role in achieving the aims of our 10 year cultural strategy, A City Imagining; and Belfast City Council is delighted to be supporting Belfast International Arts Festival through our Cultural Multi-Annual investment programme."
Tourism NI's Chief Executive, John McGrillen said, "We are delighted to support Belfast International Arts Festival this year. Events and festivals generate significant economic benefit and help boost the profile of tourism in Northern Ireland. Best wishes to the organisers, sponsors and all the participants and attendees for a successful event."
Jonathan Stewart, Director British Council Northern Ireland, said, "We are delighted to once again be supporting Belfast International Arts Festival, which brings the best of local and international artists and work to Belfast. We're especially excited this year to support diverse work from the Middle East and North Africa – enabling local audiences to enjoy leading performance art from the region, while strengthening new and existing international connections.
"Covid-19 has brought unprecedented challenges for our events sector, so it's wonderful that in this 59th year, there will be an opportunity for both performers and audiences to once again enjoy and experience elements of Northern Ireland's most vibrant and iconic arts festival."
For more information and to book tickets, click here