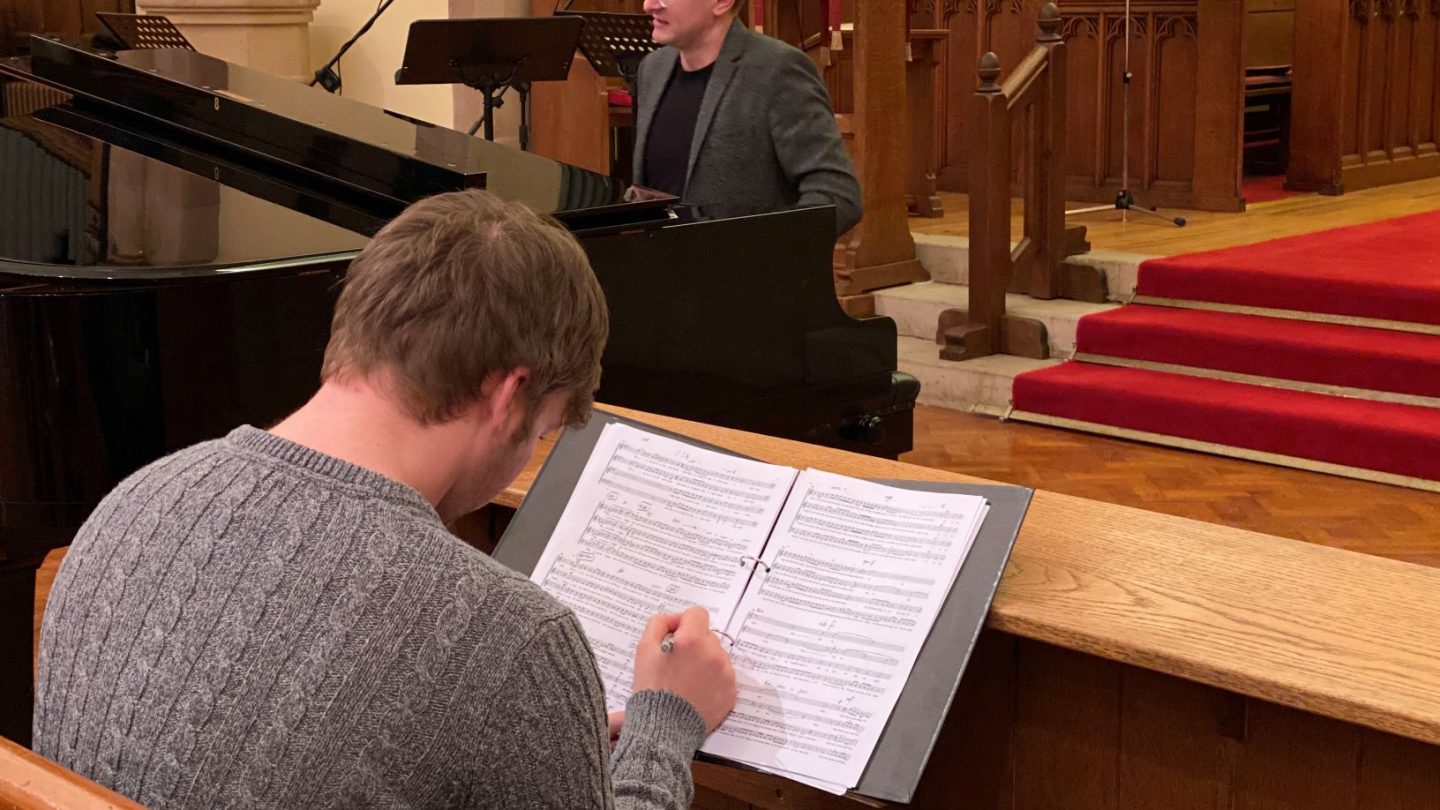 The Good Friday Agreement unlike you've ever heard it before
Spark Opera, in conjunction with Imagine! Festival of Ideas and Politics and Slugger O'Toole, is set to premiere a unique choral rendition of the Declaration of Support from the Good Friday Agreement this Wednesday as part of the 58th annual Belfast International Arts Festival.
Singing Struggle and Agreement, which was originally set to take place at St Anne's Cathedral, will be broadcast online for free this Wednesday 14th October at 7.30pm.
The choral interpretation of the six-point Declaration of Support, which sees its Northern Irish and Irish premiere at the festival, was written by Clare Salters, a former civil servant who worked in the Northern Ireland office during the negotiations of the landmark agreement.
 Its full title, "The Good Friday Agreement, p E A C E in 4/4 time", incorporates a musical cryptogram spelling out the word "peace". The decision to include the time signature, Clare says, is symbolic of political negotiations.
"Having included the reference to '4/4 time' in the title, I didn't give myself much room for manoeuvre in varying the time signature. I like to think it is symbolic of the process of political negotiations more generally. You're often working to a fairly tight set of parameters defined by the participants' various red lines and the reality of the situation you find yourself in."
Commenting on the process of adapting the words for a choral setting, Clare said, "I think it's fair to say these were words that were intended to be read, rather than spoken aloud – and certainly not intended to be sung.
"Although it has the feel of a sort of secular Credo, the words of the Declaration of Support didn't scan or rhyme, and some of the sentences were pretty long and hard to fit a breath in. It's almost as if those writing them back in 1998 had other things on their mind than the poetry of their text or its future lyrical potential."
Asked if she was tempted to adapt or change the wording to help the choral piece flow, Clare replied, "The Agreement is the Agreement and needed to be replicated accurately, however challenging that was to score or to sing."
It will be performed by 25 singers with a piano accompaniment, Spark Opera's Hearth Chorus and NI Opera's Associate Artists.
Clare's work forms part of a larger musical programme that features songs of struggle from the Great Depression in Weimar Germany, enlightenment and the French revolution, and even the Celtic Revival.
 Woven between the musical programme, an expert panel will bring insights from those inside the talks process, as well as comment from those feverishly reporting developments outside the room where it happened. Chaired by cultural and political commentator Alan Meban, the panel includes Monica McWilliams, who co-founded the Women's Coalition and was inside the negotiations leading up to the Good Friday Agreement; Mark Devenport, current BBC Northern Ireland political editor who stood in the cold, reporting from outside the negotiations; and Kate Guelke, Artistic Director at Spark Opera. Clare will also shed some light on the creative process involved in setting the Declaration of Support to music.
 Commenting on the importance of art and culture for communicating complex political issues, Kate Guelke says, "I think it's important to see art and culture not as inherently institutional or neutral, but as something potentially very live and political."
"Art can be monopolised to make negative or hateful messages more compelling, she says, but it can communicate nuanced issues with stark clarity.
"I think art is also good at getting at the complexity and nuance of political issues and communicating that with clarity. Think of "This is America" and how Childish Gambino [Donald Glover] boils down the experience of racism to under four minutes."
 Reflecting on the relevance of the choral piece in 2020, Alan Meban adds, "There's a real sense that the Agreement swings between importance and obscurity in the local political conversation. Often, it's taken for granted, and the ideas and ideals that were captured in it after such long and tedious negotiations are left to gather dust on the shelf."
He continues: "Clare's unusual choral peace is a reminder of the extraordinary struggle to bridge dogmas and history and hurts to craft words that could try to unite a community. The Agreement is incredibly important, even though not everyone supports it or voted for it, and even though it's not always treated with much respect."
The free event (donations welcome) will take place online on Wednesday 14th October at 19:30 and is part of IN-visible ID-entities 2, an on-going BIAF initiative encouraging cultural collaboration across the island and supported by the Government of Ireland's Department of Foreign Affairs.
For more information go to Singing Struggle And Agreement