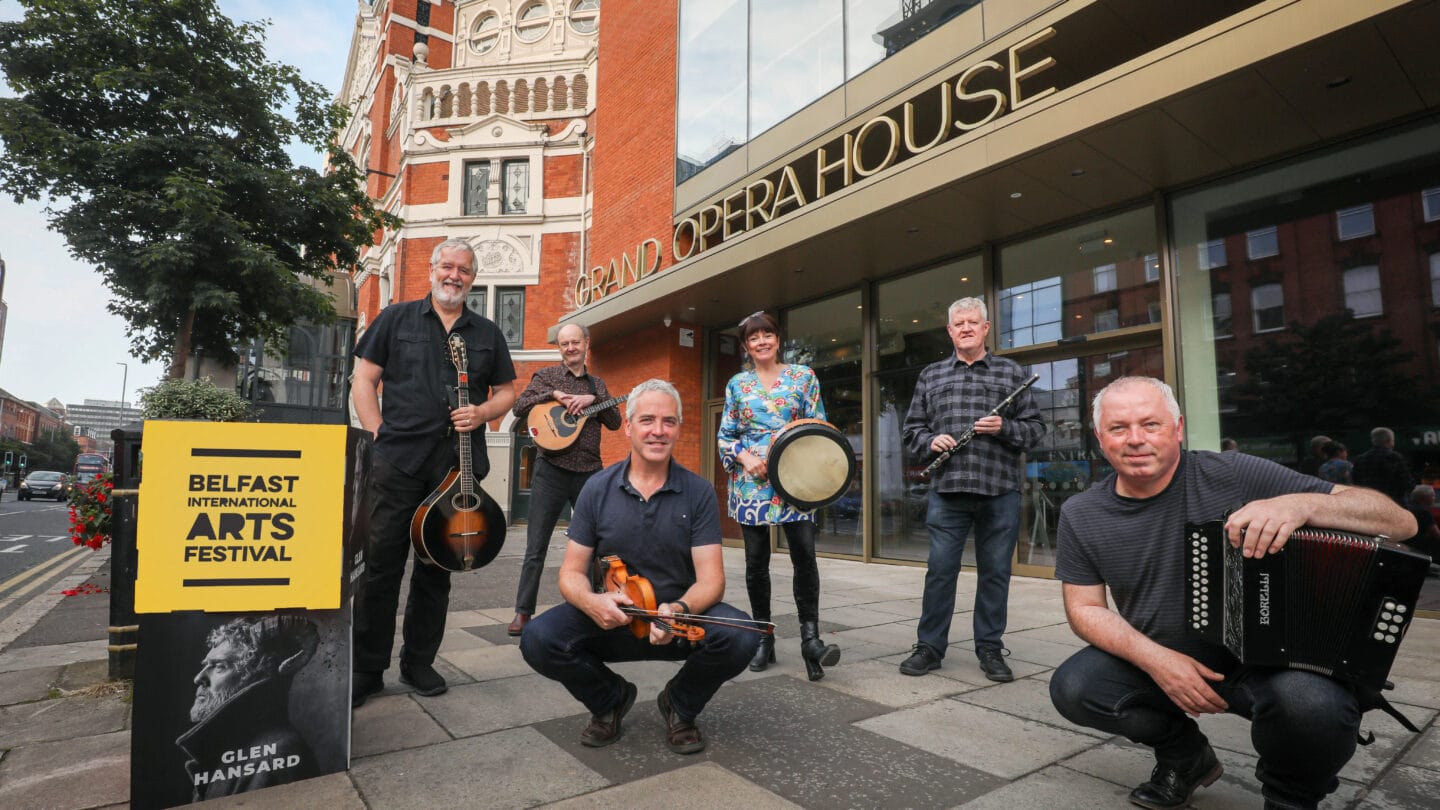 The Great Irish Songbook to be broadcast live on BBC Radio Ulster and BBC Sounds
Folk legends Dervish present The Great Irish Songbook with help from friends Glen Hansard, Eddi Reader, Cara Dillon, Brian Kennedy, Karen Matheson and the Open Arts Community Choir.
Lynette Fay and Ralph McLean host this special one-off event from the Grand Opera House in Belfast on Thursday 21 October from 7.30pm, as part of the 59th edition of Belfast International Arts Festival. Classic Irish folk songs such as Down by the Salley Gardens, The Galway Shawl and Molly Malone are brought to life in new ways.
Listen now (available to 18 November)
In this 3 hour special programme Lynette and Ralph will be speaking to other festival guests including the 'Irish Queen of Game Music', conductor Eímear Noone, renowned photographer Paul Seawright, and Zoe Seaton Artistic Director and founder of Big Telly Theatre Company, whose latest interactive hybrid production Department Story premieres at BIAF.
Paul McClean from BBC Radio Ulster said: "We are delighted to be able to bring this magical music happening to the audience at home. The legendary Dervish live at the beautifully restored Grand Opera House with a line-up of top Celtic talent playing the greatest singalong songs from the Great Irish Songbook. This evening truly will be 'Where Music Matters'."
Belfast International Arts Festival Artistic Director, Richard Wakely, said: "We are thrilled to present this celebratory gala evening showcasing some of the best-loved songs in the Irish tradition with folk icons Dervish and a stunning line-up of special guests in the glorious surroundings of Grand Opera House. We are delighted to be expanding our partnership with the BBC this year beyond the annual series of classical recitals for BBC Radio 3 to be recorded at St Mark's, Dundela to collaborate with BBC Radio Ulster to bring The Great Irish Songbook and its star studded line-up to listeners across Northern Ireland and the globe, via BBC Sounds."
BIAF's principal funder is the Arts Council of Northern Ireland and is also supported by Belfast City Council, British Council, the Government of Ireland's Department of Foreign Affairs, Tourism Northern Ireland and a range of project funders and sponsors.
The Great Irish Songbook Live is on BBC Radio Ulster and BBC Sounds, on Thursday 21 October at 7.30pm. Tune in to BBC Radio Ulster live or check out the programme page on BBC (updated after the live broadcast) here.
Limited tickets are available to the concert, book now at belfastinternationalartsfestival.com
Check out the full #BIAF21 programme
You may find the At a Glance guide useful too.