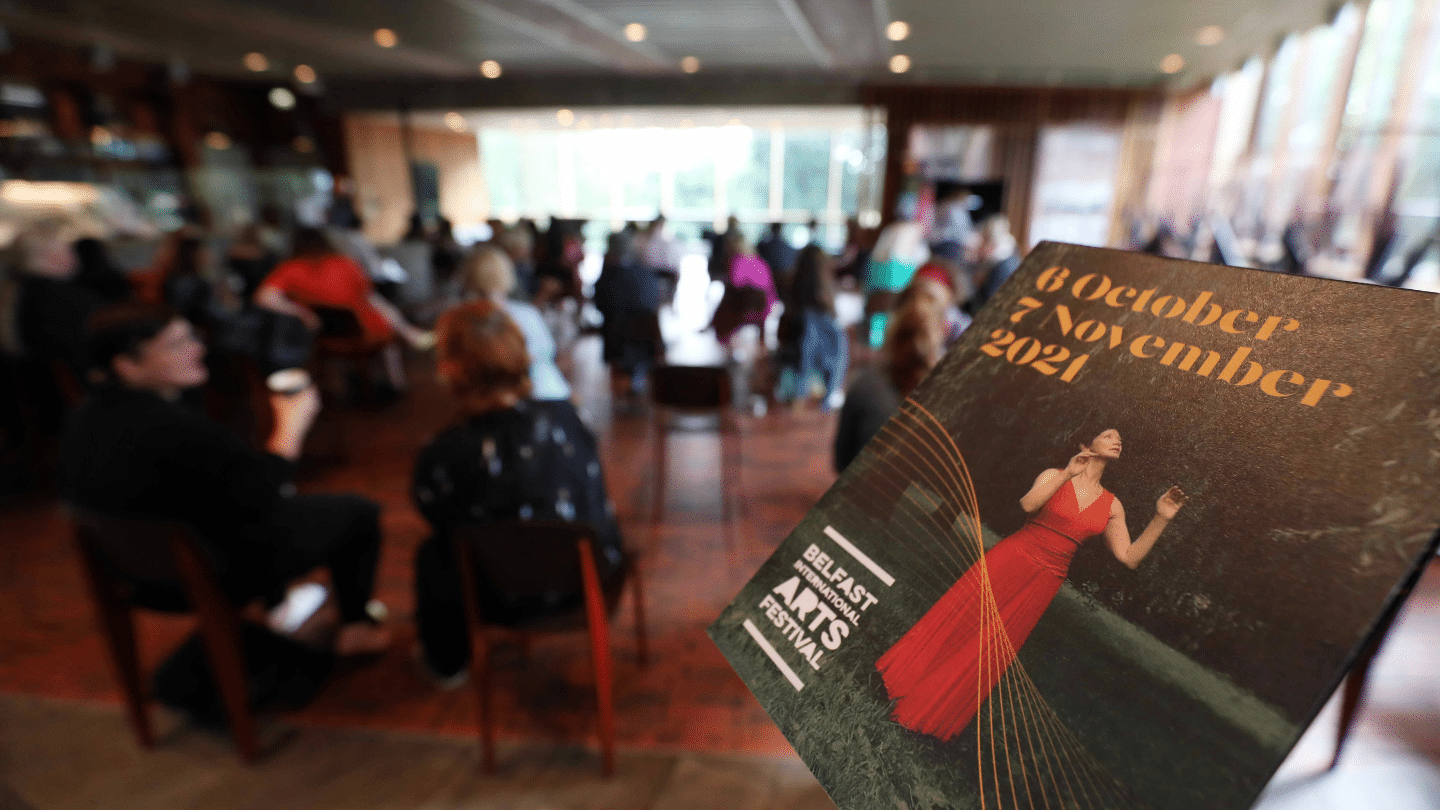 Belfast International Arts Festival returns centre stage
Live and digital programme runs Oct 6 – Nov 7
The stage is set, mics checked and curtains drawn as Belfast International Arts Festival officially gets underway today (Wednesday 6 October).
Now in its 59th year, Northern Ireland's largest contemporary arts festival promises a compelling programme of drama and dance, topical talks with the authors behind the latest literary releases, classical music, toe-tapping folk and roots, affecting independent film and contemporary visual arts. In addition, there will be a number of special digital events to enjoy from home with the Digital Pass.
Opening the festival is the premiere of The Border Game, a co-production by Belfast's Prime Cut Productions and The Lyric, offering a timely and powerful reflection on 100 years of the border and how it has impacted those who live along it.
The exciting and newly commissioned works continue with the world premieres of innovative theatre productions from two of Northern Ireland's leading companies.
Cahoots NI's The Grimm Hotel (12-31 October) is an immersive spin on Grimms' Fairy Tales, a ground-breaking new walk-through theatre experience at Cityside Retail and Leisure Park featuring magic, music, cutting-edge technology and some of the most recognisable characters from fairytale folklore.
Pioneers of immersive theatre, Big Telly Theatre Company is set to present the world premiere of Department Story (20-31 October), a site-specific production set in an empty retail unit on Belfast's Royal Avenue where a digital audience can collude with a physical one to shape what happens live, smashing together flash theatre and physical fiction.
As COP26 nears, join award-winning Canadian science journalist Alanna Mitchell for her one-woman show, Sea Sick (16-17 October), a critically acclaimed production about climate change and the state of the global ocean.
With live gigs back on, unmissable concerts at the Grand Opera House include The Great Irish Songbook (21 October) with legendary folk group Dervish who will be joined by star-studded line-up of guests, including Glen Hansard, Eddi Reader, Brian Kennedy, Cara Dillon, Karen Matheson, and the Open Arts Community Choir for an unforgettable night of music.
Also at the Grand Opera House, the Ulster Orchestra and 'the Irish Queen of Game Music', conductor Eímear Noone, join forces to take video game music to a symphonic level with Electric Arcade (23 October).
Other spectacular music events include Billy Bragg's first Belfast solo headline show for a decade, Belfast Music Society's Northern Lights Mini Festival and an exploration of Belfast's unique place in the history of harp music by Laoise Kelly and Tiarnán Ó Duinnchinn, narrated by Stephen Rea.
Dance enthusiasts are in for a treat with Uncle Ray, (13-14 October) a touching new dance duet by David Bolger which takes audiences back to 1970s Dublin where as a young boy, David grew up with stories about his magnificent Uncle Ray, whose career took him from vaudeville, to Broadway and then the glitz of Hollywood, eventually playing one of the most famous characters of all time: the Scarecrow.
A cornerstone of the festival programme, its Talks & Ideas section features the UK's Poet Laureate Simon Armitage, Booker-shortlisted novelist Damon Galgut and the finest writers from these shores and afar, including two of the most established names in French literature, Dominique Barbéris & Gaëlle Josse, and two of Australia's hottest literary talents, Meg Mason & Laura Jean McKay.
The free outdoor family-friendly double bill Roll Up, Roll Up and Routine (16-17 October) at CS Lewis Square promises circus, comedy, parkour and hip hop.
Commenting on the festival's triumphant return, its Artistic Director, Richard Wakely, says: "We are thrilled to be able to safely welcome audiences back to our cultural hubs throughout the city as the 59th edition of our festival gets underway. Showcasing the most powerful voices and creative minds from home and beyond, this year's festival promises to re-energise and inspire as audiences and artists can come together in-person and online to celebrate and discover new work."
BIAF's principal funder is the Arts Council of Northern Ireland and is also supported by Belfast City Council, British Council, the Government of Ireland's Department of Foreign Affairs, Tourism Northern Ireland and a range of project funders and sponsors.
Roisín McDonough, Chief Executive, Arts Council of Northern Ireland, commented, "It's a great pleasure to welcome this year's Belfast International Arts Festival. Throughout the pandemic, the arts have been one of our brightest lights, shining out as they entertained, inspired and lifted our spirits, when we needed it most. Our appetite for arts, culture and entertainment has never felt stronger. With this year's brilliant festival line-up, we have a fantastic opportunity to satisfy that hunger, in the company of some of the best local and international creative talent."
Check out the full #BIAF21 programme
You may find the At a Glance guide useful too