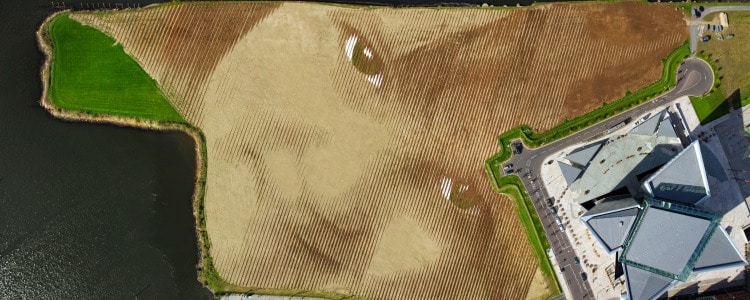 Revisit: WISH, Jorge Rodriquez-Gerada at Belfast Festival 2013
WISH, spanning an 11-acre site in Belfast's Titanic Quarter, was designed by Cuban-American artist Jorge Rodriguez-Gerada for the Ulster Bank Belfast Festival at Queen's in 2013. Under the newly appointed Director Richard Wakely, it signalled a new direction for Belfast Festival, reflecting the values of global connections, community connectivity, access and participation and the importance of contemporary arts practice.
A first for the UK and Ireland, the large scale land art portrait with a gaze towards the future was created by internationally acclaimed artist Jorge Rodríguez–Gerada. Making history with local volunteers and community groups, the biggest spectacle of land art to be seen in Belfast to date evolved at the Titanic Quarter, questioning who we want to be, rather than who we currently are; a new face for Belfast on the old face of the city.
The huge image of the face of an anonymous six-year-old girl was created by a small army of volunteers who shifted topsoil, sand, grass and stones.
The artwork was one of the most ambitious land art projects in the world; 18 months in the making, with one month for production, thanks to volunteers and support from local businesses. Alongside some cutting edge satellite technology, it required about 30,000 wooden stakes, 2,000 tonnes of soil and 2,000 tonnes of sand.
Artist Jorge Rodriguez-Gerada, who has produced similar pieces all over the world, said
"I have created work in the States and all over Europe but this piece in Belfast has been a different experience for me. The people have been overwhelming in their support and belief in the concept. When I first started on this work it was only five acres but it grew both emotionally and physically. Now, at 11 acres, it is my largest piece and I believe this magnitude is a fitting tribute to a city which has so much positivity to offer."
Director, Richard Wakely, said he was thrilled to be opening the 2013 Belfast Festival with such a land-mark piece of work.
"To present a piece of this quality and magnitude is staggering and provides a unique way to open this year's Festival. It is a free event that has enabled us to work closely with local businesses and volunteers and it is their commitment that has made it happen."
Local firms such as McLaughlin & Harvey Ltd, PT McWilliams and Lagan Construction Group provided materials, tools, machinery, staff and soil. Sand was provided by Tobermore and limestone by Kilwaughter Lime – all free of charge. The land was donated by the Titanic Quarter, the project headquarters was provided by The DOCK Cafe, the viewing platforms were provided by W5 Belfast, Belfast Metropolitan College, and Titanic Belfast. Plus, a core team worked alongside a host of community volunteers from groups such as NOW Group and Stepping Stones NI to provide hundreds of hours of their time to make it happen. Other support was provided by the Northern Ireland Fire & Rescue Service, Titanic Foundation and a major contribution from Topcon Positioning Group who provided the GPS poles, technical support and training.
WISH was named runner-up in Digital Globe's Top Image of the Year contest.
---