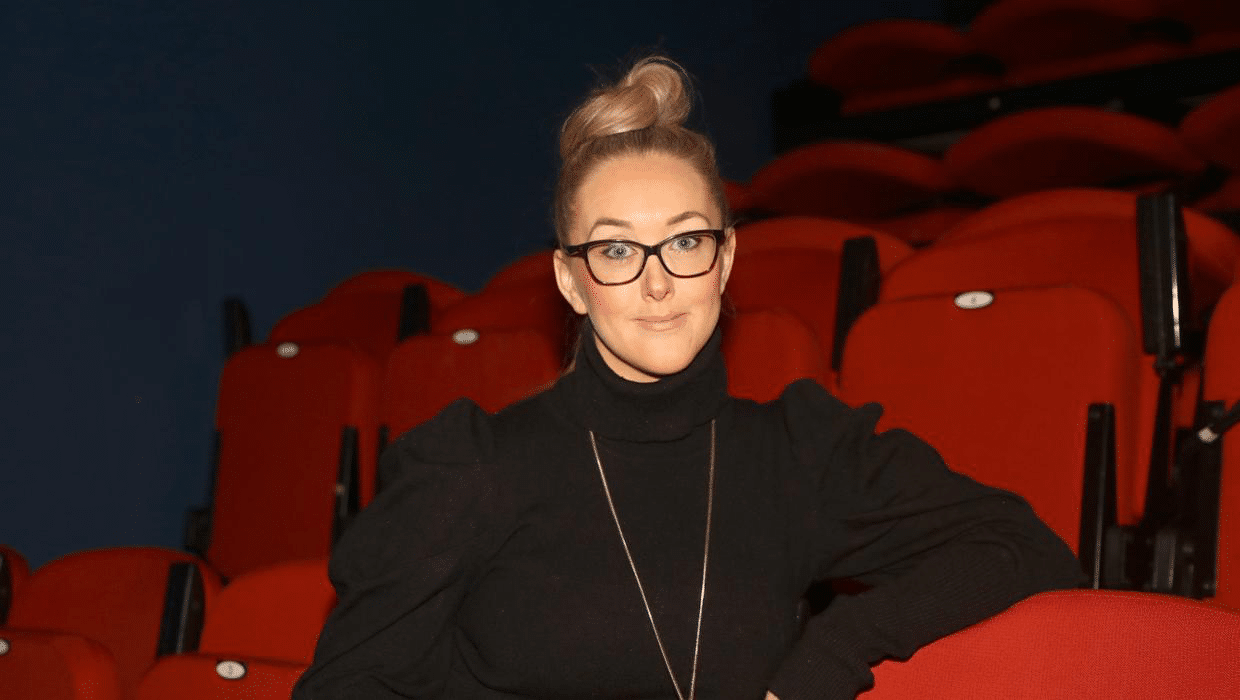 A catch-up with Eileen McClory
To say the past twelve months have been busy is a bit of an understatement where Eileen is concerned. She completed her Masters (with Distinction) in Contemporary Performance Practice at Ulster University. She had a baby daughter, who is now 8 months old and raring to get walking. In August she was revealed as our Festival Artist in Residence. She curated Catalyst Dance Festival for Theatre and Dance NI, shining a spotlight on NI dance, which aired as a digital edition in November. And she has been working on a number of projects throughout.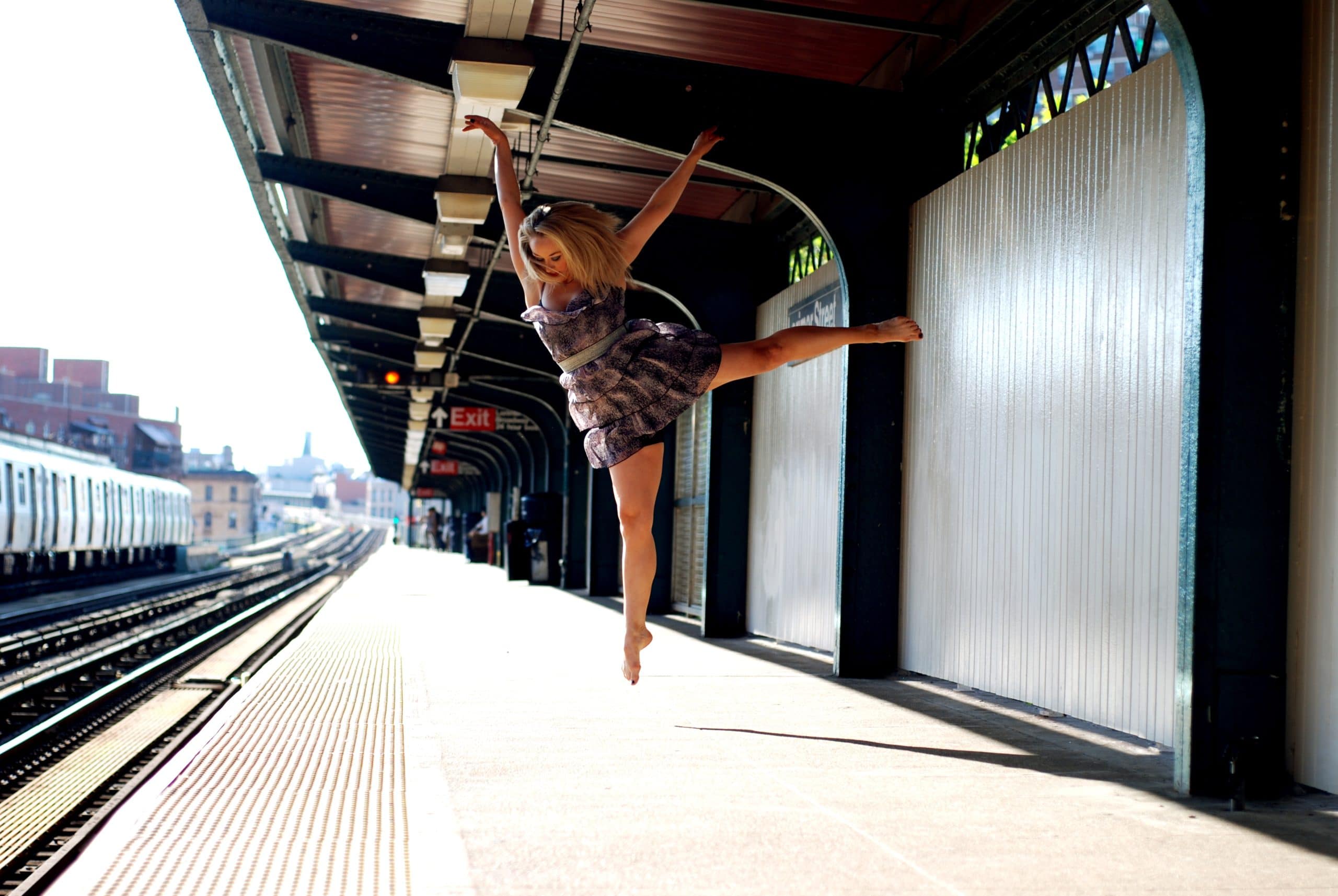 As a choreographer and dancer, Eileen's interest is in topical and socially relevant work (check out her company's website Off The Rails Dance). She has received commissions from Quotidian: Word on the Street: At the Margins 2021, Maiden Voyage Dance Company:  BRINK 2020, The Playhouse Derry: TURF 2018, and Tinderbox Theatre Company: CUCK 2017.
As part of her residency, it was planned that Eileen would spend time at the prestigious CCN2 – Centre Chorégraphique National de Grenoble in March 2021, with support from the British Council in France. While the timeframe has shifted, the seed is very much germinating in Eileen's mind.
Festival Marketing Manager Sarah Kelly caught up with Eileen on Zoom earlier this week.
What did it mean to you to be appointed Festival Artist in Residence?
"I was very excited about spending time in a cultural hub, and getting the chance to meet and see Yoann Bourgeois at work.  Just getting a chance to watch a choreographer and immerse yourself in that creative environment for 2 weeks was so appealing. You get to watch and work with different dancers who each bring something unique with them, whether that's through different interpretations, different movements, or different personal experiences to draw upon. I work collaboratively, so creating and seeing a piece evolve, that's infused with so much creative energy is magic. I was also looking forward to learning new approaches, while also receiving a sense of validation of my own practice.
I wanted to work on a new piece called GUTTER, playing with our relationship with the tabloids, social media, fake news, conspiracy theories, and trashing people online.
Being there as a Belfast International Arts Festival Artist in Residence garners more support and openness as compared to a self-arranged residency. It's a chance to make contacts and have one-to-one conversations with renowned choreographers such as Bourgeois."
BIAF audiences may recall the spectacular gravity-defying Celui Qui Tombe, by Bourgeois, which appeared in the Grand Opera House as part of our 2017 Festival.
"Richard is also very supportive of the whole creative process and there was no pressure to have a finished product, which is so important in being able to be inventive and develop your practice.
We're now planning to reschedule the residency to this November."
Tell us a bit more about the different projects you've been working on
"I completed the first phase of research into a piece inspired by Martha Graham's quote "a dancer dies twice", working with Jane Mooney and Sandy Cuthbert, two dancers in their 60's; and with poet Maria McManus, and filmmaker Conan McIvor. It explores what dancers give to their artform and what happens when a performer retires. Thanks to Arts Council NI support we were lucky enough to be able to work outside in August-September 2020 to film a piece for camera, and have plans to develop the piece further into a live installation, with support from a Maiden Voyage Dance Company's RESI-DANCE commission."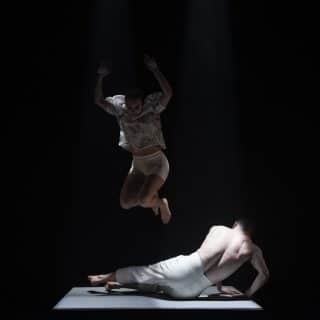 In August, Eileen was one of a number of artists profiled (BRINK, pictured above) in a special online industry event organised by Edinburgh Fringe 2020, Belfast International Arts Festival and Theatre and Dance NI, with support from British Council NI and the Arts Council of Northern Ireland.  This was followed up in October with Spotlight on Theatre and Dance from NI, a virtual showcase aimed at North American programmers and producers.
"Only a few weeks ago, my inner jazz child got the chance to play. Over the summer, I'd been a contributor to industry panel discussions alongside Big Telly's Zoe Seaton, as part of the Fringe Exchange and Spotlight on Theatre and Dance from NI events. Zoe got in touch to ask if I would like to choreograph a Fame inspired dance at the end of their Recipe for Disaster show. I immediately said yes! I contacted a few dancers, who were either living together or bubbling, we had rehearsals over Zoom, and managed to film a pre-recorded section outdoors, as well as having so much fun live online with audiences."
During the first lockdown, Eileen had been due to bring CUCK to John Scott's Dancer From The Dance: Festival of Irish Choreography. As the festival moved online, John asked if Eileen would like to share or create something. Eileen took on the challenge and produced a personal reflection on the latter stages of her first pregnancy. The short film, GRAVIDUS, which she worked with Conan McIvor via Zoom, and recorded by herself, with music by Katie Richardson, explored the anxiousness and nervousness of being close to giving birth in a frightening pandemic.
Eileen recalls "Incubating while incubating! It's a moment in time. Instead of the nesting and relaxing afternoons with friends and family, I was dealing with the worry of not knowing if Gil was going to be with me during labour, and if we were at an increased risk of infection."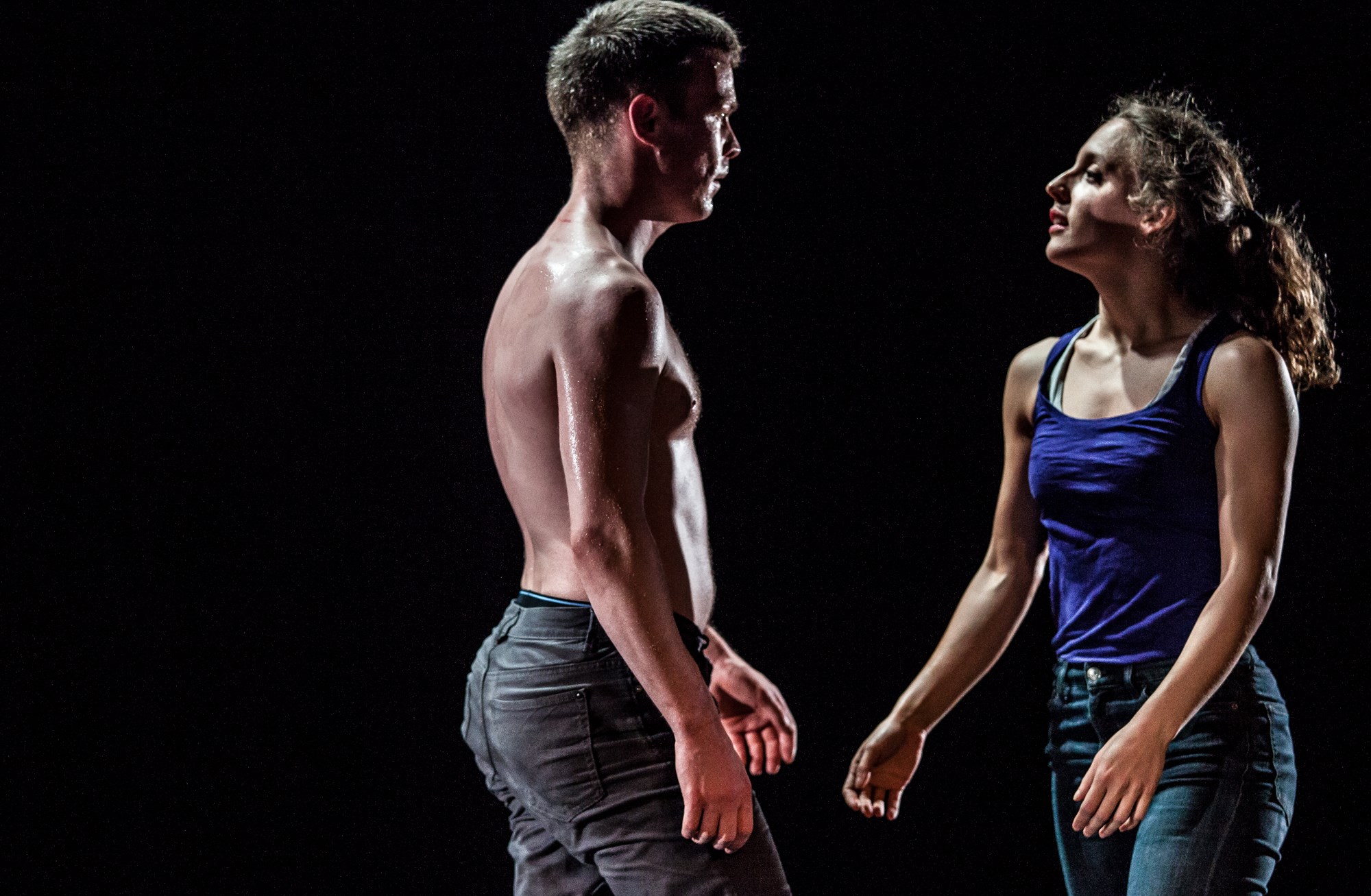 Eileen further reflects on the creation of CUCK (pictured above), as part of Tinderbox Theatre's Ignition programme in 2017, which challenged participants to make a show in a week. Abbie Spallen invited responses to the provocation of 'cuck', derogatory slang for a weak man that has been used by the alt-right to attack the masculinity of an opponent. Taking quite dark themes of white supremacy and toxic masculinity, Eileen choreographed Ryan O'Neill and Vasiliki Stasinaki, with dramaturg Hanna Slattne.  Eileen adds "it was magic what we created that week, and it really stands the test of time. The mood is so intense and the power play between the characters is so relevant."
What's on the horizon?
Well, as we've discovered, there are lots of projects in development. Off the Rails, which Eileen established in 2010, is in the process of being formally constituted.
Going digital has opened up a new way of storytelling.  Screen dance – creating dance for film as opposed to recording a live stage performance – is something that Eileen was interested in before the pandemic. "It opens up new avenues for artistic choices, you pay attention to different elements, and it travels."
She also has plans to develop TURF into a film. TURF was a Playhouse commission in 2018, with a professional and community cast, working with poet  Maria McManus. It ended with the following provocation:
"Imagine this,
the present at point blank range
its gift a target so unmissable,
it is reckless and generous."
Maria McManus
"I think that was so powerful" Eileen adds.
Eileen is thankful too for the relationships she has developed over the years in her many collaborations. "Establishing a common creative language with someone is really special. You're on the same wavelength and can interpret what someone means, and the creative process becomes such an enjoyable time."
Being a working mum comes with its own stresses and challenges such as arranging childcare, and finding a balance in work patterns and rehearsal schedules.
How do you remain sane in these crazy times?
"I love going on big walks with the hubby and of course Netflix – what would we do without it!…" she laughs.
And with that the conversation comes to a close as I let Eileen return to her daughter and the many interesting projects she is working on. We'll make sure to keep you updated with Eileen's work. If you haven't already joined our newsletter, you can sign-up here.
---